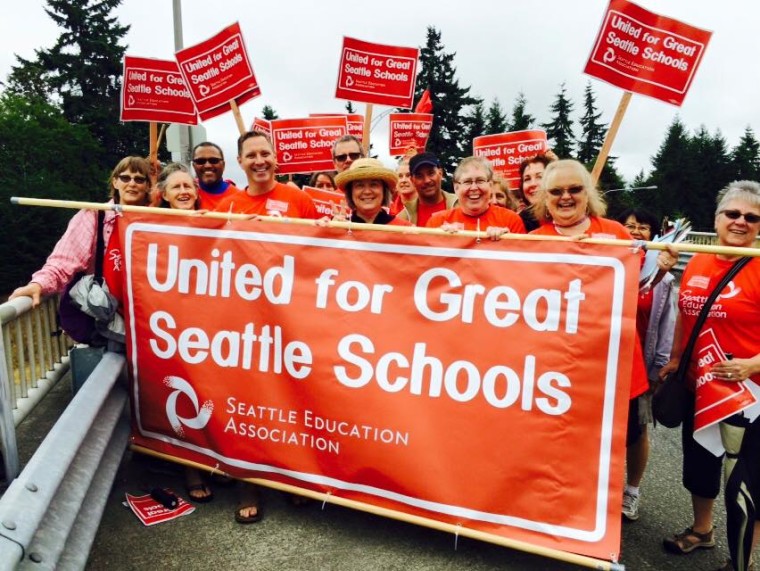 When members of the Seattle Education Association (SEA) ratified a new contract with the school district on September 20 ending a six-day strike, it was a victory not only for educators, but also a major win for students, public schools, and the communities they serve. The contract -- approved by 83 percent of teachers, 87 percent of paraprofessionals and 96 percent of office professionals – gives educators a raise, but also guarantees more recess time for elementary students, an educator voice in the standardized testing regime, and new policies to ensure equity at the city's public schools.
"This is a hard-fought victory for the kids of Seattle, and I am proud of SEA members and our incredible bargaining team," said Jonathan Knapp, SEA president. "This agreement signals a new era in bargaining in public education. We've negotiated a pro-student, pro-parent, pro-educator agreement. We really appreciate the strong support from parents and students."
When the union, representing 5,000 educators in the Seattle district, voted to go on strike, parents scrambled to find daycare, but they also demonstrated support for their children's educators by writing op-eds, signing a Change.org petition, rallying in front of the school district's administrative offices,or by joining the educators picketing at their children's schools.
Elizabeth Gay, her 10 year old daughter, and 13 year old son, showed up at their elementary school every morning to march with their teachers.
"We wanted them to know we appreciated them, supported them, and recognized that they were asking for things that enhanced our children's lives – not just their own," she said. "Learning does not only happen in a classroom and our teachers showed my children that it is critical to organize and stand up for what is important."
The family made signs, brought coffee (very important in Seattle), and created an online sign-up so that there were always at least ten families joining the educators to help keep their energy up as they clocked in ten to fifteen miles of marching each day.
"We fully supported our educators and their contract demands, even though it wasn't convenient for our family to have school start later due to the strike," Gay said. "But our personal convenience was not as important as the things our teachers wanted. We agreed that it was important for kids to have more recess, reasonable testing, equitable discipline, professionals who don't have impossible case loads, and teachers who are paid well. It's unacceptable to me that we lose great Seattle teachers to districts north of here because they pay better and their cost of living is lower."
Naomi Wilson, who has a first-grader and fourth-grader in the district, picketed in front of her children's school. She told The Huffington Post that educators deserved a raise after going without for six years in one of the country's most expensive cities, but "things like recess and reasonable testing and workloads and special education and equity -- that's them fighting for you," she said. "Those are the issues we raised. So we come out strong and support [educators'] ability to bargain and fight not just for us, but for the education system. These are our kids. These are my kids."
Members of SEA were also supported by the Seattle City Council, which voted unanimously to designate the week educators went on strike as "Seattle Educators Week" and to ask the district to continue negotiating in good faith with the union to bring the strike to an end. They also directed the city-run community centers to open their doors
to care for elementary-age students at no additional costs to parents.
"A victory for the union is also a victory for education across the country. It shows that if we organize and remain united, we can resist attacks on public education," said Councilwoman Kshama Sawant.
Often when educators strike, the public perception is that it's all about money. But SEA members showed their dedication to students with a list of goals that included a guaranteed daily recess of 30 minutes for elementary school children. At some schools, kids were getting as few as 15 minutes for lunch and recess, forcing a choice between food and play.
They also demanded that the district create committees at 30 schools to examine issues of race and equity, including disciplinary measures that disproportionately affect minorities. Studies have shown that black students are far more likely to face harsh disciplinary measures like suspensions and expulsions. After the end of the strike, the Seattle School Board voted for a one-year ban on out-of-school suspensions of elementary students who commit specific nonviolent offenses, and called for a plan that could eliminate all elementary school suspensions.
SEA also won an end to the use of student standardized test scores to evaluate teachers, and educators will now be included in decisions on the amount of standardized testing required of students.
Special education teachers will have fewer students to work with at a time. In addition, there will be caseload limits for other specialists, including psychologists and occupational therapists.
"These issues are about our kids," said Phyllis Campano, SEA vice president and chair of the SEA Bargaining Team. "It's about giving our children what they need."
Negotiations on the agreement that centers on student success had been ongoing since May; this was the first contract-related strike of Seattle educators since 1985.
"There is no stronger voice or advocate for Seattle students than Seattle educators," said NEA President Lily Eskelsen García. "They worked diligently for an agreement with the Seattle School Board that centers on student success, addressing issues such as ensuring opportunity for every student, regardless of ZIP code; providing the one-on-one attention that students need; and creating more time for students to learn with less focus on harmful standardized tests. As educators, student success is at the center of everything we do, and I'm proud that Seattle educators are standing up for the schools students deserve."
Learn More
Get more from

We're here to help you succeed in your career, advocate for public school students, and stay up to date on the latest education news. Sign up to stay informed.