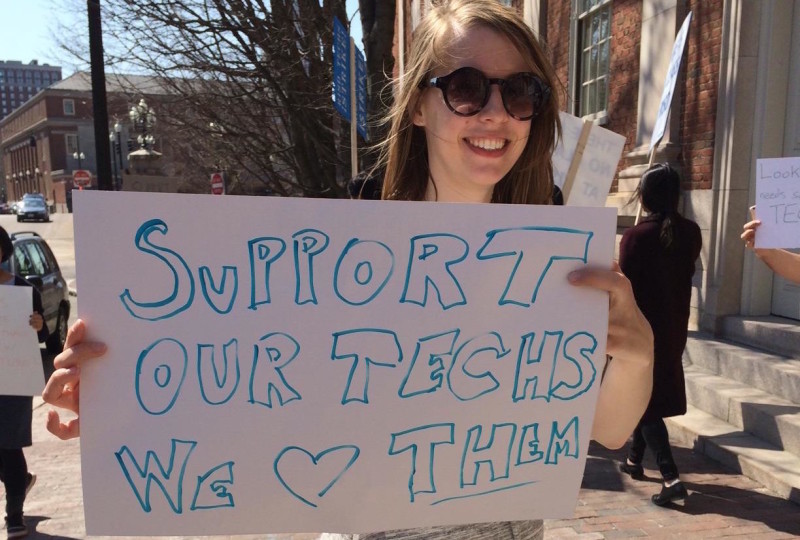 In the first hours of last month's five-day strike by support employees at the Rhode Island School of Design (RISD) it was astonishingly clear that the 44 NEA-affiliated shop technicians were not alone on the picket line.
Students picked up their protest signs and marched along College Avenue in Providence in emotional displays of solidarity. Packages sat undelivered on the RISD loading dock, as other union members refused to cross their picket lines. Email from parents and alumni flooded into the president's office.
"We were scared but resolute on the morning of April 2nd [the first day of the strike.]," wrote members of the RISD Technical Association on April 3 on Facebook. "By mid-afternoon, a groundswell of support from our RISD students energized us. You guys were AMAZING today!"
The RISD shop technicians are the experienced men and women who run the highly specialized machines and shop spaces in RISD studios. Like so many of NEA's education support professionals, these technicians contribute directly to student success. Without them, it isn't possible to hold class, and it isn't possible for many students to do the work required to earn art and design degrees. "There aren't any students that don't value the work that the techs do," said Erik Lack, president of the RISD Student Alliance, to the Brown Daily Herald.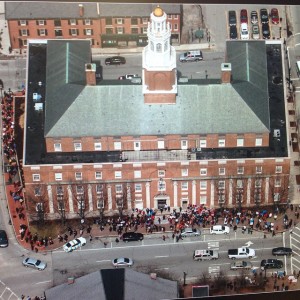 Technicians and students protest outside of the Rhode Island School of Design
 "RISD's well-equipped technical and physical studio facilities are some of the strongest aspects of the institution. The techs run and maintain these facilities, and instruct students in learning to use them on a daily basis — they are crucial to this part of the school," wrote RISD alum Jean Cozzens, a Providence artist, to the RISD president.
Nonetheless it became obvious in 2014 that RISD administrators didn't share the same respect for the shop technicians. Contract negotiations with the technical association began in May 2014 with issues over wages, pensions, and healthcare contributions. That October RISD stopped negotiating, and declared impasse. With that unilateral declaration, the college was able to impose upon the technicians a 2 to 5 percent hike, depending on salary, in healthcare premiums. (At the same time, the college also granted employees earning more than $100,000 a year a decline in their share of healthcare costs.)
You Are Not Alone
But when the technicians voted to strike, their collective action became about more than the hike in healthcare premiums, or the back-and-forth over RISD's 8 percent contribution to pensions. Students, alumni and parents began looking at the bigger numbers: Why is tuition so costly? Why do administrators earn so much? The answers point to the ongoing corporatization of higher education, which treats students as "consumers," education as a "product," and low-paid staff and faculty as interchangeable hired hands.
"I think once their jobs went online that was the last straw for me," said RISD-Brown University dual student Danica Mitchell, to the student authors of a RI Future blog post. Mitchell, who leads Students for Effective Labor Solutions, was speaking about RISD's aggressive move, on the second day of the strike, to advertise job vacancies using the striking techs' job descriptions.
More letters poured in. "I have found it incredibly soul-destroying to witness how the top-tier universities in this country – including RISD… have continued to adhere to an outdated and dangerous corporate ethos," wrote RISD professor Felicia Barbeito to administrators. "It is essential that we insist on tying competitive wages to respect."
On April 6, the last day of the strike, more than 900 people participated in a rally for the striking techs, including hundreds of students representing every RISD department, plus other local and state union members. Teamsters circled the city sreets in trucks, blaring their horns.
That same day, the tech union and RISD reached a tentative agreement, which included 2 percent wage hikes in each year of the 3-year contract and more importantly RISD's commitment to maintain its 8 percent contribution to the employees' pension fund. The technical association posted a brief message to its Facebook page: "Folks, the strike is over. To say that we could not have done this without you is woefully inadequate. Thank you!"
Get more from

We're here to help you succeed in your career, advocate for public school students, and stay up to date on the latest education news. Sign up to stay informed.