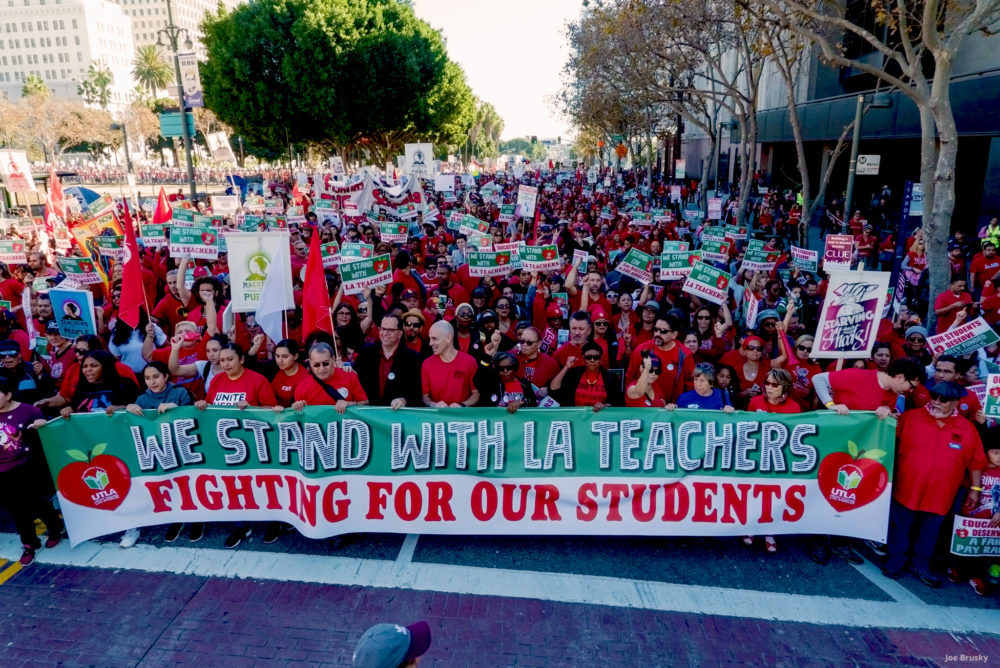 Photo: Joe Brusky
Anyone who may have been under the impression that the #RedforEd movement was just a "2018 story" better brace themselves. Thirty-three thousand educators in Los Angeles Unified School District (LAUSD) - the second largest district in the country -  are on the verge of striking to halt years of budget cuts, ballooning class size, and the expansion of unaccountable charter schools. Six hours north in the Bay Area, Oakland educators are also gearing up for a possible walk-out.
United Teachers Los Angeles (UTLA) and LAUSD have been mired in negotiations since April 2017, and teachers have been working without a contract for almost one year. Educators made a good faith effort in mediation to reach an agreement, but district officials did not do the same, failing to offer any substantial proposals to reinvest in the city's schools. In August, UTLA voted overwhelmingly (98% of the membership voted yes) to authorize a strike if talks continued to stall.
Barring last-minute movement,  UTLA will go on strike on Monday, January 14, the first walkout since 1989.
The district has tried to present the impasse as a squabble over numbers and teacher salaries, a characterization UTLA President Alex Caputo-Pearl says is absolutely false and a disservice to students.
"This is a standoff over the future of public education," Caputo-Pearl explains. "We will not agree on salary only or salary and a few other things. What we are fighting for is a program of investment in our neighborhood public schools that will create a thriving school district and the education our students deserve."
Despite LAUSD's repeated denials, the money to reinvigorate the city's schools is in fact there - in the form of $1.8 billion (yes, billion) in unrestricted reserves. The state of California requires only a 1% reserve, yet the district holds 26.5%, predicated on a fiscal disaster that never occurs but is nevertheless used to justify continued draconian cuts.
@AustinLASchools lies about agreement being reached with UTLA. The neutral factfinder confirms 3 essential UTLA positions: LAUSD has $1.8 billion in reserves, it should increase nurses, counselors and other professional staff and eliminate section 1.5 of contract. #StrikeReady pic.twitter.com/DwflgK3wvl

— United Teachers Los Angeles (@UTLAnow) December 19, 2018
UTLA is demanding that these reserves be used to reduce class size (LAUSD has among the largest class sizes in the state); hire more counselors, librarians, and nurses (40% of schools have a nurse only one day a week); and fund key programs such as early childhood education and special education.
Educators are also calling for a halt to the expansion of charter schools (there are currently 200 in Los Angeles) that are siphoning off $600 million every year from public schools. In addition, they demand an end to the continued toxic over-testing of students (the district spends $8.6 million on tests not required by state or federal government).
"We don't want our schools to be starved-out skeletons, we want them to be vibrant hubs of learning for our kids," says teacher Julie Van Winkle.
A 'Portfolio' for Privatization
The appointment last May of Austin Beutner as district superintendent only strengthened UTLA's resolve.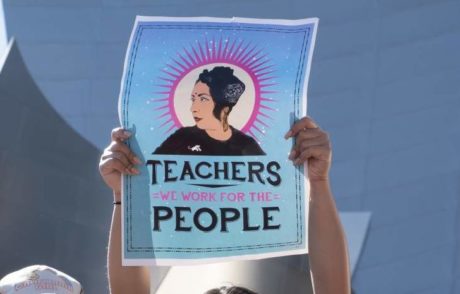 (Photo: UTLA)
A billionaire former investment banker and CEO and publisher of the Los Angeles Times, Beutner has zero experience in school or district leadership. He is, however, eager to bring to LAUSD what like-minded billionaires and school privatization champions brought to New Orleans and other cities: the "portfolio model."
Under this competition-based strategy, LAUSD would be decentralized and carved up into 32 smaller, individual "portfolios" that would be "diversified" with more options - charter and private schools mostly - for parents and students.
In other words, the "portfolio model" is just school privatization running amok.
"Getting rid of central oversight and accountability would allow the unchecked spread of the worst of the charter sector abuses: not serving all students, financial scandals, misuse of public funds, and conflict-of-interest charges," UTLA wrote in a statement last November.
"We will not agree on salary only.... What we are fighting for is a program of investment in our neighborhood public schools that will create a thriving school district and the education our students deserve." - UTLA President Alex Caputo-Pearl
Halting this threat and protecting the city's public schools, says Caputo-Pearl, is why Los Angeles educators "won't be bought off with a pay raise."
During negotiations, coalition-building has been a key tenet of UTLA's campaign. Community organizations and parents have joined UTLA at the bargaining table. On December 15th, more than 50,000 parents, educators, students and community members took to the streets in a massive march in downtown Los Angeles to demand a reinvestment in the city's schools.
A week earlier, hundreds gathered at the  Social and Public Art Resource Center in Venice at a two-day Art Build event to create protest art for the march and possible strike.
For elementary school teacher Maria Miranda, engaging the community city-wide has helped demonstrate to the public that the chronic underfunding of schools wasn't isolated in one particular area.
"When we come together with the community, we show that our challenges are the same. In my school, we don't have nurses every day or librarians. But it's not just in my neighborhood. This is a problem for schools across the city," Miranda said.
#StrikeReady
#RedforEd is also thriving 400 miles north in Oakland, where educators have been working without a contract since July 2017.  The district has a serious teacher turnover and class size problem, which the Oakland Education Association (OEA) says isn't being addressed in the district's proposals.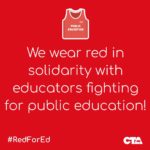 The California Teachers Association is asking educators nationwide to wear RedforEd on Friday, January 11. Show your solidarity with UTLA and OEA and share on social media using #RedforEd.
"Teachers are fed up with the poor working conditions and salaries, and with the learning conditions that our students are having to endure," OEA President Keith Brown said. "We are fighting to end Oakland's teacher turnover crisis and to bring stability for our students."
On January 12, Oakland educators will be joined by East Bay parents and students for the March and Rally to Fund Public Education Now. One week later, on January 18-20, OEA will be hosting its own community Art Build.
If mediation and fact-finding doesn't move the needle on negotiations, Oakland educators, like their colleagues in Los Angeles, are #Strikeready and could take action later this month.
A strike is always a last resort, says Caputo-Pearl, but it's time now to turn the tables and stand up to an austerity and privatization agenda that has debased the teaching profession and starved public education.
"We have watched underfunding and the actions of privatizers undermine our schools for too long. No more. Our students and families are worth the investment, and the civic institution of public education in Los Angeles is worth saving."
Get more from

We're here to help you succeed in your career, advocate for public school students, and stay up to date on the latest education news. Sign up to stay informed.