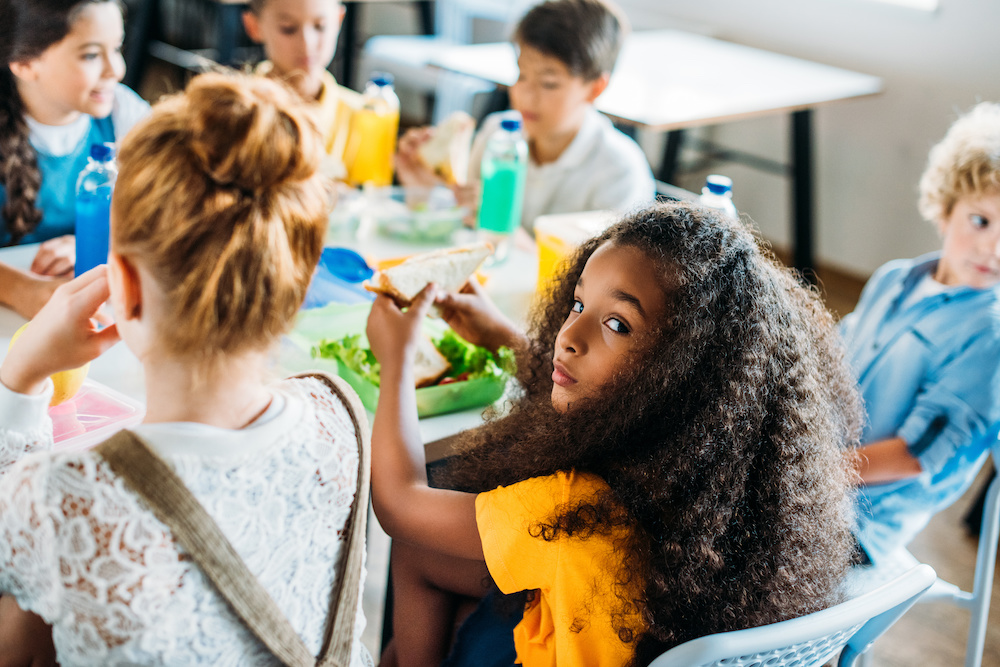 Incidents of "lunch shaming"—practices that stigmatize students whose meal accounts have a negative balance—have drawn a lot of attention in the news and on social media in recent years.
The tales are heartbreaking: There was the Alabama 8-year-old whose arm was stamped with the words, "I need lunch money," for all his peers to see. Some Minnesota school districts considered barring high school seniors with outstanding lunch debt from graduation ceremonies, until the state attorney general stepped in to prevent it. And earlier this year, a Pennsylvania school district sent letters to the parents of 1,000 students with unpaid lunch debt stating the parents could face delinquency court, which may result in, "your child being removed from your home and placed in foster care."
Stories like these have fueled efforts at the local, state, and federal level to ban stigmatizing practices such as lunch shaming, and many have been successful.
But school meal programs remain under tremendous pressure to be self-supporting. More than three-fourths of schools that participate in the National School Lunch Program reported some degree of meal debt in the 2016-17 school year, according to the School Nutrition Association.
Instead of working to make it easier to enroll students for free or reduced-price meals or raise reimbursement rates to schools, the Trump Administration is seeking changes to the Supplemental Nutrition Assistance Program (SNAP) that would only increase the number of students facing food insecurity, if not lunch shaming.
States Take the Lead
In 2017, educators were among those who urged New Mexico lawmakers to create the Hunger-Free Students' Bill of Rights. This made New Mexico the first state in the country to address and eliminate the issue of lunch shaming. The law requires schools to enroll eligible students into the free and reduced-price meals program if their guardians have not, and provide all students with a healthy meal. It expressly prohibits publicly embarrassing students whose families cannot pay.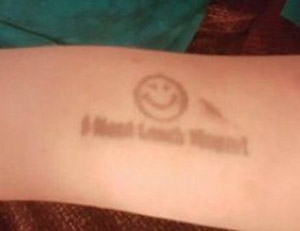 This photo of an Alabama student's arm stamped with the words "I Need Lunch Money!" was shared far and wide on social media. Alabama does not have a law prohibiting such practices.
Educators and other child welfare advocates have pushed for similar anti-shaming bills around country. Currently, fifteen states have passed laws that address how schools handle students with meal debt.
California passed a new law last week that guarantees every student will receive a full lunch regardless of their ability to pay. That measure goes further than an earlier law that offered an alternative lunch to students with meal debt.
The Virginia House and Senate unanimously passed an anti-lunch shaming bill in 2018, putting an end to practices that could stigmatize children in cafeterias across the state. It was a step cheered by educators like Shan Lighty, a nutritional manager at Albert Hill Middle School in Richmond, Va.
"There came a point where our administration said we couldn't allow kids to credit meals any longer," says Lighty. What that meant in practice was that cafeteria staff were supposed to take the tray of food away from any student carrying meal debt once they had gone through the line and reached the cashier.
Lighty couldn't stomach it. She was known to pay for meals out of her own pocket—whatever it took to make sure every student could eat.
"We don't know when that child's last meal was or when the next one will be. And there is no need to hurt a child's physical and mental state because their family can't pay," she says.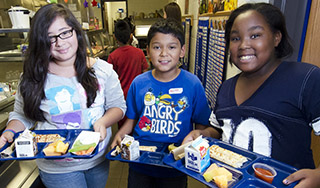 Students enjoy lunch at the Yorkshire Elementary School in Manassas, VA. USDA photo by Lance Cheung.
Fortunately, her district now offers meals for all students regardless of their ability to pay, alleviating stress for students and educators alike.
In April, the Anti-Lunch Shaming Act of 2019 was introduced in Congress. If passed, the act will prohibit the public identification or stigmatization of a child with outstanding lunch debt. No school in the country will be allowed to single out children with lunch debt with handstamps, wristbands, alternative meals, or by assigning chores not required of students generally.
NEA supports the bill, along with other critical efforts to undergird federal child nutrition programs, including a thoughtful reauthorization of the Child Nutrition Act and federal support to help make training accessible to more school cafeteria workers.
Theoretically, the U.S. Department of Agriculture could set a policy that bans lunch shaming tactics nationwide. Instead, the agency is pursuing an entirely different rule change that would deny nearly a million students access to free school meals altogether.
Changes Could Hurt Students
Trump's USDA has proposed a new rule that would change the way states determine who qualifies for SNAP benefits. All told, 3.1 million individuals could lose SNAP benefits—mostly families with children, older people, and people with disabilities.
SNAP, our nation's largest federal food assistance program, provides low-income people with monthly funds specifically designated for food purchases. Forty-four percent of SNAP beneficiaries are children.
In essence, the USDA is attempting to accomplish through rulemaking what Congress rejected in 2018, when members approved a Farm Bill that rejected cuts to SNAP benefits because of the harm those cuts would have done to families.
Nearly a million students who are automatically eligible for free school meals because they live in SNAP households could be denied those meals under the proposed rule. It was previously believed that roughly 500,000 students would be affected, but a surprise release of data by the USDA this week makes it clear that the number is nearly twice as high.
The changes could hurt students like those Shan Lighty serves.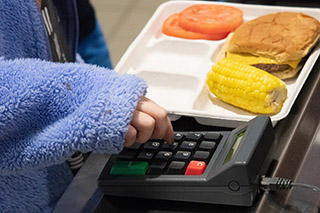 Student accessing school lunch account. USDA Photo by Lance Cheung.
Four years ago, Richmond Public Schools began serving free breakfast and lunch to all students under the Community Eligibility Provision of the Healthy, Hunger-Free Kids Act of 2010. That provision allows schools with many low-income students (40 percent or more) to serve free meals to all students regardless of their income.
The provision eliminates not only the possibility of lunch shaming, but the likelihood of any child falling through the cracks of the system. It also reduces the administrative burden on schools to no longer have to enroll every child individually.
The USDA's proposed changes put community eligibility at risk; if enough students in a given school are cut from SNAP, the school would no longer qualify.
"If the people making these decisions could hear from educators what we see every day, they might realize how losing access to school meals affects kids," says Lighty.
The double whammy of losing benefits that support their nutrition at home and losing access to school meals would be devastating to those students' health and learning.
A 2014 study found that participation in SNAP for six months reduced children's likelihood of food insecurity by about 33 percent. Although SNAP is a crucial safety net for families, its benefits do not cover low-income families' entire food bills. Free school meals are essential to help fill the gap.
School employees know that when students go hungry, they cannot focus on learning. "Food is a need, not a want, and if we want kids to be able to concentrate and grow and be healthy and happy, we must see to it that they are fed," said Lighty.
Because of the demand that most school nutrition programs be self-supporting, even a small drop in participation can have a negative impact on their stability.
NEA working to defend SNAP benefits and Community Eligibility, to prevent hungry students from falling through the cracks. Read more about NEA's priorities on child nutrition.
Get more from

We're here to help you succeed in your career, advocate for public school students, and stay up to date on the latest education news. Sign up to stay informed.