The crowd fills Pennsylvania Avenue during the "March for Our Lives" rally, Saturday, March 24, 2018, in Washington. (AP Photo/Alex Brandon)
Hundreds of thousands took to the streets in the March For Our Lives rally against gun violence in Washington, D.C. Organized by the survivors of the massacre at Marjory Stoneman Douglas High School, it was a rally by students for students, but they were joined by thousands of educators who amplified their message -- #neveragain. Hundreds of sister marches were held across the country and around the world.
Connecticut Educators March for Students
Busloads of educators came from all over the country to support the Florida students and students all over the country who demand to be heard. Taking part  was a group of educators from Connecticut, where the shooting that killed 26 elementary school children and educators at Sandy Hook Elementary in Newton is still raw.
"We have to do something with our gun laws, and we have to be vigilant. Talking and talking about it doesn't change anything and we need to act. Our kids don't feel safe," said Mia Dimbo, a middle school math teacher from Bridgeport as she prepared to march to the site of the rally in Washington. "We need support for mental health. We don't have enough resources for psychologists and counselors, and there's so much trauma our kids are dealing with. They should not be afraid when coming to school. Today I march for our kids and our teachers."
Laura McDonnell, a fourth-grade teacher from Avon, Connecticut, said that arming teachers is not the answer.
"We need to listen to each other and use common sense. We don't need to arm teachers, we need to create more mental health supports and pass common sense gun laws," she said.
All of the Connecticut educators agreed that the impassioned voices of the students must be heard.
"Our students have a big voice to share and we're here to support and add volume to their voices," said Corinne McComb, an elementary educator from Norwich, Connecticut. "And as educators, we don't want to be armed, we want better services for our students. More psychologists and counselors who can be present for the students more than one day a week or month. We need services for families. We have the money, we can do this."
Martha traveled from Columbus, OH with 108 of her students and colleagues to the #MarchForOurLives. "I wanted my students to understand they have a voice and how to use it." #ProtectOurSchools pic.twitter.com/p5zHYIoBdZ

— NEA (@NEAToday) March 24, 2018
'Kids, Not Guns'
There were almost as many different signs as there were marchers. As they chanted "Kids Not Guns," demonstrators carried signs with messages including:
We Are Children, Not Targets,"
#NeverAgain – Seriously This Time
Wishing Student Loans Were My Biggest Fear
My Kids Survived High School, Will Yours?
Thoughts and Prayers Are Not Bullet Proof
Rage Against the Machine Gun
Schools Are Not Meant to Be Crime Scenes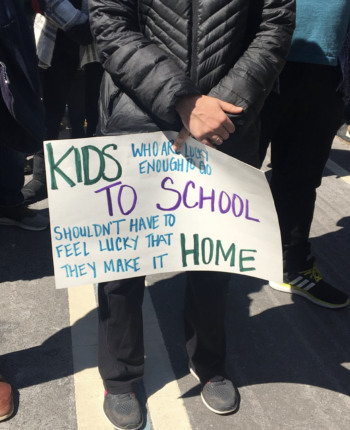 Holding up a sign that said "Books Not Bullets," Priscilla Wilson, a high school student from Olney, Maryland, came to the rally with her mother Keshia Wilson, a teacher at Rosa Parks Middle School, who said she brought her daughter and her friends to raise awareness and let their voices be heard.
"I believe gun laws need to be more strict," Priscilla said, "because kids are dying."
Ohio Students Join the Fight
A busload of 108 students and educators from Fort Hayes Metropolitan High School in Columbus, Ohio, traveled for seven hours to join the March For Our Lives.
The students, most of whom had never before left the state of Ohio, said they came to fight for safer schools and help make history in the fight to end gun violence in schools.
Martha Tepper, a Fort Hayes music teacher, organized the bus so that the students could experience real life civics education and to learn how to use their voice for action.
"They have the courage," Tepper said. "They have the voice. Now they're learning how to use that voice."
Get more from

We're here to help you succeed in your career, advocate for public school students, and stay up to date on the latest education news. Sign up to stay informed.