Dreamers and DACA supporters rally outside of the U.S. Supreme Court on Thursday, June 18, 2020, after the court rejected the Trump administration's push to end DACA. (Photo By Bill Clark/CQ Roll Call via AP Images)
When Angelica Reyes said good-bye to her students on Monday, the start of summer break in her Los Angeles school district, she didn't know whether she'd be seeing them again this fall, or facing possible deportation.
Reyes, who has lived in Los Angeles since her parents brought her there from Mexico at the age of 9 months, is one of about 650,000 Americans, including nearly 15,000 educators, 125,000 college students, and 138,000 high-school students, who currently rely on a federal program known as Deferred Action for Childhood Arrivals, or DACA, to provide them with renewable work permits and protection from deportation. Basically, the program enables them to live their lives outside of the shadows.
But, in 2017, the Trump administration abruptly ended DACA. Since then, DACA holders have lived in limbo while advocates — including NEA's Office of General Counsel — have fought all the way to the Supreme Court.
Finally, on Thursday, Supreme Court justices agreed (5-4) that the Trump administration's rescission of DACA was "arbitrary and capricious," that it did not follow the procedures required by federal law, and it did not properly consider how ending the program would affect those who rely on it. With its ruling, the court hands another defeat this week to the Trump administration, following Monday's 6-3 decision protecting LGBT people from job discrimination.
"Honestly, I'm surprised. I was fighting with the intent to win, but I honestly did not think this court would rule with us," said Reyes, who teaches world history and ethnic studies, and this year will be leading her school's restorative justice and anti-racism efforts. "It feels so good. It feels amazing. For me, of course, it's important to be a teacher, but for my students, my classroom offers them such a safe space, and I'm just so grateful to be able to continue doing that for them."
And the court's decision offers an important lesson to her 8-year-old son, said Reyes: "When we stand up, when we fight against oppression, we can win!"
NEA President Lily Eskelsen García also called the court's decision "much-needed" and "timely, especially as so many DACA holders, including an estimated 29,000 healthcare workers and 142,000 in food-related occupations, are working on the frontlines of the COVID-19 pandemic. Now, nearly 15,000 educators can continue to sustain student learning during unprecedented times, she points out.
This is about #DACA so you know it's not going to fit in one tweet.

The #SCOTUS decision is a stinging rebuke of the Trump administration's ill-conceived attempt to end DACA, deeming it ARBITRARY and CAPRICIOUS.

👇🏽

— Lily Eskelsen García (@Lily_NEA) June 18, 2020
https://platform.twitter.com/widgets.js
Who are DACA Holders?
In public schools, which already face a nationwide shortage of teachers, DACA holders play a critical role, often working in hard-to-staff areas such as special education and bilingual education. For example, Karen Reyes, a 31-year-old Austin, Texas, master's-educated teacher, who came to the U.S. at age 2, has been teaching Deaf and hard-of-hearing preschoolers since 2013.
"We help them reach the outside world," Reyes told NEA Today in 2017. "As a teacher, all I want to do is teach and help my kids."
In a brief submitted to the Supreme Court in October, NEA argued that Trump's inhumane elimination of the program would be disastrous for public schools and educators. Students would suffer the abrupt departure of trusted teachers, while teacher shortages worsen.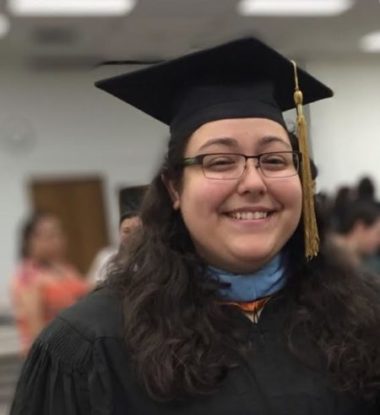 Teacher Karen Reyes earned bachelor's and master's degrees from Texas public universities.
"DHS swept away DACA, together with its recipients' dreams and their communities' needs, in one curt memorandum that failed to provide a reasoned explanation for the agency's drastic change of course," wrote NEA attorneys. "DACA educators, students, and administrators can—and do, here in this brief—attest to the serious reliance interests engendered by DACA, as well as the disastrous results that will ensue if the program is terminated."
To qualify for DACA, applicants must have lived continuously in the U.S. since 2007, and arrived here prior to turning 16. (In fact, federal data shows than 37 percent arrived before age 5.) They also must be in school, or have graduated from high school, have a GED or been honorably discharged from the military, and have a clean criminal record. As they have grown into adulthood, the program has enabled these young Americans to go to college, get jobs, fuel the economy, and live their dreams.
In 2017, a study showed that about half were in college. Others reported that getting DACA had helped them to earn more money—from $10.29 an hour, on average, to $17.56 an hour. Currently, about 59,000 DACA-holders own homes and make $613.8 million in mortgage payments a year. Their rent payments add up to $2.3 billion annually. They also pay $5.7 billion in federal taxes and $3.1 billion in state and local taxes a year, according to the Center on American Progress.
What's Next?
Although the court's ruling is welcome, the fight isn't over.
DACA-holders and other immigrants, as well as their advocates, say they won't stop asking Congress for comprehensive immigration reform, including pathway to citizenship. NEA strongly supports legislation like the American Dream and Promise Act (H.R. 6), which the U.S. House passed last June by a vote of 237-187.
"We need to keep going and ride the momentum," says Angelica Reyes. "There are still so many people excluded (from DACA's protections.) My last DACA recipients graduated this year, and I know I'm going to have undocumented students this year who aren't going to qualify for DACA. What they've heard since elementary school is that if they work hard, they can achieve anything — but without a legalized path, it's very difficult."
An estimated 454,000 college students are undocumented—or about 2 percent of all U.S. college students, according to a 2020 report from the New American Economy. Of them, about 216,000 are DACA-eligible. A large percentage aim to work in STEM fields (Of DACA-eligible students pursuing a graduate degree, 43 percent already have undergraduate STEM degrees.)
Want to understand what this decision means for DREAMers and their families, and find out what's next? Join NEA attorney Emma Leheny, National Immigration Law Center attorney Trudy Rebert and DACA holder Karen Reyes for a webinar on June 23, 8 pm ET. Register now. . 
On Thursday, former Vice President Joe Biden praised "the courage and resilience of hundreds of thousands of DACA recipients who stood up and refused to be ignored," and he promised that, "as president, I will immediately work to make [the court's decision] permanent by sending a bill to Congress on day one of my administration."
With its decision, the court reminds us of who we are, as a nation, and what we must continue to fight for, Eskelsen García said.
"The Supreme Court victory also validates our core identity as a country — one that thrives when we welcome and embrace diverse contributions and ideas," said Eskelsen García. "We will keep fighting for our DACAmented educators, their families and their students. We will continue to fight for justice."
Get more from

We're here to help you succeed in your career, advocate for public school students, and stay up to date on the latest education news. Sign up to stay informed.