Believing that gun violence has reached a "crisis stage," the majority of members of the National Education Association favor a wide-range of new measures to address the issue. But arming teachers and other school staff — the lynchpin of President Trump's gun proposals — is not among them. Seventy-four percent of educators oppose the measure, according to a new poll commissioned by NEA.
The survey of 1000 NEA members nationwide, conducted March 1-5, also reveals that 60% of educators say they are worried that there could be a mass shooting in their school. Three quarters (77%) believe it is too easy to access guns, including 71% of independents, 58% of Republicans, and 60% of gun owners.
The recent spate of school shootings has triggered a nationwide mobilization led by students to change the nation's outrageously lax gun laws.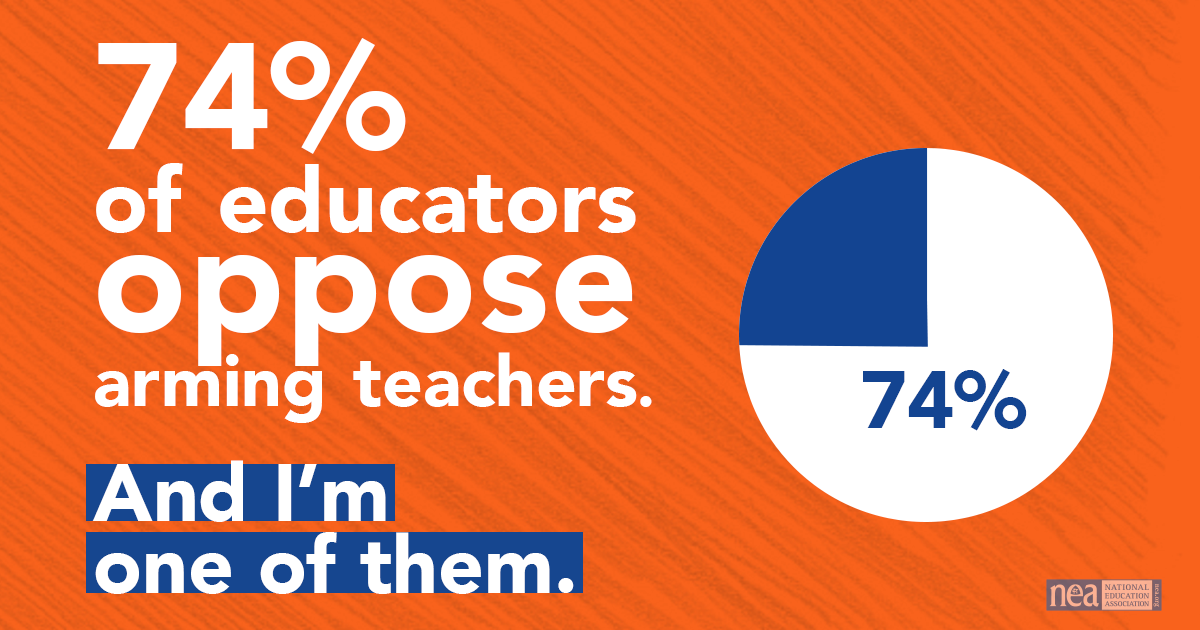 Arming Educators Would Make Most Feel Less Safe
According to the NEA survey, educators support proposals ranging from banning assault weapons (85%) and bump stocks (a modification to a semi-automatic weapon that enables it to operate like a machine gun) (84%), universal background checks (99%), raising the age of gun ownership to 21 (78%), and preventing mentally-ill individuals from obtaining guns (91%).
NEA members, however, are strongly opposed to arming teachers and other school personnel, an idea floated by President Trump a few days after the Parkland shooting and that was formally proposed on March 12. In addition to doubling down on arming educators, Trump also announced he was appointing Education Secretary Betsy DeVos to lead a Federal Commission on School Safety to study the issue.
But seven in ten NEA members say arming school personnel would be ineffective at preventing gun violence in schools. Among all members, 82% say they would not carry a gun in school. Even among members who own guns, two thirds—63%—say they would not agree to be armed in school.
What's more, two-thirds of educators say they would feel less safe if school personnel were armed.
"The idea of arming teachers is ill-conceived, preposterous, and dangerous," said NEA President Lily Eskelsen García. "This new national survey of educators confirms that. Arming teachers and other school personnel does nothing to prevent gun violence. In fact, quite the contrary, educators would feel less safe if school personnel were armed."
We Need Common-Sense Gun Laws
Eskelsen García said the debate over arming teachers has become a distraction from the very real and urgent problem that many lawmakers would prefer to ignore: the ease at which dangerous individuals can buy weapons that can kill a great number of people in a very short amount of time.
"The White House and Congress owe it to those victims of gun violence and survivors across the country to work together to implement common sense solutions that really will save lives," Eskelsen García said. "We need to listen to gun violence survivors, students, educators, and parents. They are demanding common-sense gun laws. They are demanding a plan that will keep dangerous weapons out of the hands of dangerous people."
Get more from

We're here to help you succeed in your career, advocate for public school students, and stay up to date on the latest education news. Sign up to stay informed.