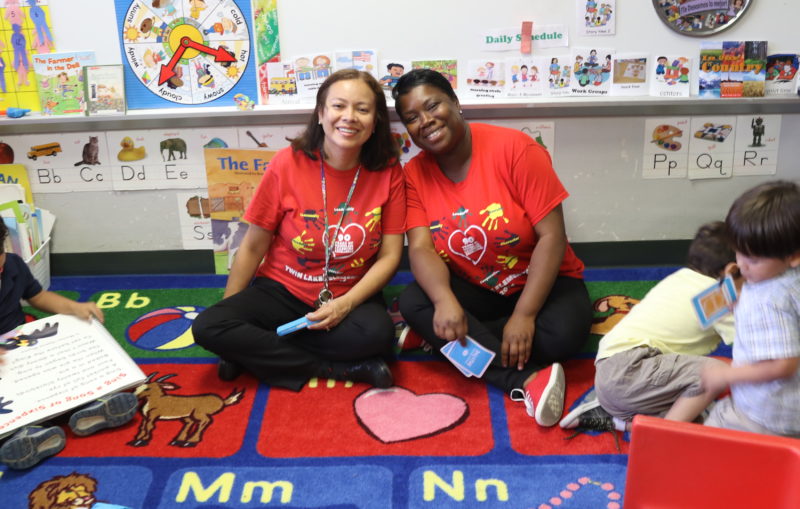 Teacher Gloria Morales (left) and paraeducator Monica Anderson can "finish each other's sentences," according to Principal Edith Lefler.
They guide their students at Twin Lakes Elementary School in Tampa, Fla., with a soft touch. Teacher Gloria Morales and paraeducator Monica Anderson take turns leading their preK class in song:
We wish you well we wish you well,
All through the day we wish you well.
Morales leads a chorus, then Anderson. Morales. Then Anderson. One after the other. In perfect pitch.
Old shoes, new shoes, Kaden has on new shoes.
Around the room they go acknowledging each of their 11 students who are belting out lyrics in high-pitched voices, mouths wide open.
Old shoes, news shoes, Athan has on new shoes.
They are happy kids at this hour in the morning. Some sit at miniature tables located just behind a row of other tots plopped down on a multi-colored rug sporting alphabet letters and cartoon animals.
As they roam the room stepping around and between students, Anderson and Morales do not make eye contact. Instead, they seem to telepathically know which student to name next, where to step, and when to lead the class. As with their students, they guide each other with a deft touch.
"We have the same approach and understanding of our kids," says Morales. "This helps us to collaborate and present a unified voice."
Anderson adds: "I think the kids see us more as a couple than as two individuals. This comes from preparation, from sitting together alone and talking about our students' needs. She (Morales) always asks for my opinion."
The Art of Collaboration
As with most teacher-paraeducator teams at U.S. public schools, Anderson and Morales were assigned to one another by an administrator. They had not even met until Morales learned of the assignment and then arranged a lunch date in July 2009, just before the start of their first year together at Twin Lakes. They've been together ever since.
"They finish each other's sentences," say Edith Lefler, principal. "They want the same things for the kids and know how to collaborate to achieve it."
Lefler says she and her team do the best they can in pairing teachers and paraeducators based on personnel availability, school resources, levels of education and experience of the potential partners, and other factors.
"When it doesn't work, we intercede with peer mediation, goal setting, training, and whatever else is available to us," she explains. "Sometimes, for the benefit of the kids, we have to reassign."
Successful teacher-paraeducator teams are built on a strong foundation of understanding their roles and responsibilities within the team. Problems can arise when roles are unclear or assumptions are made about who is supposed to do what regarding lessons, students, and parents, according to Dr. Marilyn Likins, executive director of the National Resource Center for Paraeducators based at Utah State University.
"Each educator must understand what the expectations are for his or her performance as well as that of other team participants," says Likins, who is a consultant with the NEA Paraeducator Institute, which provides online training and policy resources. "Additionally, there are overlapping responsibilities that are shared by both teacher and paraeducator such as providing small group instruction."
While there are some key responsibilities that should only be performed by a teacher, like assigning grades, Likins says ongoing training for teachers and paraeducators throughout the school year is key to enhanced job and team performance.
"A paraeducator provides another set of eyes, ears and hands to assist the teacher in troubleshooting situations, brainstorming ideas, and supporting students' needs," she says. "Great teams act as one, typically, with their performance in the classroom being seamless where each one anticipates the other's needs."
Training Needed Early, Often
Paraeducators comprise almost 35 percent of U.S. school support staff. Within NEA, they make up more than 45 percent of ESP members. Likins notes that many teachers' university preparation programs do not include training on how to direct the work of paraeducators.
"Guiding the work of paraeducators is a critical skill for all teachers to have," she says. "Typically, training for this has fallen to school districts or the state."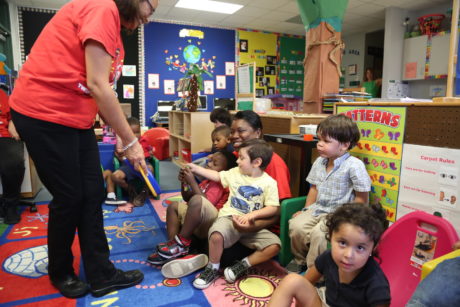 Teacher Gloria Morales and paraeducator Monica Anderson have built a relationship over the past eight years at Twin Lakes Elementary School in Florida based on a foundation of trust, respect, and understanding their roles and responsibilities within the team.
The role of principals, superintendents, and other administrators should not be underestimated, says Jean Fay, a special education paraeducator at Crocker Farm Elementary School in Amherst, Mass.
"It's important to have an administrator in the mix," she says. "Someone who understands the importance of teamwork and planning."
Some paraeducators work with one teacher all day while others work with different teachers in different classrooms throughout the day. The dynamics between these educator teams are as varied and unique as with married couples.
"It takes flexibility on everyone's part to make it work," Fay says. "If one or the other is too rigid, it can get really bad. But when it works, it's magic and the kids know it."
Fay is well known in the political and education community as a speaker, social justice activist, and workshop facilitator who has made presentations about teacher-paraeducator partnerships at NEA national conferences, state leadership summits, and for the Leaders for Tomorrow Education Support Professional (ESP) program. Some of the workshops have been facilitated by Fay and a teacher, Jan Demers, who worked together at Crocker Farm for five years.
"Jan and I could not be any more different from each other, but we found ways to work off each other's strengths," Fay says. "I knew what she needed even before she would ask. We had a lot of non-verbal communication based on intent and purpose to enhance the learning environment for the kids."
While Fay admits that much of the teamwork is learned "mostly on the job," she and Likins stress the importance of schools and districts establishing a time period for teachers and paraeducators to meet in private to identify problems, draw out lesson plans, and set class goals.
"This is one area of critical need that is frequently reported by teacher-paraeducator teams but remains problematic at a national level," Likins says.
Adds Fay: "It is important to understand the importance of shared planning time. More often than not it does not happen."
A Mutual Passion for Education, Teamwork
"I've been blessed with good paraeducators," says Morales, who is from New York City and of Honduran descent. "But there was one a while back in New York that was constantly criticizing me, the class, the school, and just…negative."
When Morales learned she would be working with Anderson, Morales invited Anderson and her infant daughter to lunch. Morales brought her young son as well.
"I wanted to build a connection and see where she was coming from," Morales says. "Since then, every year our relationship has gotten stronger. She knows I value and esteem her."
Morales has made it a point to invite Anderson's candid observations about real or perceived issues.
"I say to her, "If I do anything that offends you, tell me first,'" Morales says. "I'm the leader but I often ask for her input."
The opinion and support of Anderson outside the classroom is most evident, says Morales, when it comes to interacting with parents.
"We work together regarding disgruntled parents, for example," Morales says. "We brainstorm on how best to approach a dilemma or solve a problem."
Anderson says it is important to develop a sense of each other's movements in the classroom, attitude toward the coursework, and goals for students.
"Eventually, you develop an intuition about one another," she says. "A sense of trust and confidence in each other."
Photos: Douglas R. Clifford
Get more from

We're here to help you succeed in your career, advocate for public school students, and stay up to date on the latest education news. Sign up to stay informed.