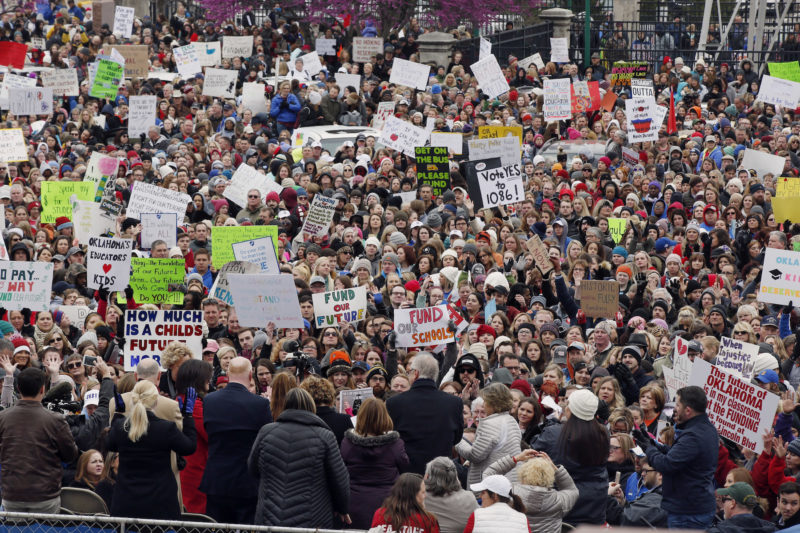 The crowd cheers during a rally at the state Capitol in Oklahoma City, Monday, April 2, 2018. Educators were holding separate protests in Oklahoma and Kentucky on Monday to voice dissatisfaction with issues like pay and pensions. (AP Photo/Sue Ogrocki)
More than 30,000 angry and frustrated educators from across Oklahoma walked out of schools and swarmed the state Capitol on Monday to demand that state lawmakers invest in public education, while thousands more in Kentucky also rallied to protest legislative neglect.
"Why are we walking? There are 700,000 reasons why! Our students deserve better," said Oklahoma Education Association (OEA) President Alicia Priest in a video statement. "We've all heard stories from students, parents, and teachers affected by 11 years of [budget] cuts to our classrooms. They see broken chairs in classrooms, outdated textbooks that are duct-taped together, and class sizes that have ballooned."
Meanwhile, as state lawmakers turn their backs on students and educators, Oklahoma teachers are selling plasma to make ends meet.
"This is a man-made crisis," echoed NEA President Lily Eskelsen García, who joined Oklahoma teachers in their protests Monday.
"You are part of a movement that cannot be stopped," Eskelsen García told the crowd. "For a dozen years, we sent emails and letters and phone calls and visits. For years, we've explained what was happening as they ignored the needs of public schools. And they ignored us. And now we are taking to the streets."
Oklahomans aren't the only ones who are fed up with state lawmakers who pay lip-service to public education. On Monday, thousands of protesting Kentucky educators gathered in Frankfort alongside NEA Vice President Becky Pringle to demand increased investment in schools and to decry a state bill that would decimate their pension. And, in Arizona, too, thousands of educators rallied in Phoenix this weekend to call for increased funding and pay raises.
Many educators are looking for inspiration in West Virginia, where teachers and education support professionals in a massive, sustained show of strength and solidarity walked out in every one of the state's 55 counties for nine days last month, forcing reluctant state lawmakers to invest in teacher pay and commit to reducing health insurance costs.
"There's a tipping point where people say enough is enough, we need to make some noise," Eskelsen García told MSNBC on Monday. "We need to make everybody see what's happening to our students."
The frustration has been building for years, as state lawmakers have increasingly cut funding for public schools rather than raise revenues to pay for the services that students need. Arizona is the worst: between 2008 and 2015, lawmakers cut per-student funding by 36.6 percent, according to the non-partisan Center on Budget and Policy Priorities. In Oklahoma, it fell 15.6 percent; and, in Kentucky, 5.9 percent.
"You are in the front of the lines to ensure your students have the kind of education that inspires their imaginations and unleashes their brilliance. So don't be shy about your business. Don't be afraid of your power"- NEA Vice President Becky Pringle
As a result, in 2016, Arizona's average teacher pay was last in the nation, while Oklahoma's ranked 47th, according to the NEA Rankings and Estimates report. In both states, teachers can make $10,000 or $15,000 more just by driving across state lines. This makes it extremely difficult for principals or superintendents to hold onto qualified teachers, even as research shows that a well-qualified teacher is the key to student success.
But this uprising of educators isn't just about teacher pay. It's about investing in public school students. Last week, Oklahoma lawmakers put together a funding bill that union leaders called a "down payment" on education. "It's enough to buy about one textbook per student, and our kids need a whole lot more than one textbook," said Priest. "They need art and music and advanced classes, smaller class sizes and everything else they've lost in the past 10 years of budget cuts. One textbook per child isn't going to cut it. The legislature needs to raise more revenue for our children."
In Arizona, teachers are calling for a $20,000 pay raise, and also for education funding to be restored to pre-recession 2008 levels. "Every single kid that I've ever had deserves more than this," said Arizona Education Association member Noah Karvelis, an organizer of Arizona Educators United, to NPR. "There are kids who are not being given a fair chance here."
In Kentucky, schools in 20 counties closed last week and many closed on Monday because of teacher protests over pensions. Last week, House and Senate lawmakers passed a surprise bill that will move all new teachers into a 401K-style retirement plan with no guaranteed returns. It was originally filed as a wastewater services bill, but changed without public notice to a pension bill. The legislative bait-and-switch made it impossible for Kentucky educators to speak to legislators about their opinions on it.
Meanwhile, Kentucky also has suffered cuts in education funding. On Monday, Pringle told Kentucky educators: "You are in the front of the lines to ensure your students have the kind of education that inspires their imaginations and unleashes their brilliance. So don't be shy about your business. Don't be afraid of your power. My question this morning to you is, 'What are you prepared to do?'"
Learn More
Get more from

We're here to help you succeed in your career, advocate for public school students, and stay up to date on the latest education news. Sign up to stay informed.