Vice President Kamala Harris thanked educators for their partnership, praised their commitment to social justice, and asked them to keep moving the nation forward in an electrifying "call-to-action" address at the NEA Representative Assembly (RA) on Tuesday, July 5. 
After pausing to remember the seven people killed and dozens wounded in the July 4 shooting in Highland Park, Ill., near the site of the RA in Chicago, Harris issued a searing indictment of those politicians who refuse to make our schools and communities safer with further common-sense legislation to curb gun violence. 
"Teachers should not have to practice barricading a classroom. Teachers should not have to know how to treat a gunshot wound. And teachers should not be told that 'Lives would have been saved if you only had a gun,'" said Harris. 
She acknowledged that the federal gun safety legislation that President Biden signed into law just weeks ago is the first major step in 30 years, but said there is much more to do. 
"The president and I are counting on you to help us move forward as a nation, just as NEA has done throughout its history," Harris said, recounting key moments in NEA advocacy such as when the organization protected Black teachers in school districts that defied desegregation; when NEA helped to pass DACA, the law that protects undocumented learners; and when NEA led the charge to lower the voting age to 18. 
"Again and again, you have been champions of social justice…. You are not only essential to our children's future," Harris said. "You, I believe, are essential to the future of our democracy." 
'We will not be deterred'
Harris' appearance was deeply meaningful to the more than 6,000 educators serving as delegates to the RA. Among them was Blake Mazurek, who has taught U.S. history for more than 28 years at Granville Middle School near Grand Rapids, Mich. As an elector representing Michigan's 3rd congressional district, he proudly cast a vote for the Biden-Harris ticket during the 2020 presidential election, and seconded the nomination at the Michigan state capitol. 
Mazurek noted that Harris' speech provided "a powerful message that educators have allies in the highest offices in the land. Elections have consequences. Educators are facing very real challenges…and we need to elect more folks who support public education." 
Vice President Harris pulled no punches when she spoke about the challenges that educators face. She repeatedly called out "extremist, so-called leaders" who have tried to make educators political pawns of their political agenda and disrespected their work. 
"While you work hard to teach the principles of liberty and freedom in your classroom, these so-called 'leaders' are taking freedoms away: freedom away from women and the freedom to make decisions over their own bodies; freedom away from a kindergarten-to-third-grade teacher in Florida to love openly and with pride; and away from every American as they intentionally try to make it more difficult for folks to vote." 
In just 126 days, Harris reminded the crowd, we have the chance to vote out some of the extremist lawmakers who mock our values and hinder our progress. 
Harris said firmly that the Biden-Harris administration intends to be the most pro-union administration in history, and that they will continue to support educators in their work and their lives. 
"We are determined to fight for a future where a teacher's wage can provide for a family," Harris said. "I know it is still the case that some of you are working two jobs, some maybe even three. We are determined to fight for a future where you never again have to spend your own money on school supplies to meet your students' needs." 
Our Work Together 
Educators celebrated in 2020 when then-U.S. Senator Kamala Harris smashed the glass ceiling and became the first woman, first Black woman, and first person of Indian descent to serve as vice president. She reached the highest office of any woman in U.S. history.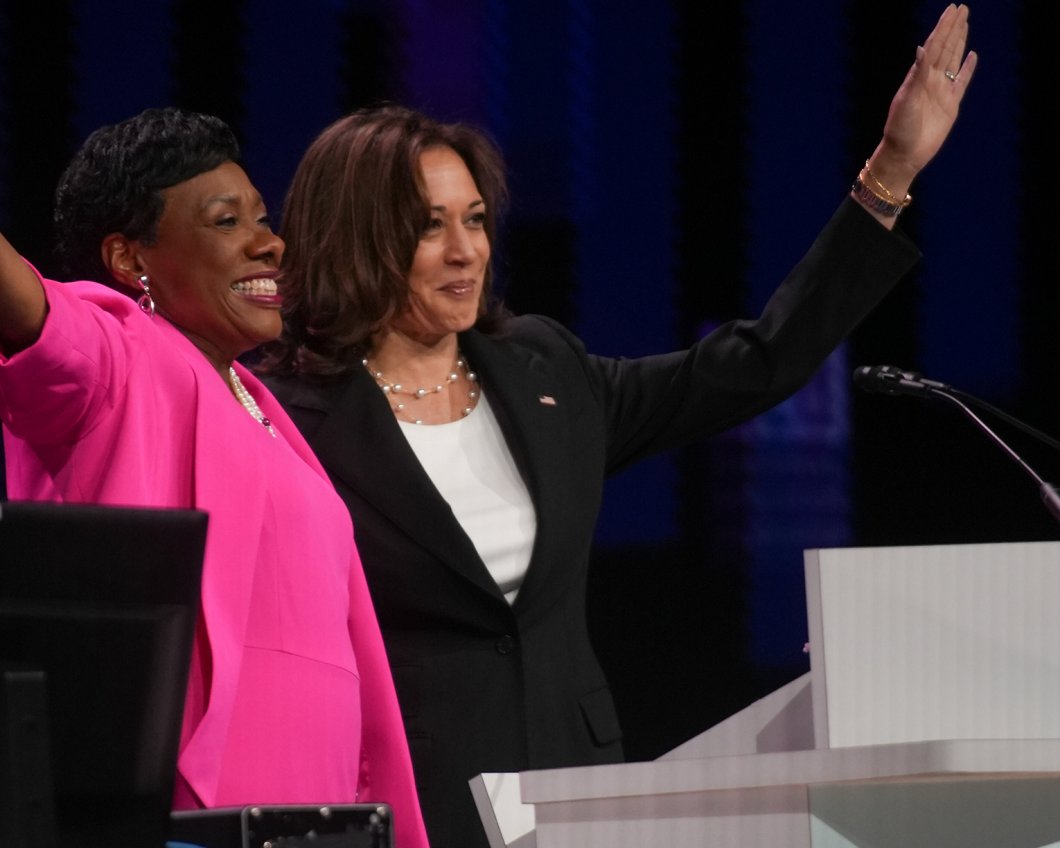 NEA members played a critical role in the Biden-Harris win. Members participated in NEA's election activism at a rate 50 percent higher than 2016 levels, with nearly 230,000 members volunteering. Educators quickly mastered digital organizing techniques for safe and effective voter outreach during the pandemic. 
Joe Biden and Kamala Harris earned more votes than any other ticket in U.S. history.  
Since taking office, the administration has listened to educators every step of the way, just as they promised to on the campaign trail.   
Biden and Harris heard from educators across the country—including the First Lady, Dr. Jill Biden who is a long-time educator and NEA member—that the radical conservative, privatization advocate Betsy DeVos was all wrong for the job of Secretary of Education. They demanded that the administration's pick should have experience working as an educator. Miguel Cardona has spent his entire career in public schools, as an educator and administrator, and he supports educators' right to organize.  
To help the country re-open and rebuild in the wake of the COVID-19 pandemic, the administration made the largest-ever federal investment in public education, dedicating $120 billion to help schools and campuses re-open, decrease class sizes, upgrade facilities, implement safety measures, reach hungry families, and add mental health and medical professionals in schools.  
Educators have played a strong role in directing how that money should be used to support students, thanks to the Biden administration's inclusion of educator voices in the process. 
During her address at the RA, Harris announced "a new initiative to help students who fell behind during the pandemic, which means 250,000 tutors and mentors across the country will be in schools to give students the support they need and to support your work every day." 
Elections matter 
President Biden and Vice President Harris followed through on another campaign promise of critical importance to educators when they rehabilitated the ailing Public Service Loan Forgiveness program (PSLF) to fulfill the federal government's promise to alleviate student debt for those who dedicated their careers to public service. 
Sara Ballengee, a health and physical education teacher at Pikeview Middle School in Mercer County, W.V., did everything right to qualify for PSLF, including 10 years of steady payments toward her student loan debt.  
When the 15-year veteran first started teaching, she could only find a part-time teaching position that paid $14,000 a year, so she also worked at a ski resort and as a babysitter to make ends meet. She soon secured a full-time position, but also earned a master's degree that increased her debt to $65,000. 
That debt was forgiven under the now-functioning PSLF program, thanks to the Biden-Harris administration. 
"I thought I would be paying off this debt for the rest of my life," said Ballengee. Now she can help her college-bound son focus on his studies instead of working multiple jobs to pay for his education. The loan forgiveness has given her "a sense of acknowledgment," Ballengee says, "that the whole purpose of my education was so that I could better help other people's children." 
Thanks to the administration's work, PSLF has brought $8.1 billion of relief to 145,000 NEA members and other public service employees so far. 
See more Biden Administration Wins
Moving Forward, Together 
As much as the Biden-Harris administration has achieved, Harris acknowledged that conditions are still difficult for the nation's educators, and with extremist lawmakers in office, progress sometimes feels impossible. 
"I know…you will go back and often be in a situation where it kind of feels like you might be the only one who sees what you're seeing and understands what's at stake. But let's remember moments like this….and that the fight toward progress by its very nature is not linear," said Harris.
The vice president's parting words to educators were, "Do not despair. Do not be overwhelmed. Do not throw up your hands when it is a time to roll up our sleeves." 
Speak Up For Students and Public Schools
When we act together and lift our voices together in unison, we can improve the lives of children.
Get more from

We're here to help you succeed in your career, advocate for public school students, and stay up to date on the latest education news. Sign up to stay informed.