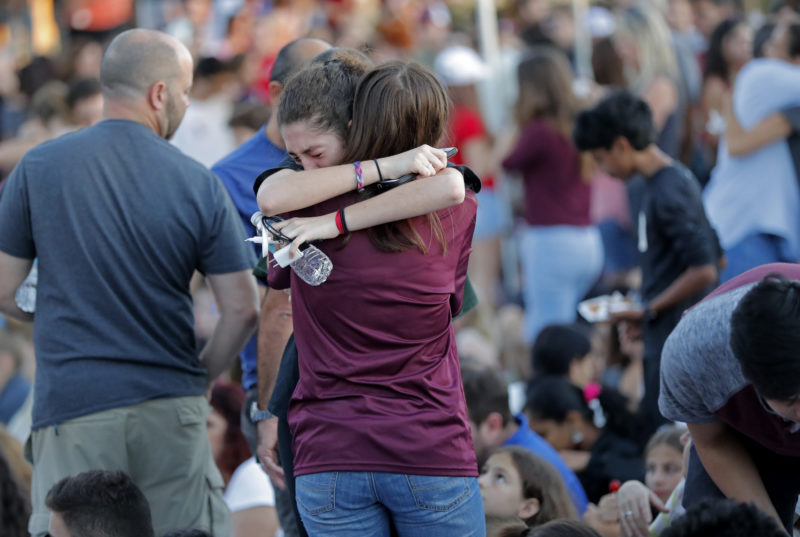 People hug one another before the start of a candlelight vigil for the victims of the Wednesday shooting at Marjory Stoneman Douglas High School, in Parkland, Fla., Thursday, Feb. 15, 2018. (AP Photo/Gerald Herbert)
In the deadliest school shooting since Sandy Hook, 17 people were killed and another 16 injured after 19-year-old Nikolas Cruz opened fire with an AR-15 rifle at Marjory Stoneman Douglas High School in Parkland, Florida.
The shooter pulled a fire alarm but another alarm had gone off earlier in the day for a drill.
The school had recently held an active shooter training.
"We could not have been more prepared for this situation," Melissa Falkowski, a teacher at the school who hid with 19 students in a closet during the rampage, told CNN's Anderson Cooper. "We did everything that we were supposed to do. Broward County Schools has prepared us for this situation and still to have so many casualties, at least for me, it's very emotional. Because I feel today like our government, our country has failed us and failed our kids and didn't keep us safe."
Those who died included students and adults, including two NEA educators. Parkland, with a population of 31,000 in 2016, was named Florida's safest city last year, according to one analysis. The south Florida city had seven reported violent crimes and 186 property crimes the previous year, the analysis said.
Talking to Students About Mass Shootings
As the news streams in and images flash across screens, children can't escape disturbing scenes when mass shootings occur. Many will be scared and confused. Here's advice from the National Association of School Psychologists for talking to your students about violence and other national tragedies.
"Our hearts are broken yet again by the senseless and tragic shooting in our nation's public schools, this time in Parkland, Florida. We are monitoring closely the still developing and tense situation, but we have confidence in the ability of the first responders and the school staff and administrators to help students and families at this time," said NEA President Lily Eskelsen García, who will be visiting with school staff and Florida Education Association members today. "While our thoughts and prayers are with Marjory Stoneman Douglas students, educators and their families, we know that we, as country, need to do more to end these senseless shootings.
"As educators, our foremost priority is to ensure the safety and well-being of all of our students. Our focus now is on supporting the educators, students and their families in the Broward County community today and in the future. We all have a responsibility to create safe schools and communities. As a state and a country, we can and must do more to ensure that everyone who walks through our school doors — educator, student, parent or community member — is safe and free from violence."
Send a Message of Support to the Parkland School Community
Make a donation to support the victims and the families of those who lost loved ones in Parkland
Learn More
Get more from

We're here to help you succeed in your career, advocate for public school students, and stay up to date on the latest education news. Sign up to stay informed.