Rich Glasheen, a math teacher at Ward Melville High School on Long Island, New York, usually spends around 10 to 15 minutes, sitting in the zero-gravity chair, maybe drinking a cup of tea and reading while listening to calming music.
Special education teacher Katherine Jimenez is also partial to the zero-gravity chair but she relaxes to the ambient sounds and images emanating from the 65-inch flat-screen television bolted to the wall. Alyssa Ward, who works in Ward Melville's attendance office, likes to spend a little time in the oversized massage chair. Speech pathologist Kathryn Fenigstein found a recent "lunch and learn" session with a nutritionist particularly helpful.
Zero-gravity chairs, soothing music, aroma diffusers, yoga, visiting nutritionists. You might ask, what kind of staff room is this?
Actually, it's not any kind of staff room. This is "WellVille," a wellness center designed for staff in the Three Village School District. Part of the district's wellness program, WellVille is a reconfigured classroom inside Ward Melville High School. It's open to all staff from 8 a.m. to 3 p.m. to help them de-stress and then walk back to their classrooms or offices feeling rejuvenated.
"WellVille not only allows us to clear our mind from our daily challenges," explains Jimenez, who usually spends part of every lunch break in the room. "It re-charges us with positive energy that we bring back to our students. I have become a much better teacher as a result, and I see how my students have benefited as well."
Glasheen, whose classroom is just around the corner from WellVille, wasn't sure what to expect when he first wandered in. But after just a few small steps, he knew it was something different, and, for this veteran teacher, long overdue.
"When I stood there and took it all in, I could almost feel my blood pressure drop."
'We Need This'
For most of her 30 years as a social worker for the Three Village School District, Debbi Rakowsky served students at a junior middle school. It was there that she started doing more staff counseling.
"Our jobs have changed tremendously. More stress, more compassion fatigue than ever. I was seeing these patterns of malaise, exhaustion, irritability," she recalls. "So I began thinking, what can we do for staff? We really need this."
Rakowsky revamped the faculty room and brought in acupuncturists, and yoga and meditation instructors. The response from the staff was so positive, Rakowsky began to think about ways to scale it up and create a dedicated wellness space for staff, the kind that has become a staple of corporate culture.
"I wrote up a proposal and took it to the district," she recalls. "They were very supportive, but told me I had to oversee the project. I was going to retire but it was worth staying on for a couple more years to see this through."
District Superintendent Cheryl Pedisich didn't hesitate to sign off on the project.
"We acknowledge the important correlation between wellness and job effectiveness and satisfaction," Pedisich explains. "Providing the opportunity to decompress and participate in wellness activities and workshops is not only healthy, but rejuvenating. Ultimately, our students benefit from educators who are happy, supported, and devoted to their profession."
Rakowsky immediately got to work reconfiguring a former classroom at Ward Melville High School and securing grants and other funding avenues to pay for the amenities and programming.
In September 2019, WellVille opened its doors to all district staff.
Batteries Recharged
A staff person walking into WellVille is immediately greeted by a large banner that reads "Welcome to WellVille: Live Well, Work Well" and the soothing sound of running water. In addition to popular features like relaxing music, soft lighting, and lounge chairs,  WellVille also provides staff with free counseling and sessions with acupuncturists, nutritionists, and other wellness practitioners.
There is something for everyone. Rich Glasheen, a self-described WellVille "frequent flyer," finds that a 10-15 minute stopover four times a week is all he needs.
"I'll teach three periods in a row, so it's nice to take that small amount of time and re-charge your batteries," he says. "The second half of my day, I feel refreshed. I'm not dragging."
Kathryn Fenigstein, a speech pathologist at Ward Melville, works with a lot of students with special needs. She says the room provides her an opportunity to take care of herself during hectic days.
"Educators can't forget to take care of themselves, but it can be hard. WellVille gives me a chance to stay grounded," she explains.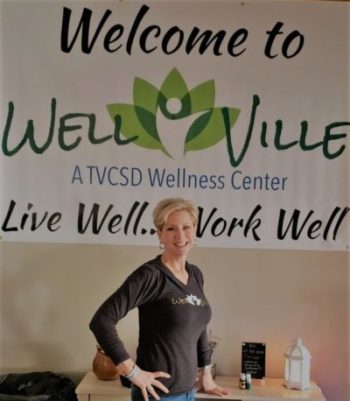 Debbi Rakowsky
"My students need me to be fully engaged, to be upbeat and dynamic," she adds. "So I've learned a lot about how important it is to take that break."
Fenigstein also takes advantage of the programming WellVille offers. She'll attend the "Lunch-and-Learn" sessions with social workers or nutritionists. "These workshops aren't in-depth," Fenigstein adds. "But they're very useful introductions to the ways we can take better care of ourselves."
Free counseling is also available to any staff member who is interested. "After a couple of sessions, I usually refer them out to outside resources, make an appropriate match if necessary," says Rakowsky. "This has been a huge benefit for our staff."
For counselor Darlene Ryan, the workshops have been a valuable source of new strategies and techniques, benefiting her professionally and personally.
"I truly believe that we need to be at 100 percent to give 100 percent to others," Ryan says. "The services that Wellville provides are an invaluable addition to our district."
Services that educators across the country would no doubt like to replicate in their own districts, as Rakowsky discovered soon after WellVille opened.
"We got covered in Newsday, and since then I've been talking to educators across the United States," Rakowsky says. "People visit from all around and want to know how to make it happen in their own schools."
In the meantime, Rakowsky is expecting WellVille to be even more popular as the glow from the holiday break begins to fade.
"People come back to school in January feeling a bit renewed, but the grey and cold kicks in for everybody," she says. "March is the worst month because there are no days off. It's a stressful time of year, so it's a good thing we're going to be here."
Get more from

We're here to help you succeed in your career, advocate for public school students, and stay up to date on the latest education news. Sign up to stay informed.