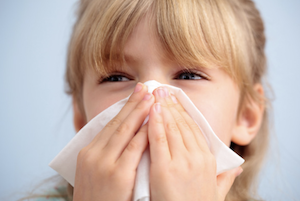 Schools should review and continue to implement comprehensive cleaning and infection control plans (ICP). ICPs present a clear protocol for routine cleaning, sanitizing, and targeted disinfecting, including steps to take in the event of an infectious disease outbreak. Custodial and maintenance staff should receive ongoing training on ICP protocols, products, and procedures; usage of personal protective equipment; and hazard communications. ICPs should include:
Best practices and procedures that protect the health of product users and other building occupants. This includes the use of products that do not contain ingredients that are known to contribute to asthma, respiratory irritation, or other health conditions and U.S. Environmental Protection Agency (EPA)-registered disinfectants or sanitizers.
Procedures for areas considered high-risk (e.g., bathrooms, athletic areas, cafeteria/kitchen, health room/nurse's office) and high-touch points (e.g., door handles, hand railings, lockers, shared desks and keyboards) that may require sanitizing and targeted disinfecting in addition to routine cleaning.
Follow CDC's recommended steps to properly and safely plan, prepare, and respond to COVID-19, here: CDC Interim Guidance for Childcare Programs and K-12 Schools
Ensure that school nurses and other health professionals are equipped with the appropriate personal protective equipment, training, and protocols for preventing the spread of COVID-19.
Encourage staff and students to stay home and see a healthcare provider if sick. Staff medical leave should not result in disciplinary action. Schools should also work with the school nurse or designee to develop a plan to identify and isolate students and staff who arrive at school sick.
Remind staff and students about good hand hygiene, respiratory etiquette, and other important health and safety practices. Students and staff should:
Wash their hands often with soap and water for at least 20 seconds or use an alcohol-based hand sanitizer that contains at least 60% alcohol if soap and water are not available. Note: Schools should provide the time and supplies for students and staff to wash their hands when needed.
Cover their cough or sneeze with a tissue, then throw the tissue in the trash.
Avoid touching their eyes, nose, and mouth.
Work with state and local health and emergency response agencies to develop a joint public health preparedness and response plan in the event of an outbreak.
Learn More
Get more from

We're here to help you succeed in your career, advocate for public school students, and stay up to date on the latest education news. Sign up to stay informed.