Students and educators are back in their classrooms January 23, as the United Teachers Los Angeles (UTLA) and Los Angeles Unified School District (LAUSD) ratified a Tentative Agreement (TA), ending a six-day strike. More than 30,000 members hit the picket lines on January 14 to fight for their students and the resources that the nearly 600,000 kids in Los Angeles public schools need to be successful.
"This is a historic victory for public education educators, students and parents. Class-size reduction, limits on testing, and access to nurses, counselors and librarians will change our students' lives forever. We won this victory through our unity, our action, and our shared sacrifice," said Alex Caputo-Pearl, president of UTLA, in a press statement.
The strike came after years of frustration. "Educators and parents reached a boiling point ... about conditions in classrooms," said Caputo-Pearl.
Some of the problems on the table were class sizes of 45 or more students, 40 percent of schools with a nurse only one day a week, inadequate funding for key programs such as early childhood education and special education.
The agreement is a paradigm shift and delivers on the defining demands of UTLA's contract campaign. Wins include:
A six percent pay raise with no contingencies;
A nurse in every school five days a week;
Lower class sizes, including an immediate reduction of seven students in secondary math and English classes;
Counselor-student ratios of 1:500;
Commitment to reduce testing by 50 percent;
A teacher librarian in every secondary school five days a week;
Investment in community schools;
A pathway to cap charters via a resolution calling on the state to establish a charter school cap and create a Governor's committee on charter schools; and
Hard caps on special education caseloads and release time for testing
Read the full TA here: utla.net/news/tentative-agreement-2019
"I'm so proud of our members, classroom teachers, counselors, nurses, librarians, psychologists," Caputo-Pearl said during a news conference on Tuesday.
"When we fight, we win," said @teacherinroom6 through her Instagram account. "Did we get everything we were fighting for? No. But we did get enough to keep public education headed on a path towards a healthy and concrete future. Privatization did not win today and for that we can breathe a collective sigh of relief."
Organizing for the Common Good
UTLA's strategy to win was based on bargaining for the common good, which brings demands in collective bargaining that benefit the entire community, not just union members. Among the wins are plans to increase green space and the end of "random searches," which send many students of color into the school-to-prison pipeline. Additionally, the school district will provide a dedicated hotline and attorney for immigrant families and will collaborate with UTLA for other services.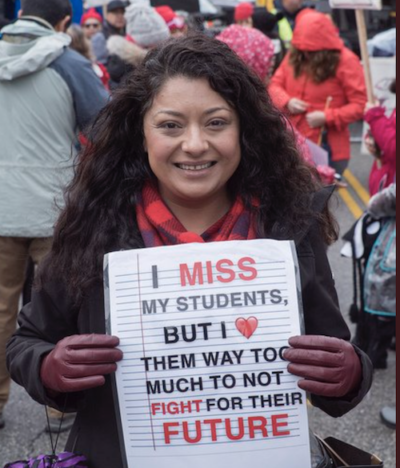 Photo: Joe Brusky
Issues like these is what prompted parents and community organizations to stand with UTLA. For example, on January 18, nearly 2,000 parents and students created a chain that stretched nearly a mile. They wore red, and stood with educators.
The role of UTLA and its members was paramount, too. Picket line captains, chapter chairs, and UTLA leaders — and others — united thousands of educators, parents, community organizations, and other union members to rally in support of students and public education. Actors, musicians, and politicians also came out in support of UTLA.
On day one of the strike, 30,000 UTLA members signed in on picket lines across Los Angeles; more than 900 school sites participated; more than 10,000 parents, students and community members joined on the picket lines; and more than 50,000 people march to LAUSD headquarter to demand action.
By day three, more than 12,000 parents and community members came out to support UTLA, including Diane Ravitch and musician/actor Steven Van Zandt.
Crowds remained strong on day five of the strike, with more than 60,000 supporters on the steps of city hall, and day six brought out 1,000 firefighters from across the U.S. and Canada, whom were in Los Angeles for the International Association of Fire Fighters.
#RedForEd is a Movement
The Los Angeles teachers' strike was just the latest in the national #RedForEd movement that began with walkouts and work actions last year in West Virginia, Oklahoma, Kentucky, Arizona, Colorado, North Carolina and Washington state.
"Although the bargaining issues vary greatly from place to place, there are some issues they all share," says NEA President Lily Eskelsen García: "The concern that public education has been chronically underfunded in state and local budgets for decades, resulting in overcrowded classrooms, too few counselors and nurses, tattered textbooks held together by duct tape, broken computers and outdated materials, and buildings that have fallen into disrepair"
She added, "What we are witnessing is not a moment but a movement of and by educators who are fighting for the public schools our students deserve. We're raising our voices together for our students, for our schools and for ourselves as educators. That's why educators in Los Angeles and all over this country are #RedForEd."
While 21 months of strained negotiations led Los Angeles educators to strike for the first time in 30 years, the "strike has helped not only move to this agreement, but has helped raise the issue of public education nationally and internationally," Caputo-Pearl said during yesterday's news conference. "The creativity and innovation and passion and love and emotion of our members was out on the street, in the communities and in the parks for everyone to see."
Are Oakland and Denver Next?
#RedforEd is also thriving 400 miles north in Oakland, where educators are preparing for a possible strike. Like their colleagues in Los Angeles, they want smaller classes and more support — such as more counselors, librarians, and nurses — for their students, and a living wage.
Oakland educators have been working without a contract since July 2017.  The district has a serious teacher turnover and class size problem, which the Oakland Education Association (OEA) says isn't being addressed in the district's proposals.
"Teachers are fed up with the poor working conditions and salaries, and with the learning conditions that our students are having to endure," OEA President Keith Brown said. "We are fighting to end Oakland's teacher turnover crisis and to bring stability for our students."
If mediation and fact-finding doesn't move the needle on negotiations, Oakland educators, like their colleagues in Los Angeles, are #Strikeready and could take action later this month.
#RedforEd is spreading through California. @OaklandEA educators are fighting for smaller class sizes, more support for students like counselors and nurses, and wages that will keep teachers from leaving. #Unite4OaklandKids #WeAreOEA #WeAreCTA pic.twitter.com/S13HnHGgnH

— NEA (@NEAToday) January 21, 2019
Members of the Denver Classroom Teachers Association (DCTA) approved to strike on January 22, after more than a year of negotiations with Denver Public Schools (DPS) have failed to produce fair, predictable, and competitive pay.
DCTA has been negotiating with the district for 14 months to bring change to a compensation system that is directly linked to Denver's teacher turnover crisis — 31 percent of Denver teachers have only been in their school for three years or less. The revolving door is a crisis for kids and families who count on DPS to consistently provide a caring, qualified and experienced teaching staff at every school.
"Denver teachers want to be in their classrooms with their students, not out on strike. But we have reached the tipping point in our negotiations with DPS where we must stand up for our profession and for our students and do what is best to keep dedicated, experienced teachers in this district," said Henry Roman, president of DCTA.
Get more from

We're here to help you succeed in your career, advocate for public school students, and stay up to date on the latest education news. Sign up to stay informed.