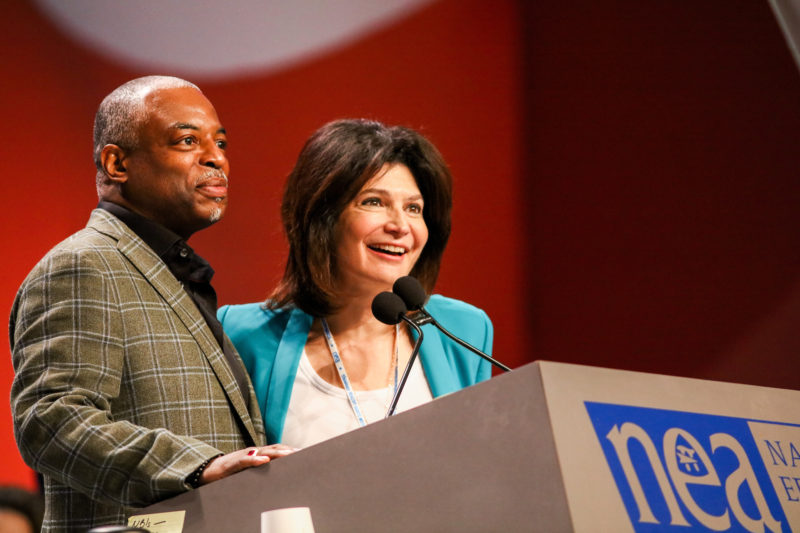 NEA President Lily Eskelsen García greets Friend of Education award recipient LeVar Burton at the 2017 NEA Representative Assembly (Photo: Scott Iskowitz)
Vigorous debates and discussions over social justice, the dangers posed by the Trump-DeVos education agenda, and ending the proliferation of unaccountable charter schools dominated the 96th NEA Representative Assembly (RA) held July 2 – 5 at the Boston Convention Center. Despite addressing these serious challenges, the spirits of delegates were lifted by emotional presentations from student poets that kicked off each day's activities and a rapturously received appearance by actor and reading advocate LeVar Burton.
In her keynote address on Day 1, NEA President Lily Eskelsen García didn't sugarcoat the dire challenges facing public education in the Trump era. But "we can win. We have the power, and they know it," she said.
Eskelsen García assured the 7,000 delegates that NEA would not try to find common ground with Education Secretary Betsy DeVos, who is pursuing an aggressive school privatization agenda, while refusing to protect our most vulnerable students from discrimination.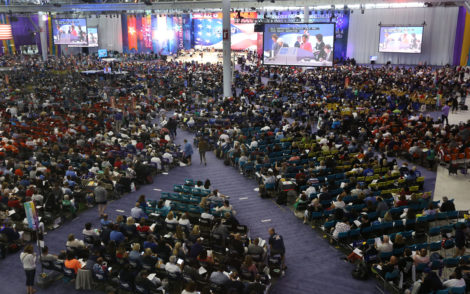 7,000 delegates attended the 2017 NEA Representative Assembly (Photo: Rick Runion)
"I will not allow the National Education Association to be used by Donald Trump or Betsy DeVos," Eskelsen García told the delegates to resounding applause. "I do not trust their motives. I do not believe their alternative facts. I see no reason to assume they will do what is best for our students and their families. There will be no photo-op!"
Giving the close of Day 1 the feel of an organizing rally, NEA Executive Director John Stocks celebrated the student advocacy, member solidarity, and recent victories by NEA state affiliates.
"All across the country, you are demonstrating that we have the resolve to fight for what's right for our students and educators, the resilience to take a hit and bounce back, the audacity to demand respect, and the relentless will to win," Stocks said. "In school after school, campus after campus, local after local, state after state, it is you who are giving voice to the needs of our students, educators, and public education."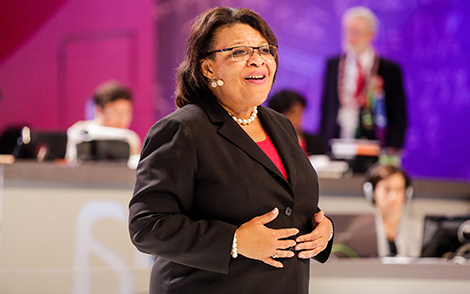 Princess R. Moss, NEA Secretary-Treasurer, delivering an address on Professional Practice during the NEA RA. ( Photo: Calvin Knight)
Day Two turned the spotlight on professional practice and two outstanding educators, 2017 NEA Education Support Professional (ESP) of the Year Saul Ramos, and 2017 National Teacher of the Year Sydney Chaffee.
In his speech to the assembly, Ramos, a paraeducator in Worchester, Mass., urged the delegates to live up to the promise of the RA's theme: "Uniting Our Members and the Nation for Strong Communities, Empowered Professionals, Successful Students."
"It is more important than ever for all of us to unite and support public education," Ramos said. "ESP members, NEA-retired members, teachers, higher education and student members, and parents— we must all stand strong together, and let our elected leaders know what we need as educators to nurture successful students."
Sydney Chaffee, a humanities teacher at Codman Academy in Boston, recalled her evolution as an educator. Her first year in the classroom was spent figuring out how to maintain control over her students and how they learned, but she quickly realized that empowering her students was more important—and effective—than a tightly controlled classroom.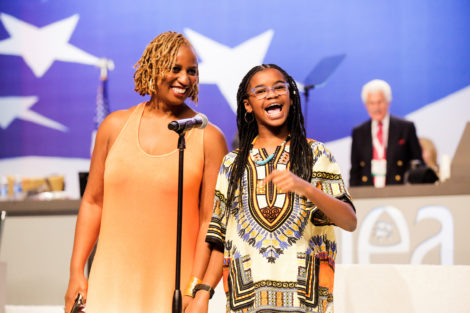 Twelve-year-old Marley Dias and her mother during the NEA Representative Assembly. Dias was one of several youth poets who addressed the assembly. ( Photo: Calvin Knight)
"All educators should listen to student voices and be architects of 'school communities,'" Chaffee told the assembly. "Let's keep our ears and hearts open to our students' brilliance, even when it makes us uncomfortable. Let's envision education as a time machine that helps our students travel to worlds we have only imagined—ones that are built on ideals of justice and equity and collaboration."
One of the indisputable highlights of the 2017 RA for the delegates was the appearance of LeVar Burton, this year's recipient of NEA's highest honor, the Friend of Education Award. In his speech, Burton, host of the long-running PBS children's series, "Reading Rainbow," fired on all cylinders, taking down Betsy DeVos, saluting the impact his mother (a teacher) had on his life, and passionately calling for adequate funding of public education and greater respect for educators.
"I believe that what you have to offer is essential to this nation," Burton said. "And our desire to lead the world in any meaningful manner depends on you...Without you, we go nowhere."
On Day 3, delegates overwhelmingly approved a new policy statement in response to the rapid expansion of unaccountable, privately managed charter schools.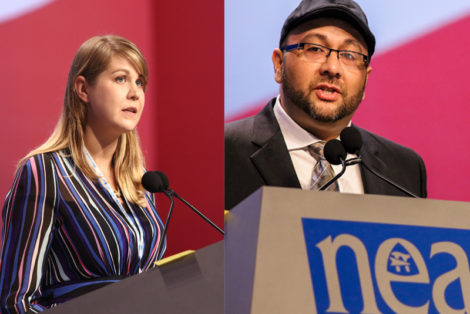 2017 National Teacher of the Year Sydney Chaffee and Education Support Professional of the Year Saul Ramos address the 2017 NEA Representative Assembly. (Photo: Scott Iskowitz/Calvin Knight)
"We oppose any charter schools that do not meet the criteria because they fall short of our nation's responsibility to provide great public schools for every student in America," said NEA Vice President Becky Pringle, who led the 21-member task force charged with writing the new policy statement.
The statement draws a sharp new line between charter schools that have a positive effect on public education and those unaccountable, privately managed charter schools that hurt public schools and students. NEA will forcefully support state and local efforts to limit charter growth and increase charter accountability, and slow the diversion of resources from neighborhood public schools to charters.
As always, RA delegates got down to important business of electing NEA leaders. President Eskelsen García, Vice President Pringle and Secretary Treasurer Moss were all re-elected to serve another three-year term, which they will begin on September 1.
Also re-elected was California educator George Sheridan, who has served on the nine-member NEA Executive Committee since 2014. The committee, which consists of three executive officers and six members elected at-large by the Representative Assembly, is responsible for general policy and interests of NEA and acts for the NEA Board of Directors in between its four regularly scheduled meetings each year.
The Executive Committee will have a new face starting September 1, as former Oregon Education Association President Johanna "Hanna" Vaandering was elected to a first term.
"I am honored and thrilled to have this role to advocate for great public schools now at a national level," said Vaandering. "I am committed to continuing my efforts in ensuring great public schools for all students, fighting for the rights of each and every educator, and advocating for stable and adequate school funding for schools across our country."
Stay Informed We'll come to you
We're here to help you succeed in your career, advocate for public school students, and stay up to date on the latest education news. Sign up to stay informed