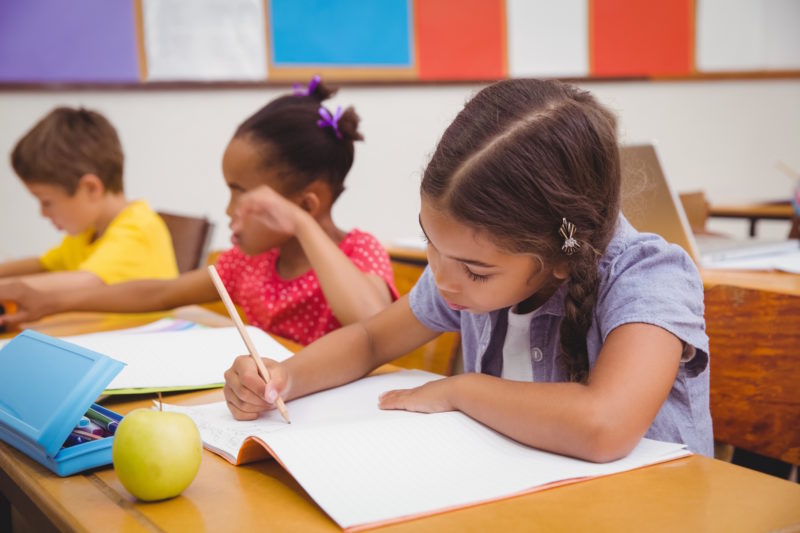 One of the most important and welcomed provisions of the Every Student Succeed Act (ESSA) is the removal of so-called Adequate Yearly Progress (AYP) - the federal mandate that came to symbolize everything that was wrong with the way No Child Left Behind defined and measured accountability. AYP imposed rigid and narrow measures for school improvement, improperly labeling many schools as low-performing and imposing punishment when they were unable to meet the unrealistic expectations for proficiency.
What eventually will replace it is difficult to predict because ESSA gives individual states the flexibility to design new accountability systems. While all stakeholders want to move implementation forward - schools and students, after all, are not sitting back and waiting for this process to play itself out - everyone wants to get it done right.  And that takes time.
This dilemma was addressed by a panel of experts who spoke about accountability in the ESSA era at the 2016 Education Writers Association National Seminar held this week in Boston. Moderated by Lauren Camera of U.S. News & World Report, the panel included Becky Pringle, vice president of the National Education Association, George Miller, former member of the U.S. House of Representatives and one of the principal architects of NCLB, Mitchell Chester, commissioner of Massachusetts public schools, and Michael Petrilli, president of the Thomas B. Fordham Institute.
While states have new clout under the law, ESSA requires that their new accountability systems must include the following five indicators: math and reading assessments, graduation rates, one other statewide indicator for middle and elementary schools, English Language Proficiency, and at least one indicator of school quality and student support, such as school climate or safety, access to advanced coursework, graduation rate, etc.
Pringle called the reporters attention to this fifth category, Requiring schools to meet certain benchmarks in schools supports - a provision that was strongly advocated for by the NEA during the legislative process - is a big step forward, she said.
"50 percent of students in the United States live in poverty. We can an really move the new law forward by providing the necessary resoucres and supports to students in those more disadvantaged schools."
Pringle believes ESSA overall presents a major opportunity to move away from the "test and punish, blame and shame" era that NCLB – good intentions notwithstanding - shackled our schools with for 13 years.
Michael Petrilli called the new law's requirement that all schools demonstrate that they are improving the English language proficiency of their English-language learners a "very big deal."  But he cautioned that, while test scores are an imperfect measure, states will have their work cut out for them in designing new, reliable metrics in measuring school quality.
ESSA reaffirms that "in this country, education is a local issue," George Miller observed, but the former member of Congress expressed concern that some states may use the flexibility provided by ESSA to  "hide the ball," or find someway to conceal low performance by high-poverty schools.
"Benchmarks are extremely important. So do we want to go back to 'Go' or move forward?" Miller asked. " We must not forget our most disadvantaged students."
NCLB had "outlived its usefulness," said Mitchell Chester, but "the jury is still out" on how ESSA will play out as the implementation process begins. The Massachusetts schools chief, while insisting that the federal government continue to play a strong role in ensuring benchmarks are met, praised the new law's flexibility.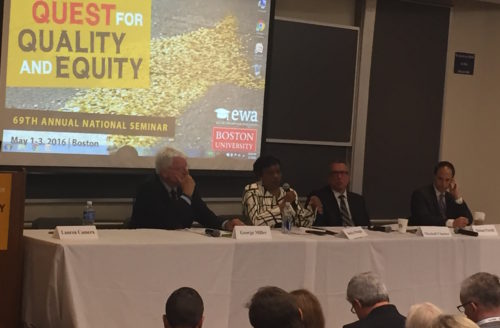 At the 2016 Education Writers Association National Seminar, NEA Vice President Becky Pringle discussed accountability in the Every Student Succeeds Act with former Rep. George Miller (left), Massachusetts education commissioner Mitchell Chester (second from right) and Michael Petrilli, president of the Fordham Institute.
"ESSA permits states to develop more nuanced accountability systems without forcing them to apply for waivers, as required under NCLB," Chester explained.
When asked about the lessons learned from NCLB and how they can be applied as the new law is rolled out, Pringle suggested that one of the most exciting aspects of ESSA is how it codifies collaboration between stakeholders and ensures that teachers' voices are part of decision-making process.
"Right now, ESSA implementation teams are being formed across the country that include educators," Pringle explained. "School districts are passing resolutions to make sure educators have a place at the table and new accountability systems are designed  – systems that hopefully can focus on sudents in a way that doesn't test and punish."
Speaking to the issue of how assessments may look in the ESSA era, Chester pointed out that Massachusetts and other states were already developing better models that relied less on test scores and more on portfolio-based assessments. Petrilli added that half of the states in the country were now using either the Smarter Balanced or PARCC assessments associated with the Common Core, which are designed to tap into more in-depth, higher quality thinking.
Pringle cautioned, however, that that the rollout of those tests provides a useful cautionary tale as ESSA implementation moves forward.
"There was a rush to implement those assessments, including trying to make them another high-stakes test," she pointed out. "Many schools didn't have the technology to even administer them." Pringle urged that as states look to reshape their accountablitly systems, they avoid this mistake and follow though on collaboration and not rush the process.
When George Miller wondered if too much collaboration between stakeholders would diminish the urgency of meeting the needs of students currently in the system, Pringle responded that everyone understands what's now at stake. Rushing implementation, especially the development of new accountability systems, was not the answer.
"Let's move with urgency but we must get this right," Pringle said. "If we don't take the necessary time, we will all be back here in another 13 years talking about why this law failed."
Stay Informed We'll come to you
We're here to help you succeed in your career, advocate for public school students, and stay up to date on the latest education news. Sign up to stay informed