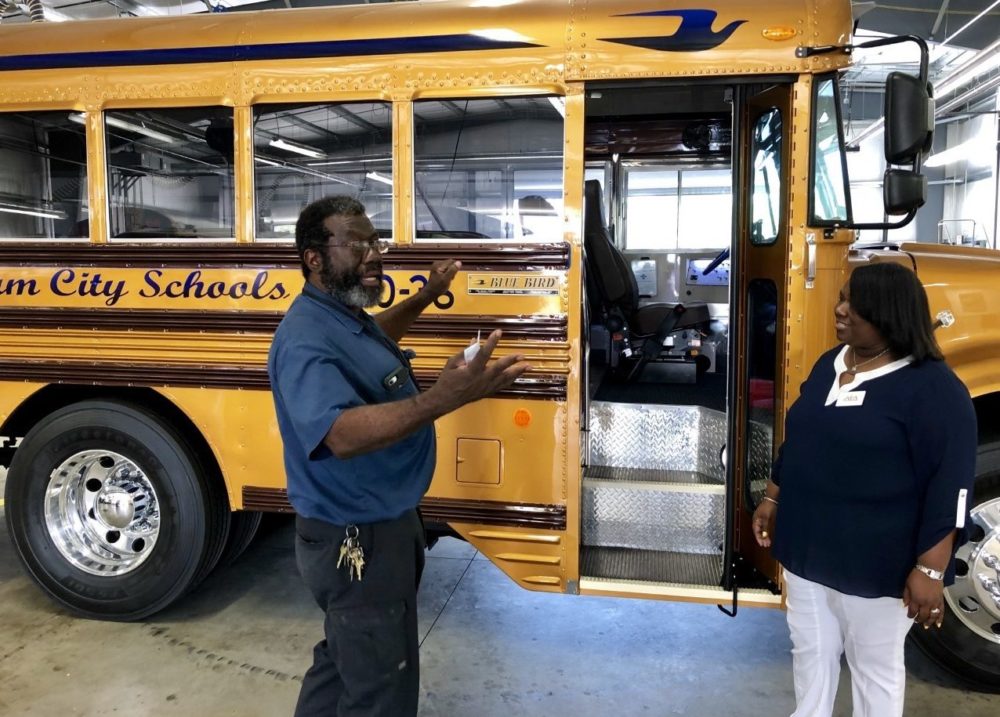 Birmingham City Schools Transportation Shop Foreman Anthony Gary with Alabama Education Association UniServ Director LaMonica Harris.
When Birmingham City Schools decommissioned Bus 90-36 after more than 25 years of service, BCS Transportation Shop Foreman Anthony Gary proposed a new idea.
"Once a bus gets past a certain age, the district would junk it. But we said, 'Let us take it and do something good with it'," Gary recalls. The district agreed, and a unique project got under way, led by Gary and his whole team at the district's transportation shop.
"All the fellows decided to come together and take on this project, to use this bus as a dropout recovery program," he explains. "Everybody's not going to go to college, so we promote career technology. We want to show students that they can do anything they want to do with their hands."
The project plan was simple: to renovate and modify the bus (nicknamed "Shorty") in the various ways that would illustrate the skills and accomplishments available through studies in career technology.
"What we wanted to do is promote career technology, demonstrate to children in the Birmingham schools that there's another option -- if they're not going to college -- besides doing nothing," Gary says.
A video plays on a screen inside the bus, showing the evolution of the bus. "We did it from the inside-out, upside-down, painted it right here -- and did it all for free," he declares. "It didn't cost the board anything. Our vendors got on board because they understood what we were trying to do with career technology."
Among the renovations, the team installed hardwood floors, nearly a dozen flat-screen video monitors, and a state-of-the-art sound system. Every surface, from floor to ceiling, was repainted and polished to a high shine. New LED lighting was mounted on the walls and ceiling, even under the hood and below the engine.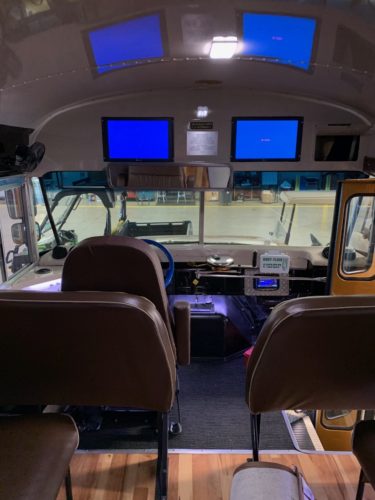 "Shorty" now has hardwood floors, nearly a dozen flat-screen video monitors, and a state-of-the-art sound system.
When Shorty was finished in 2017, district recognized the transportation department's achievement and initiative with a luncheon, and its debut was captured in a published collection of photographs.
"We had a ball," Gary says. "The career tech folks came over, brought the kids. We did a lot of training here in the shop, let them have hands-on opportunities, showed them we need skilled people in this world."
"We show that you can paint if you want to, be a mechanic, lay hardwood flooring, install a sound system, install video equipment and all, if you put your mind to it," he adds.
This year, the team showed Shorty in the "World of Wheels," a regional car show that comes to Birmingham annually.
"We're definitely very proud of Shorty," Gary explains. "We entered Shorty in the show, so we could show everyone what Birmingham City Schools is all about, that we could get together and do something positive for our kids."
When the day's trophies were awarded, Shorty won first place in its category. The trophy now stands in the shop's office, and a sign announcing the award hangs over the office door.
For now, only mechanics are allowed to drive Shorty, in part because its drivers must have CDL licenses. Due to its modifications, the state won't allow it to be used for its original purpose: transporting students. "We chopped the seats, lowered it four inches. But we can carry the bus to schools, set it up, and let students see what they have the opportunity to do if they decide not to go to college.
Offering a tour of Shorty in the center of the shop, Gary opens wide its rear door to reveal a video monitor mounted on the inside, facing rearward.
"Now it's an outdoor classroom," he says. "You can seat 15 or 16 children inside, put more seats outside, and use the USB ports to plug in your technology and show lessons on the video screens if you want."
Students have responded positively. "They love it. They climb in and out of it, look it over, sit down. We're definitely real proud of it."
The district is forward-thinking about preparing students and educators for the digital age.
"Birmingham City Schools has always been innovative when it comes to advancing educators to the technology age," says Alabama Education Association President Sherry Tucker. "Our members have learned through technology how to balance and create financial reports, enroll students, create lunch numbers, create class schedules, allow students to take tests on computers and now they have made technology mobile. BSC is a pacesetter and model for all schools in the State of Alabama when advancing technology."
Learn More
Stay Informed We'll come to you
We're here to help you succeed in your career, advocate for public school students, and stay up to date on the latest education news. Sign up to stay informed