As school shootings become a cold fact of life in the United States, it is usually top-of-the-line security devices that are heralded as the best defense. While high-priced body scanners, bulletproof doors, surveillance cameras, and gunfire detectors can help save lives during a school terrorist attack, experts say prevention efforts are best for limiting future bloodshed.
"One of the best ways to prevent school shootings is by schools being involved in their community," says David Wood, a teacher in the Radnor Township School District (RTSD), named one of the year's safest school districts in America by Niche, a website that analyzes academic, neighborhood, and student life data.
"A school can have the most sophisticated safety measures in place and still not be truly safe," says Wood, president of the Radnor Township Education Association (RTEA). "We work really hard to develop supportive relationships where community members feel comfortable sharing concerns about students, educators, and school safety."
Whether it is a grocery store clerk, hospital worker, or senior citizen who hasn't had children in school for 50 years, Wood says Radnor residents are connected through a wide-ranging network of sports, arts, science, cultural and civic organizations and activities.
"It's the intangibles," says Joe Perchetti, RTSD supervisor of security. "Yes, we have the digital equipment and conduct regular training and emergency drills, but it's the interaction between our students, principals, teachers, school support staff, and their neighbors that collectively become the ultimate deterrent to school violence."
Superintendent Kenneth Batchelor says keeping in touch with community members enhances academic programs as well as prevention efforts.
"We strive to cultivate a sense of community beyond the walls of each of our schools," he says. "We credit our strong relationships with local businesses, residents, law enforcement and other emergency personnel for our ability to maintain safe learning environments."
On the front lines of school safety at Radnor are security guards who are encouraged to know students at their school by name and face. But their role does not stop once they are off campus, says Perchetti, a military veteran and avid volunteer with local groups ranging from the Cub Scouts of America and Little League Baseball to the U.S. Fish and Wildlife Service.
"A school can have the most sophisticated safety measures in place and still not be truly safe. We work really hard to develop supportive relationships where community members feel comfortable sharing concerns about students, educators, and school safety" - says David Wood, President, Radnor Township Education Association.
"Our security guards are trained to be district security ambassadors," he says. "Although we employ an internal training regimen, most of the guards are off-duty firefighters, police, EMTs (emergency medical technicians), retired law enforcement and military veterans."
While community involvement, officer training exercises, and student emergency drills are essential to maintaining school safety standards, Batchelor says it also vital to encourage students to participate in school activities and look out for one another.
"When our students feel valued and part of the school community they are more likely to possess a shared sense of responsibility for each other's safety and well-being," Batchelor says. "We take pride in building trust in our students so they feel confident enough to come forward and tell an adult if they sense another student is struggling."
Wood adds that all staff "play an important role at school -- from the bus driver who picks students up in the morning to the custodian they pass in the hall on the way to homeroom, to teachers and paraeducators, cafeteria and office workers. Students rely on seeing each of these familiar faces every day – adults who they trust."
Perchetti manages approximately 16 security guards located in seven buildings. The 3,700 students attending the district's three elementary schools, a middle and a high school, are seldom far from on-site security guards, police officers on the beat, and office-based supervisors who monitor schools via closed-circuit television.
"All the key players know the floor plans of our schools," Perchetti says. "A memorandum of understanding is updated when required and trainings are conducted inside each of the schools."
In addition, police and firefighter officers also have access to detailed photographs of every classroom, cafeteria, hallway, playground, and parking lot. Should a shooter gain access to a school building, security personnel can track the intruder through surveillance cameras and sensors located throughout the buildings. This allows emergency responders to determine injuries incurred and which classrooms are safe or under attack.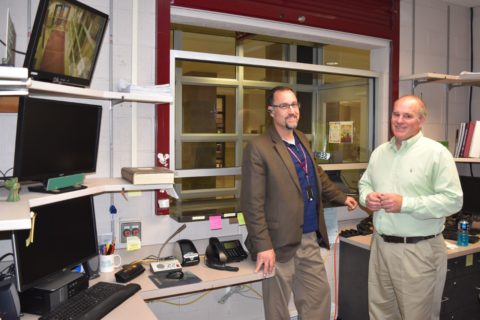 Security supervisor Joe Perchetti (left) and teacher David Wood meet in the security office of Radnor High School, located in one of the safest school districts in the U.S.
"We hired a photographer who took still photos throughout the buildings and then created a virtual reality tour," Perchetti says. "Police and fire chiefs can access the tour in their vehicles and offices so they can communicate with safety personnel in real time during an emergency."
If an emergency should include a terrorist with an automatic weapon, for example, the incident will likely be over in less than 15 minutes, according to the Department of Homeland Security. Under these circumstances, it usually takes three to five minutes before the first stream of 911 calls.
"After those calls are made, the beat officer (at Radnor) will probably be on site within minutes, if they are not already there," Perchetti says. "The response time for our emergency services is incredible."
High profile shootings such as in 1999 at Columbine High School in Littleton, Colo., and Sandy Hook Elementary School in 2012 in Newtown, Conn., have caused U.S. school districts to amp up security measures. Rampages at military sites such as the shooting in 2013 at the Washington Navy Yard in D.C., and in religious settings like the Emanuel African Methodist Episcopal Church in 2015 in Charleston, S.C., have also heightened coordination efforts between districts and local law enforcement agencies.
"We live in a complicated and ever-changing world," says Wood. "We have our share of issues at Radnor, but because we share a concern for the children we will never become numb to their needs."
Photos: Michael Petitti
Stay Informed We'll come to you
We're here to help you succeed in your career, advocate for public school students, and stay up to date on the latest education news. Sign up to stay informed