Key Takeaways
NEA members are nearly 90 percent vaccinated against COVID-19.
Almost all -- 97 percent -- are back in school, full-time.
Only 27 percent feel "very safe" working inside school buildings.
A new survey finds that the majority of National Education Association members are back at school, ready for in-person education, as schools reopen across the country.
A full 97 percent of members say their students are learning in-person, full-time this academic year, according to the survey, conducted by GBAO Strategies.
The vast majority are also vaccinated – nearly 90 percent of respondents report receiving at least one dose of the COVID-19 vaccine, a much higher rate than the general public, but as the Delta variant surges, they believe PPE and physical distancing is important and just 27 percent feel they are "very safe" working in person at school.
A Central Texas school district closed all campuses for two weeks after two educators died of COVID-19, while Oklahoma high school history teacher Aarok Baker, blamed the law barring mask mandates at public schools for his COVID-19 breakthrough infection.
"This is a story about the state of Oklahoma jeopardizing my health and creating a massive occupational hazard for public school educators and students statewide," he said in a blog post.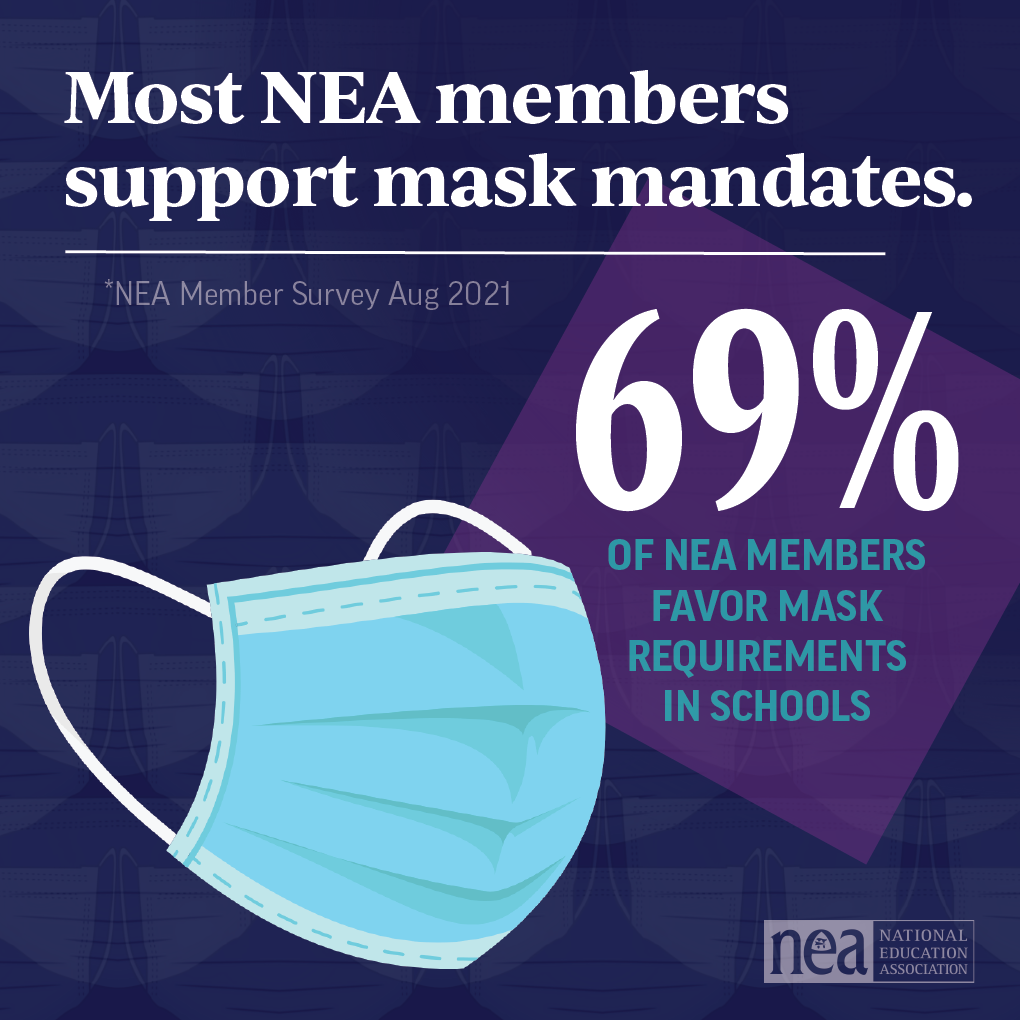 Baker felt symptoms after his eighth day back at school, but wasn't alarmed because he's vaccinated and wears a mask at school.
But when he began to feel worse he was tested and believes it's undeniable that he contracted the virus at school because his exposure elsewhere "pales in comparison."
This happened before the temporary injunction of Senate Bill 658, which barred schools in Oklahoma from instituting a mask mandate unless Gov. Kevin Stitt declared a state of emergency. With the injunction that went into place last week, schools can now enforce mask mandates in the state.
"Educators remain committed to working together to ensure our local schools are the safest places in the community," says NEA President Becky Pringle. "As the latest NEA survey shows, we continue to emphasize that the path for safe in-person teaching and learning relies upon a layered approach, starting with vaccines for all who are eligible, regular testing, and masks. There's much more to keeping everyone in the community safe, but those three are absolutely fundamental."
Below are more key findings of the survey:
A majority of members support vaccine and mask requirements in schools. Two thirds (65 percent) of members support their school district requiring/mandating school staff to receive COVID-19 vaccinations. 

Members generally feel safe returning to school in-person this year, but do not feel "very safe." 

 

Two-thirds of members say they feel safe (67 percent) working in-person this year, but few feel very safe (27 percent).

 

Amid the Delta variant surge, members place greater importance on requiring PPE and enforcing physical distancing for in-person instruction than they did three months ago. 

 

Improving school ventilation is a top priority for educators but few report that their buildings' ventilation systems have been upgraded.

 

The vast majority of members (80 percent) feel the pandemic has resulted in more educators leaving the profession; a growing number of members (37 percent, up from 28 percent in July 2020) say they personally are more likely to retire or leave the profession earlier than they had planned.   
"Educators know there is no substitute for in-person teaching and learning, but we are not in the clear yet, not with the sharp rise of the Delta variant and with some politicians trying to outlaw the very things we know will keep our students and schools safe," said Pringle. "Now more than ever, we need to all work together to overcome the shared challenges and bring forth solutions for our students to thrive. We need universal mask policies in schools, vaccines for all those who are eligible, and robust testing of anyone who isn't vaccinated. That's the only path forward."   
Methodology 

 
On behalf of the National Education Association, GBAO Strategies conducted the nationally representative online survey of 2,807 non-retired NEA members August 14-23, 2021. The sample is subject to a +/- 1.9 percentage point margin of error at the 95 percent confidence level.   
Click here to download a summary of the vaccine survey.  
Learn More
Vaccine Resource Center
NEA encourages widespread use of safe and effective vaccines for educators and students. We've collected the following information and resources to help educators and parents make an informed decision about how best to protect our students.
Stay Informed We'll come to you
From education news to action alerts to member benefits-we're here to help you succeed in your career, advocate for your students, and support public education. Sign up to stay informed.