Arizona students show appreciation for their teachers during a neighborhood parade in Yuma on April 15. (Randy Hoeft/The Yuma Sun via AP)
When the coronavirus pandemic forced school buildings across the country to close the doors in March, educators reacted quickly, not only to continue students' education, but help them stay fed, supported and healthy.
Teachers moved their classes online, cafeteria workers are preparing and distributing meals at grab-and-go stations, and school nurses are volunteering at hospitals and conducting virtual wellness checks.
"As they always do, educators are stepping up to help America's students in the face of this unprecedented global crisis," said NEA President Lily Eskelsen García.
It's no surprise then that parents overwhelmingly approve of the job they are doing.
A new National Education Association survey found 88% of parents approve of how their children's teachers are handling the coronavirus pandemic . They also overwhelmingly (81 percent) approve of school support staff (school bus drivers, cafeteria workers, etc.) - a higher rating than they gave their governor (71%), and their mayor or local government (73%).
"Educators and education support professionals make a difference in the lives of millions of students every day in schools and [on] college campuses across the country, and their work and impact extend far beyond the boundaries of the classroom," Eskelsen García. said. "Never have all of our nation's educators been more appreciated and seen—even as they work with students from a distance."The poll also showed that parents and guardians believe educators are working hard to communicate with them, that educators are finding ways to connect with students who don't have internet access and they are working hard to give their students one-on-one assistance.
The NEA survey also asked parents to rank their main concerns about the pandemic. Keeping their children's education on track was on par with the fear of actually contracting the virus, or someone close to them getting sick. Concerns about the health and educational impact of the pandemic are particularly high with Latino and African American parents.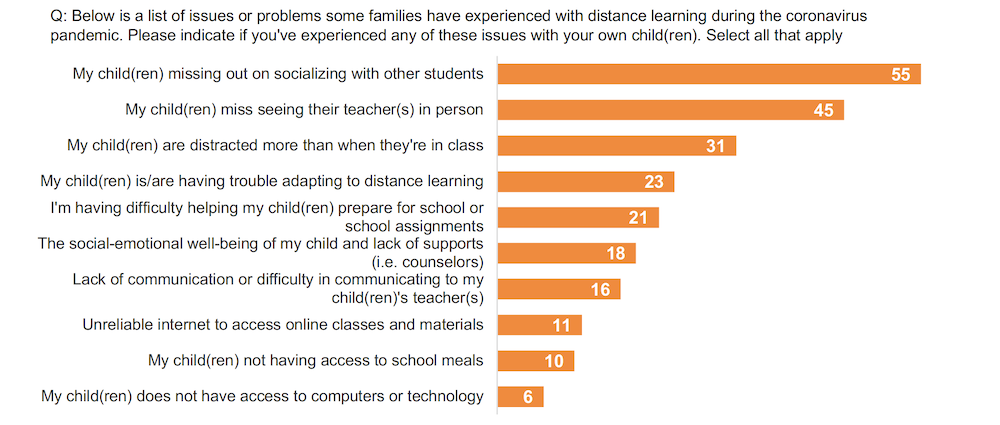 The transition to online and distant learning has obviously been a huge challenge. The survey found that parents would like more resources and training on distance learning. Asked what their schools should prioritize, parents cite distance learning training for themselves and for educators. They also pointed to making sure educators continue to get paid during closures and narrowing the digital divide.
Asked to rank the issues and problems their own children were experiencing with distance learning, parents cited the absence of socialization with their fellow students (55%) and missing their teachers in person (45%).
The high marks parents are giving the nation's educators are a welcome kick-off to National Teacher Appreciation Week (May 4-8) and National Teacher Day (May 5).
"This year's week-long celebration provides a timely opportunity to thank not just teachers, but all educators," Eskelsen García said. "We all have seen very inspiring stories about educators who are finding creative ways to engage students, and grateful parents who understand in a more profound way what it means to continuously reach, teach, and inspire, even from a distance."
The national survey was conducted by GBAO Strategies on April 3-7, 2020 and included a survey of 800 parents and guardians of school-aged children who attend a public school. Findings from a national survey of educators will be released in the coming weeks.
Get more from

We're here to help you succeed in your career, advocate for public school students, and stay up to date on the latest education news. Sign up to stay informed.