Key Takeaways
President Biden called on educators and all union members to focus on the upcoming midterm elections. Our democracy, he said, is on the ballot.
If extremist candidates win office, the Biden administration's progress in building a more just and equitable society could be eroded.
Educator advocacy in the midterm elections is key to keeping the country moving forward.
Just a few years ago, Dajsha Williams was a high school senior who was worried how she would handle her student debt if she pursued her dream of going to college and becoming a public school teacher.
Today, Williams is a senior at The Ohio State University studying early childhood education, and a member of NEA's Aspiring Educators program. Now she's confident that she can handle her student loan debt because of the Biden administration's work to make higher education accessible to more students.
On Friday, Williams introduced President Biden to the stage at a gathering of roughly 500 educators and labor leaders at the headquarters of the National Education Association in Washington, D.C.
"It was life changing," Williams said, "to have the opportunity to meet and introduce the president of the United States. It's one of many opportunities I've had to grow into a leader through my union."
The enthusiastic audience cheered throughout Williams' remarks, as she spoke about the Biden administration's accomplishments and the critical importance of the upcoming midterm elections.
"I'm a first-generation college student. I can't tell you how important student debt relief is to me. But it also matters to my classmates, and to aspiring educators across the country," Williams said from the stage.
"Having a president who respects and values educators means so much to me. President Biden knows that unions not only play a critical role in our economy, but make this country stronger."
Democracy on the Ballot
Under an enormous Building a Better America banner, President Biden called on the union audience to stay focused on the upcoming midterm elections.
"Our democracy is on the ballot," Biden said, calling the midterms an inflection point that will determine what our country is like for generations to come. He proceeded to list a host of issues that "MAGA Republicans"—extremists who support the reckless crusade of the Trump administration—would pursue if they regain control.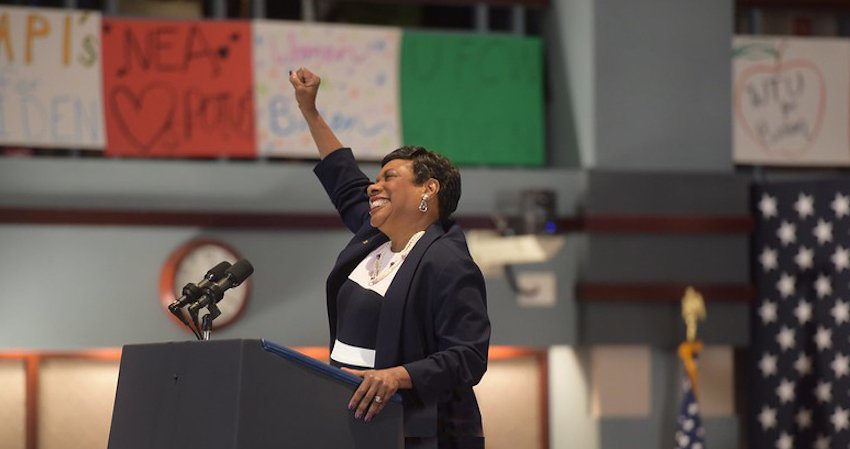 Social Security would be on the chopping block, and Medicare spending would be at risk. Gun safety would be rolled back. And the federal government's commitment to America's families, schools, cities and towns—as seen in the Biden administration's life changing American Rescue Plan—would once again be replaced with a program of tax cuts for the wealthy at the expense of everyone else.
If extremist Republicans gain more power in Congress, student debt relief would no longer be a priority, and we certainly would not see the commitment we have now to dealing with the climate crisis—a reality that some candidates on the ballot this fall deny altogether. 
But Biden was unwavering in his optimism that this election could be another step forward for the country.
Biden praised union engagement in elections, and acknowledged that women will likely decide the outcome of the midterm elections. Many states have seen a surge in women registering to vote, which is broadly attributed to the Supreme Court's recent decision to curtail women's rights to make decisions about their own health care.
Women make up more than 75 percent of the membership of the National Education Association.
NEA President Becky Pringle pledged that NEA will "continue the work of building a nation that works for everyone."
"We have just 45 days left to ensure our democracy remains protected," Pringle said. "Forty-five days to ensure each of our students can look forward to living in a nation where equity, justice, and freedom are the norm, not the exception."
Representing 3 million educators, the National Education Association is the nation's largest labor union. Joe Biden is the first sitting president to visit the NEA headquarters since President Lyndon Johnson.
NEA hosted Friday's event on behalf of the nation's labor movement, with guests from the American Federation of State, County and Municipal Employees (AFSCME), the Laborers' International Union of North America (LIUNA), the International Brotherhood of Electrical Workers (IBEW), and the Service Employees International Union (SEIU)and the American Federation of Government Employees.
The Final Push in a Critical Election
The final push to the midterm elections is top of mind for Dawn Etcheverry, a music teacher at  Greenbrae Elementary School in Washoe County and president of the Nevada State Education Association. She found President Biden's address to the union crowd "motivating."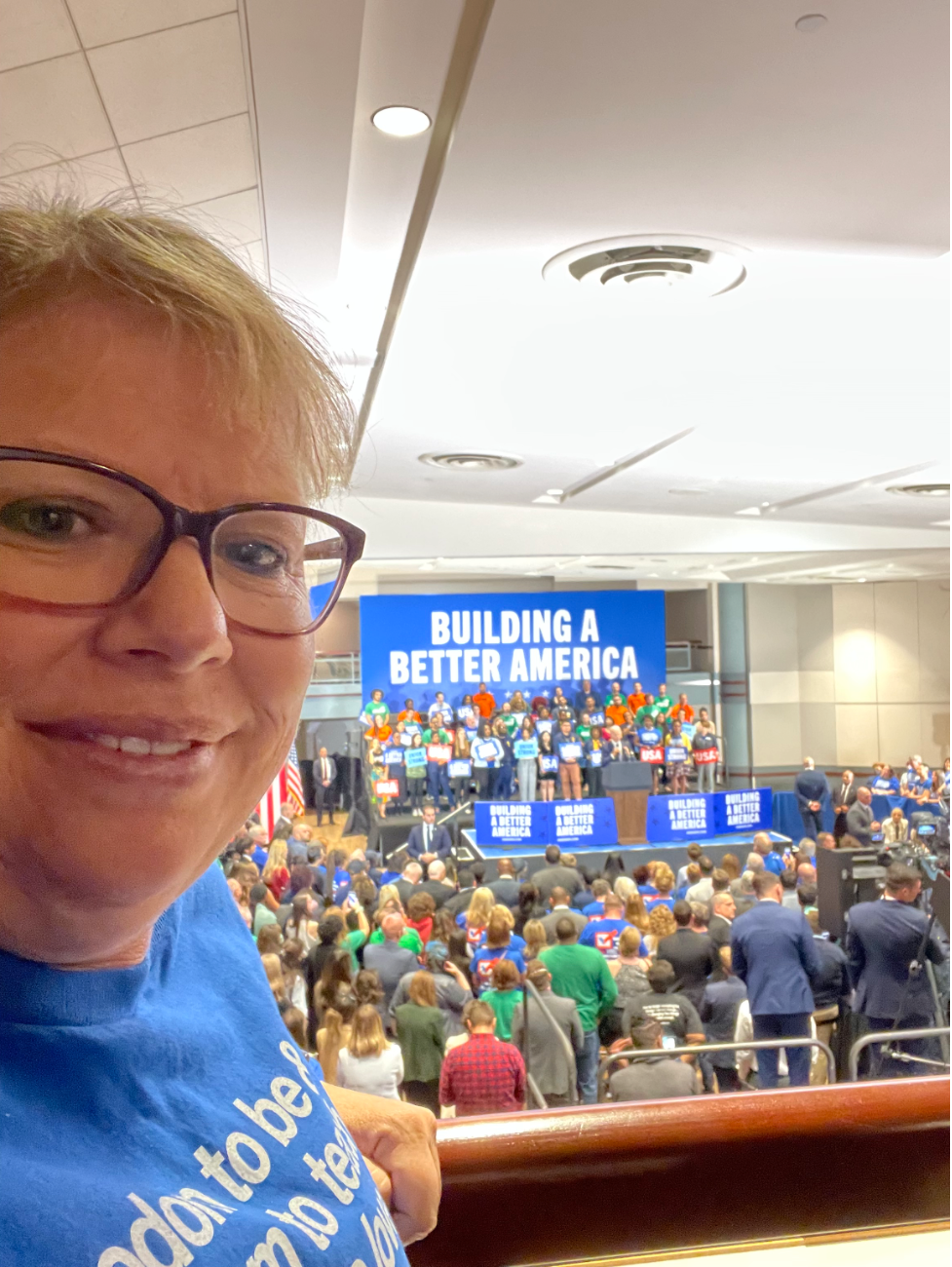 "The hope for our families our members, our children, really lie in this election and who elect to make decisions that affect us all," Etcheverry said.
The stakes are high for educators, students, and families in Nevada this fall.
"We need to have the right people here in Washington, D.C., to help fight for all the things that President Biden talked about today—college affordability, gun violence prevention, inflation reduction, and voter participation," Etcheverry said.
"In Nevada we also have state legislators and school board members to elect, and those are critically important to our students and educators. We shouldn't be under attack for what we teach, including the truth in history. And we're working to advance our Time for 20 campaign, which calls for a $20 per hour starting wage for education support professionals, a 20 percent salary increase for teachers, and 20 to 1 class sizes for core academic subjects," she explained.
"But all of that will depend on who is in office."
It's an incredible responsibility to be a union leader in a moment like this—but one that Etcheverry embraces.
"This election is going to ride on us turning out our educators to vote—when we show up we can get change," she said. "It's critical that we're out there en masse this time."
Stay Informed We'll come to you
We're here to help you succeed in your career, advocate for public school students, and stay up to date on the latest education news. Sign up to stay informed