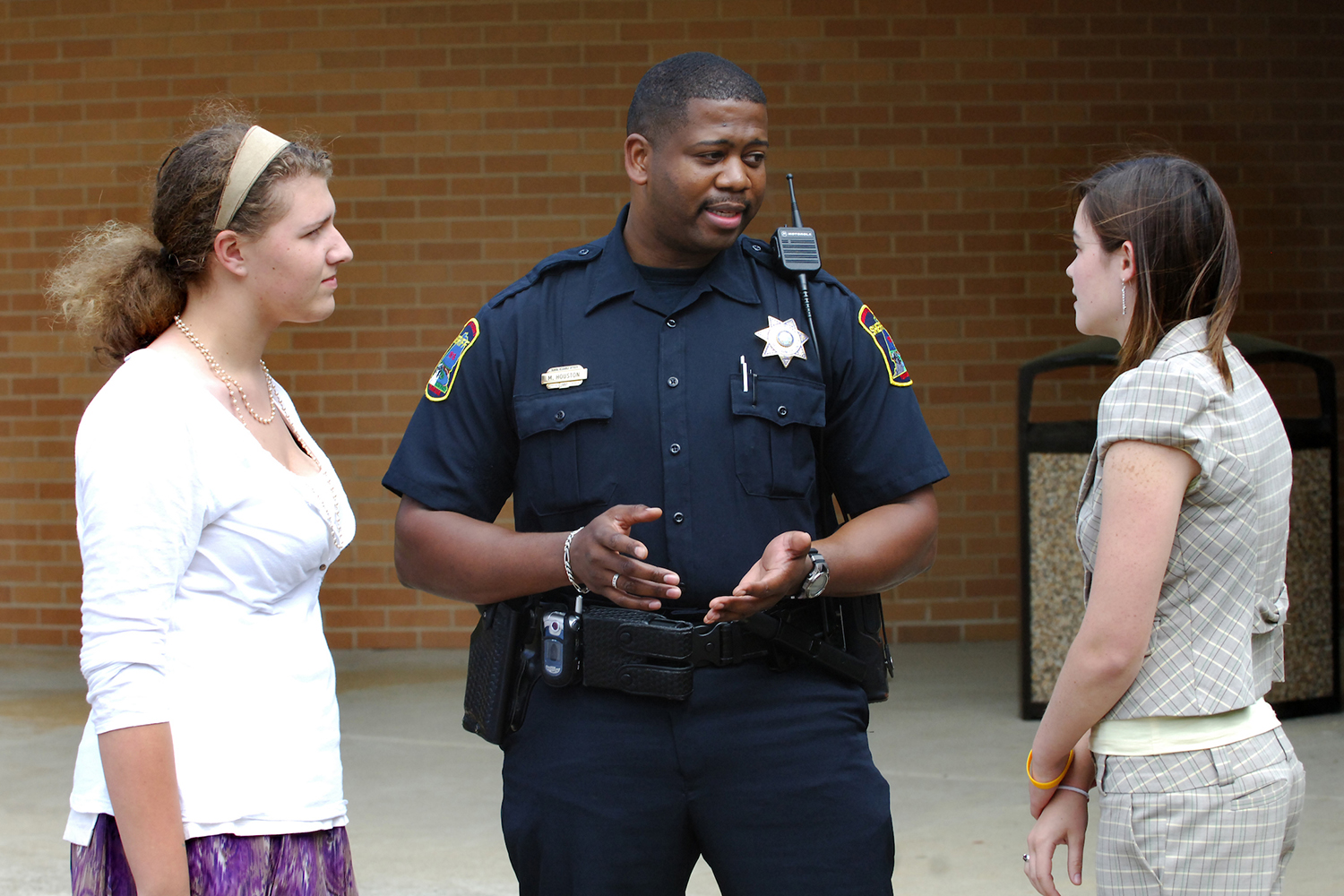 Photo by David Humber
Illinois school security officer Kathy Johnson fondly recalls her interactions with a transgender student who was born female but identifies as male. On some days the student carried a purse and dressed as a girl. Other days, he showed up at school in male attire.
"On those days, he preferred to use the boy's restroom but felt uncomfortable entering if there were boys already inside," says Johnson, who works at Douglas Preparatory School, an alternative program serving middle and high school students who have been expelled or exhibited severe behavior.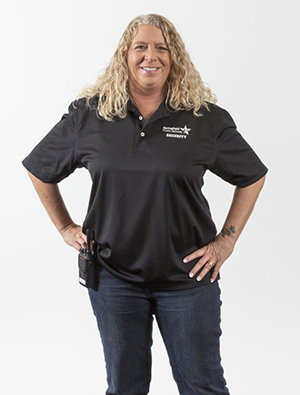 "We do whatever it takes to make our kids feel safe without judging them," says school security officer Kathy Johnson. Photo: Antoine Bootz
Fortunately, Johnson had established a trusting relationship with the student. On his days identifying as male, the student would find Johnson and ask if she would knock on the door of the nearest boy's restroom to see if it was occupied.
"I would then wait outside the door to make sure no other boys went in until the student had come out," says Johnson. "We (security officers) do whatever it takes to make our kids feel safe without judging them."
Ensuring access to restrooms and locker rooms consistent with a student's gender identity was one of several social justice issues discussed at a recent training session attended by Johnson and two dozen of her colleagues from Springfield Public School District 186. The Social Justice Training Program was sponsored by the NEA Human and Civil Rights (HCR) Department in conjunction with the Springfield Education Association (SEA), and district 186.
Striving for School Safety
Known as "Civilian Security," the officers discussed strategies for exploring the impact of social justice issues on students and educators with the goal of ensuring a safe school climate.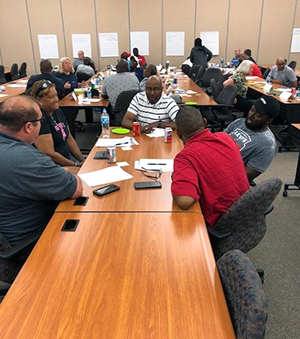 Juan Morrison, center, participated in a social justice/LGBTQ training session for school security officers. Photo: Anthony Brisson
"The training allowed us to share our feelings, as a team, about LGBTQ and other issues," says Doug Collins, a security officer at Lanphier High School with 23 years of experience. "It took us to a deeper level of understanding the connection between social justice issues and student achievement."
As coach of the varsity girls' basketball team for 20 years, Collins says he is well-aware of gender, cultural, sexual identity, ethnic, and other differences among students. The important thing, he says, is to "respect students in all their diversity."
"A student is a student," says Collins, a graduate of Iowa State University. "Whatever we can do to help them graduate and succeed in life is what we'll do."
Protecting students, says Collins, was one of the reasons he looked forward to attending the training program, which was held at the Illinois Education Association (IEA) building.
"Knowledge is power," Collins says. "I learned that cultural self-awareness leads to increased competency, which helps create effective learning environments."
While Johnson says she feels comfortable interacting with LGBTQ students, the training program introduced her to statistics that took her by surprise. For example, according to a recent GLSEN National School Climate survey, more than 57 percent of LGBTQ students felt unsafe at school because of their sexual orientation. Approximately 36 percent were physically harassed (pushed, shoved) because of their sexual orientation, while almost 23 percent were harassed due to their gender expression.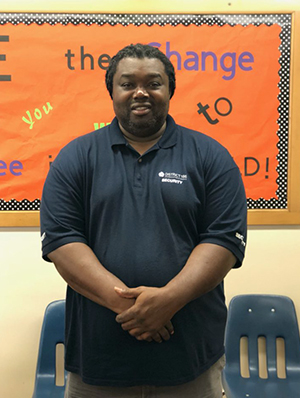 "A student is a student," says coach Doug Collins. "Whatever we can do to help them graduate and succeed in life is what we'll do." Photo Courtesy of Doug Collins
"I never knew the alarmingly high percent of these students who do not feel safe at school," says Johnson, a 2017 graduate of the prestigious Leaders for Tomorrow program sponsored by the NEA Education Support Professional Quality (ESPQ) Department.
"NEA offers a wide variety of professional development opportunities for ESP members," says Johnson. For some of the security officers, the training session gained them credit with the ESP Professional Growth Continuum (PGC), a self-guided, career-long program which provides clear pathways for professional learning and growth.
"Hopefully, the more people who can go through this type of training, the greater number of LGBTQ students who will feel safe at school," Johnson adds.
Collaborating with District Officials
A member of the SEA executive committee and bargaining team, Johnson lead an effort to include in the latest contract a training day for ESP members. After meeting with NEA HCR officials at an NEA ESP national conference, she was able to secure a full day's training for security officers.
Engage and mobilize activists in the fight for racial, social, and economic justice in public education.
Add your name to NEA EdJustice community activists committed to advancing social and racial justice in public education.
With the success of the social justice training day, Johnson says school district officials have been eager to collaborate on future professional development efforts with SEA, which comprises 1,200 teachers, ESP, and other educators.
"Our superintendent and school board make sure we have the trainings we need to implement what needs to be done in the best interest of our students and families," says Johnson, who has worked for the district for almost 30 years.
"We all want students to feel safe and secure," says School Board President Mike Zimmers, who attended parts of the training session. "I could tell from the training lessons I heard that the kids have these officers in their corner."
A week after the August 17 training session, Zimmers recalls visiting an elementary school where a young student announced that he was transgender. The security officer at the school had just completed his training and expressed to Zimmers that as a result he felt extra confident and better-informed to assist the student in every way possible.
"He felt he knew what to do after experiencing the LGBTQ training," Zimmers says. "He felt ready, which I was glad to hear."
Learn More