From international food festivals and popcorn sales to fun runs and penny wars, many educators are taking matters into their own hands to raise much-needed funds. With nearly half of public school funding nationwide coming from local taxes, annual budgets vary drastically from one school district to another. According to the National Center for Education, funding can range from less than $4,000 per student in the least affluent areas to more than $15,000 per student in the wealthiest districts.
In Oakland, Calif., where Ashley Wallace teaches humanities and theater arts, the city faced a $23-million budget deficit in 2018, and millions more in cuts are expected in the 2019-2020 school year. "Funding doesn't often come to our school," Wallace says. "I need to get things for my students as quickly as I can."
With few options, Wallace turns to crowdfunding to find resources for her students. In the last three years, Wallace has raised more than $35,000 for her school on Donors Choose. org, a crowdfunding site that connects teachers in high-need communities with donors (corporations, foundations, and/or individuals) who want to help fund classroom projects.
"The economic problems we have in Oakland don't allow for our kids to participate in traditional school fundraising events," Wallace says. "This is not an area where kids are walking around selling candy bars—and there's only so much candy you can sell to teachers."
How Does Crowdfunding for School Work?
DonorsChoose.org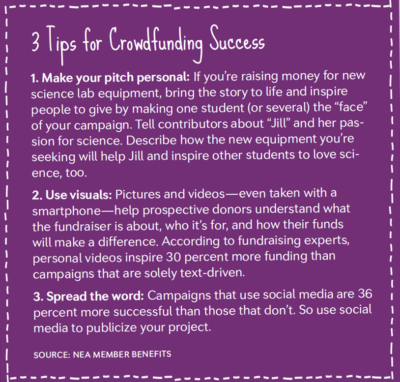 , DigitalWish.com, and Fundly.com are all popular crowdfunding sites. While each site is a little different, educators follow the same basic steps: Create a description of a fundraising project; fill the online cart with items from the listed businesses or make special requests for items not found on the site; and wait.
The sites vet the requests and cost for each item and then track donations as they arrive. Sometimes sites offer dollar-for-dollar matches for donations—some offer even more! When the project is fully funded, the site orders the requested items and ships them to the teacher's school.
Wallace's crowdfunding efforts have landed supplies for the parent and student hygiene pantry as well as a washer and dryer for students to wash their uniforms.
Extreme Makeover-Classroom Edition
In summer 2019, Wallace listed three projects needed for a classroom redesign. "I wanted to create a space that reflected a welcoming, home environment," she says. "Our students are better equipped and ready to learn when they feel relaxed, happy, and safe." Some weeks later, a company funded every project in Oakland.
Wallace scored a $6,000 classroom makeover that included ergonomic stand-up tables and comfortable couches, among other items. The funds helped create more comfortable spaces where students can sit on the floor and work at coffee tables. A "Rainbow Lounge" now showcases student art highlighting their diverse Latino, African American, and Southeast Asian communities. The lounge is peppered with rainbow colors to help all students feel at home.
Wallace involved her students in the planning and build-out for the makeover, which took place over the summer. She taught a class, called Project Renovation, in which her students first researched and designed their own perfect classroom, complete with a budget, and then spent the remainder of the time cleaning and painting the room, building the furniture, and hanging pictures.
"It was an amazing experience," Wallace says. "I still can't believe it happened."
Stay Informed We'll come to you
We're here to help you succeed in your career, advocate for public school students, and stay up to date on the latest education news. Sign up to stay informed