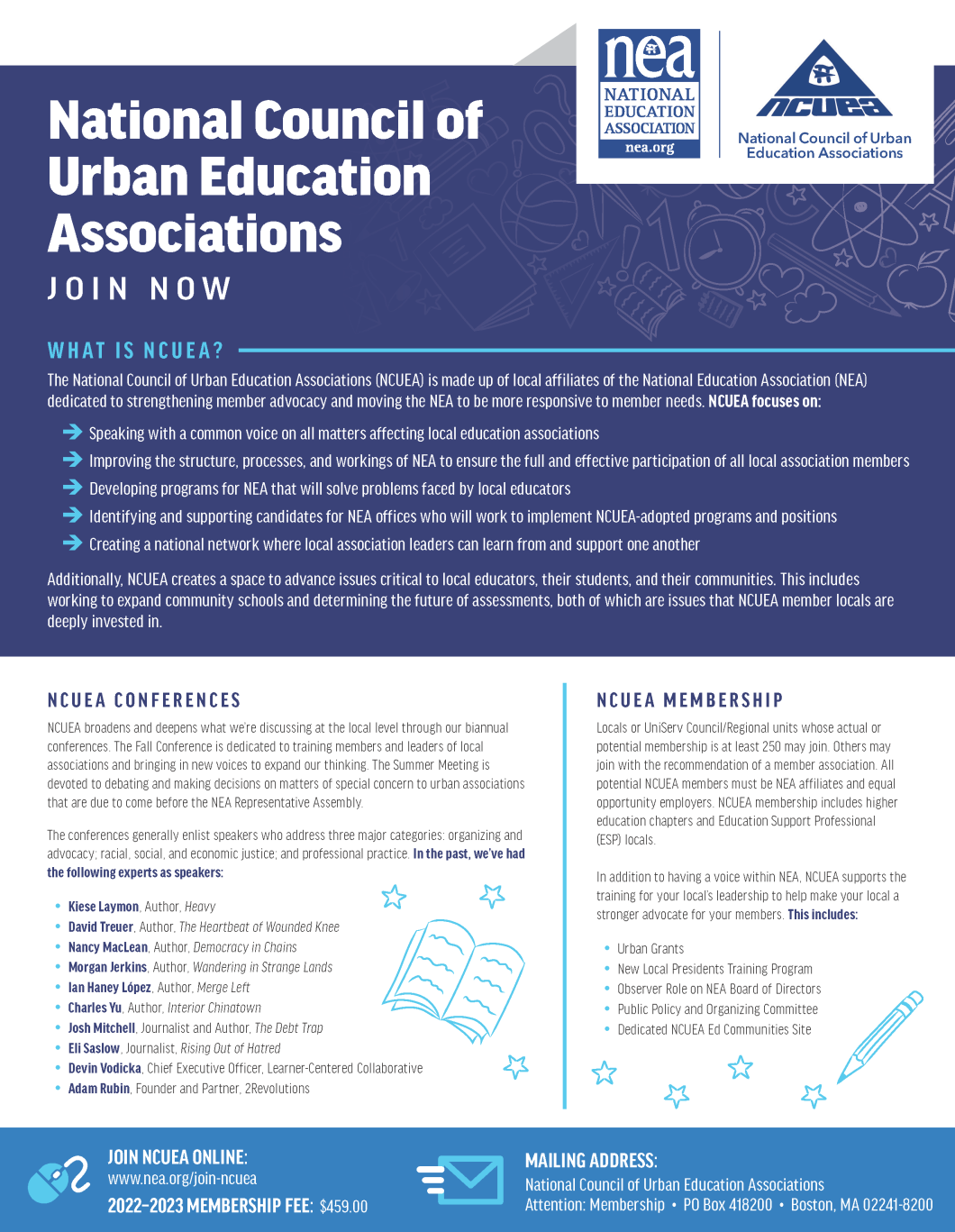 The mission of NCUEA is to promote and advance quality public education in urban schools by empowering and supporting local associations, leaders, and members. In carrying out this mission, NCUEA focuses on the following areas:
United voice for urban education
Promotion of and advocacy for local associations
Partnership with NEA
Partnerships with education-focused organizations
Training for local urban leaders
Human and civil rights for all
Celebration of diversity
Communication among local associations
Staff/Leadership relationships
Quality working conditions
Apply: NEA - NCUEA Urban Grant
Funding can be used to support your local's efforts to increase membership and build its power by identifying issues, strengthening worksite leader systems and structures, and implementing organizing campaigns.
Save the Date 
NCUEA 2023 Summer Meeting 
June 27 - 30, 2023
Waldorf Astoria
Orlando, FL
NCUEA SEMINAR SERIES
NCUEA has always prioritized creating physical spaces for union leaders and members to collaborate, to share best practices, and learnings with one another – and from experts from outside the NEA ecosystem. Our previous conferences have featured speakers from gun control advocates like Brady, to policy wonks from the Economic Policy Institute, and authors like Nancy MacLean and Kiese Laymon. 
NCUEA, like all our members, has replaced the physical spaces we've traditionally valued, with the digital space. And we are filling up that space with our virtual NCUEA Seminar Series. Join us as we continue this virtual series and move from summer into fall.
Past Speakers
David Treuer, The Heartbeat of Wounded Knee
Author and Professor of English at the University of Southern California (USC) 
Civic Academies: Parts I and II
Shanize Byrd and Paul Rohlfing
Organizational Specialists, NEA Center for Organizing
American Legislative Exchange Council (ALEC) Exposed
A Conversation with Lisa Graves, Co-Director of Documented & Former Executive Director of the Center for Media and Democracy and Nancy MacLean, Author of Democracy in Chains and Duke University Professor.
COVID Funding Federal Advocacy & Policy
Discussion with NEA's Government Relations and Education Policy & Practice departments on NEA's federal lobbying efforts to secure federal funding.
Education Support Professionals: Confronting COVID-19
Discussion with NEA's ESP Quality Department and the Center for Organizing on what COVID-19 means for education support professionals.
NEW LOCAL PRESIDENTS TRAINING
The National Education Association's (NEA) New Local Presidents Training equips incoming local presidents with a set of fundamental skills aligned with NEA's Leadership Competencies, including organizing, advocacy, communication, governance, and strategy & fiscal health. These fundamental skills provide local leaders with the tools to address both internal local issues, such as membership growth and representative structures, as well as to tackle pressing issues in their school districts and communities, such as student success, as well as social, racial, and economic justice. Find more information on NEA's Leadership Competencies here.
NEA's Center for Organizing and the National Council of Urban Education Associations (NCUEA) partner to conduct the national Local Presidents Training. NCUEA is an autonomous political body within NEA that represents and advocates for urban education associations and the students that they serve. Click here for more information on NCUEA, its work, and on how you can join and become a NCUEA member.
This training is led by current or former local presidents – all of whom have successfully completed NEA's Local Presidents Training. Most, but not all trainers, are from NCUEA member locals. NEA's Center for Organizing provides all other staffing, resources, and support for this program. Click here for a complete list of the LPT/NEA Training Cadre and their bios.
If you have any questions, please contact Michael Schoettle, Field Manager at [email protected].
NATIONAL LOCAL PRESIDENTS TRAINING: PROGRAM STRUCTURE, COSTS, AND DETAILS
The Center for Organizing currently facilitates four (4) Local Presidents Training sessions per year. The program typically accepts 20-25 applicants per session. We have found that this is the optimal number to ensure robust participant discussion and enable understanding of training content.
The training lasts for 2-3 days.
Costs. NEA will cover your hotel cost, breakfast, and lunch on days the training is in session and session materials. Each participant is responsible for making flight reservations and travel arrangements. NEA is not responsible for the cost of any flight, taxi, baggage, or other travel expenses.
Trainers. All local president training trainers are alums of the program itself. Most are still local presidents, but we also maintain a roster of talented cadre trainers who may no longer be local presidents. All trainers, regardless of elected position, are members of their state affiliate and the National Education Association.
NATIONAL LOCAL PRESIDENTS TRAINING PROGRAM: APPLICATION NOTIFICATION & PROCESS
NCUEA member locals are given advance notification to apply and register for the Local Presidents Training. NCUEA's president sends the email invitation directly to leadership at NCUEA's member locals.
State presidents and state executive directors are also notified and invite to share the invitation with locals in their respective affiliates.
PARACHUTE LENDING LIBRARY
The parachute lending library at the NEA National Office in Washington D.C. is a new resource that lends banners to your local teachers' union for upcoming marches, actions, or other activities planned by your local. The NEA has teamed up with national artists from the Art Build Workers to paint numerous different 24' wide nylon parachute banners.
These parachutes are the "play parachutes" that one might recall from elementary school days. The blank versions of the play parachute are the perfect material for painting powerful graphics and slogans onto. They are light and have handles for upwards of twenty people to hold the image upwards towards the sky.
These banners are key visual elements for marches and actions. They are routinely photographed by the media allowing the messages of the movement to be easily communicated. Due to their large scale these circular banners are easily read by news helicopters when they are photographing the size of the march or by photojournalists situated on buildings as a march goes through a downtown area. The parachute banners also communicate to those in the march: they bring joy and celebration to the march when the parachutes are lifted upwards and people – especially kids – run under the parachutes. 
The Parachute Lending Library is easy to use. Email Phillip Zanders and explain which parachute design you would like to feature in your action and the date needed for the parachute banner to arrive by mail. The parachute – if not already out on loan - will be mailed to your local. After the march or action, your local would be responsible to mail the parachute back to the NEA national office in D.C.
See examples of the parachute banners in action by UTLA in a Los Angeles march here!
Take your local to the next level
The best way you can support your local and advocate for students and educators across your district is to get involved with the National Council of Urban Education Associations.
Stay Informed We'll come to you
We're here to help you succeed in your career, advocate for public school students, and stay up to date on the latest education news. Sign up to stay informed