Jess Marboe, a fifth-grade teacher, waits tables during her second job at Jaker's Bar and Grill in Idaho Falls, Idaho. (John Roark/The Idaho Post-Register via AP)
One of the most persistent and annoying myths about educators is that they have "summers off." Far from enjoying a two- or three-month vacation, they use a good chunk of that time writing curriculum, attending workshops, catching up on professional reading, etc.
And many of them work summer jobs, generating additional income necessary to make ends meet.
Overall, 16 percent of teachers have non-school jobs over the summer. If you're younger and newer to the profession, however, it's more likely you've been spending a good part of the summer earning another wage, according to a new analysis by the Pew Research Center.
Digging into data from the National Center for Education Statistics (NCES) covering the 2015-16 school year (the most recent figures available), Pew found that roughly one-third of teachers with one year or less experience had non-school jobs over the summer. About 20 percent of teachers with two to four years experience had summer jobs, compared with 17 percent of teachers with five to nine years.
For those newer teachers, the money earned during the summer amounted to 12 percent of their annual earnings, higher than the 7 percent it generated for more experienced educators.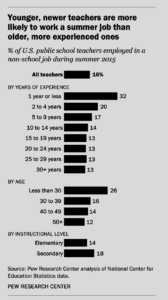 Pew also found that teachers younger than 30 are more likely to hold summer jobs than their older colleagues. About a quarter of teachers under 30 worked during the summer of 2015, compared with 16 percent of those ages 30 to 39, 14 percent of those 40 to 49, and 12 percent of those 50 and older.
Of course, second jobs are not exclusive to the summer months. The financial strain that compels teachers and education support professionals of all ages and experience levels to take on second, sometimes third, jobs doesn't subside after Labor Day.
Krista Degerness, a teacher in Colorado, worked 40 to 70 hours every week during the summer of 2017 and 15 to 25 hours a week at her second job during the school year.
"We work second jobs because our salaries alone are not sufficient to pay our bills, let alone save for the future," Degerness told NEA Today in 2018.
Overall, about 20 percent of teachers hold second jobs during the school year, accounting for roughly 9 percent of their annual income. According to the Bureau of Labor Statistics, teachers are about three times as likely as other U.S. workers to take on this burden.
While none of this is breaking news to public school educators, the #RedforEd movement that began in West Virginia in early 2018 and quickly spread to other states has forced lawmakers and the general public to recognize the financial plight of the individuals charged with educating their children. In an apparently healthy economy, educator salaries continue to stagnate. According to NEA's annual Rankings and Estimates report, the average classroom teacher's salary in the U.S. has declined 4.5 percent since 2009-10.
Jess Marboe, who graduated in 2017, took on two additional jobs during her first year in the classroom. Workdays started at 4 am and sometimes didn't end until 10 pm. Marboe teaches fifth grade in Idaho, which ranks 44th in average teacher salary. She told the Idaho Falls Post Register in July that she was exhausted most days. "I feel like I'm always on the go."
"Appalling Reality"
Researchers at the Economic Policy Institute (EPI) recently found that when you factor in second jobs within the school system, the percentage of moonlighting educators increases substantially to 59 percent.
According to a EPI report released in April, 44 percent of those educators with second jobs were earning this extra pay by coaching, mentoring other teachers, or teaching evening classes. In one Virginia school district, teachers stepped in to fill a bus driver shortage.
The high numbers of educators supplementing their income with jobs inside or outside the school system is glaring evidence that teacher pay is too low, a major factor in the growing teacher shortage. Carrying extra jobs only exacerbates the stress that drives too many educators out of the profession, EPI economists Emma García and Elaine Weiss write:
"Moonlighting can increase stress and drive disengagement, as teachers are forced to juggle multiple schedules and have their family and leisure time reduced. And if moonlighting occurs outside the school system, the challenges of juggling the extra work are likely greater. For these reasons, the causes and conditions under which this moonlighting occurs determine whether it makes teaching more or less attractive."
García and Weiss recognize that second jobs within the school system can be rewarding professionally, allowing educators to "engage more deeply with their schools, enjoy enhanced collegiality with other peers, or further their professional development." Many educators, however, don't have access to these sorts of paid opportunities in their districts — particularly if they work in high-poverty districts.
"It's an appalling reality that many of the professionals whom we entrust with the critical job of teaching our children are under such financial stress that they work a second or third job to supplement their paycheck," said Weiss. "And the pay penalties are worse in high-poverty schools, where we must provide extra supports and funding, not only to support students directly, but to reduce the teacher shortage."
While #RedforEd actions have notched up some key victories for improved school funding, including higher pay, educators across the nation are keeping up the pressure on lawmakers and the general public.
"While I think most Americans have all intentions of improving education and funding education better, it's kind of like, OK so when? When are we actually going to do it?" said Jess Marboe. "I don't think you can have top-notch education in Idaho if you don't have great educators. And in order to have better educators, we have to pay better."
Get more from

We're here to help you succeed in your career, advocate for public school students, and stay up to date on the latest education news. Sign up to stay informed.