Even in a time of great division in America, country music legend Dolly Parton brings people together with messages of acceptance and love. Parton is a singer, songwriter and unifier who can pack stadiums everywhere, from New York City to Hollywood to her home state of Tennessee, with fans from all walks of life. 
Parton is also packing home libraries for children from all walks of life with her Imagination Library.  
Imagination Library, which launched in 1996, is dedicated to inspiring a love of reading by gifting books free of charge to children from birth to age five, through funding shared by Dolly Parton and local community partners in the United States, Canada, United Kingdom, Australia, and the Republic of Ireland. 
For Parton's dedication to childhood literacy, she is the winner of NEA's 2022 Friend of Education Award, which was announced at the NEA Annual Representative Assembly (RA) in Chicago. 
"Dolly Parton is a national treasure, and America's educators are proud to bestow NEA's highest honor, the 'Friend of Education' award, upon her," said NEA President Becky Pringle. "In addition to bringing incalculable joy, with a smile like a breath of spring and a soft voice like summer rain, to fans across the world, she has championed literacy, learning and diversity in literature for nearly half a century. In distributing more than 2 million books each month, Dolly Parton's Imagination Library has poured a cup of ambition for millions of young children. She knows that in tough times we rely on each other, as demonstrated by her support for wildlife conservation, wildfire relief, and her contribution toward COVID-19 vaccine development which has saved millions of lives worldwide. Educators will always love Dolly, and I am personally honored to name her 2022's "Friend of Education."
The NEA Friend of Education Award is presented during the RA and recognizes a person or organization whose leadership and acts or support have significantly contributed to the improvement of American public education. Past recipients include economist Paul Krugman; education policy writer and researcher Linda Darling-Hammond; and leaders of the Public Broadcasting Service and the Corporation for Public Broadcasting, among many elected officials and other dignitaries.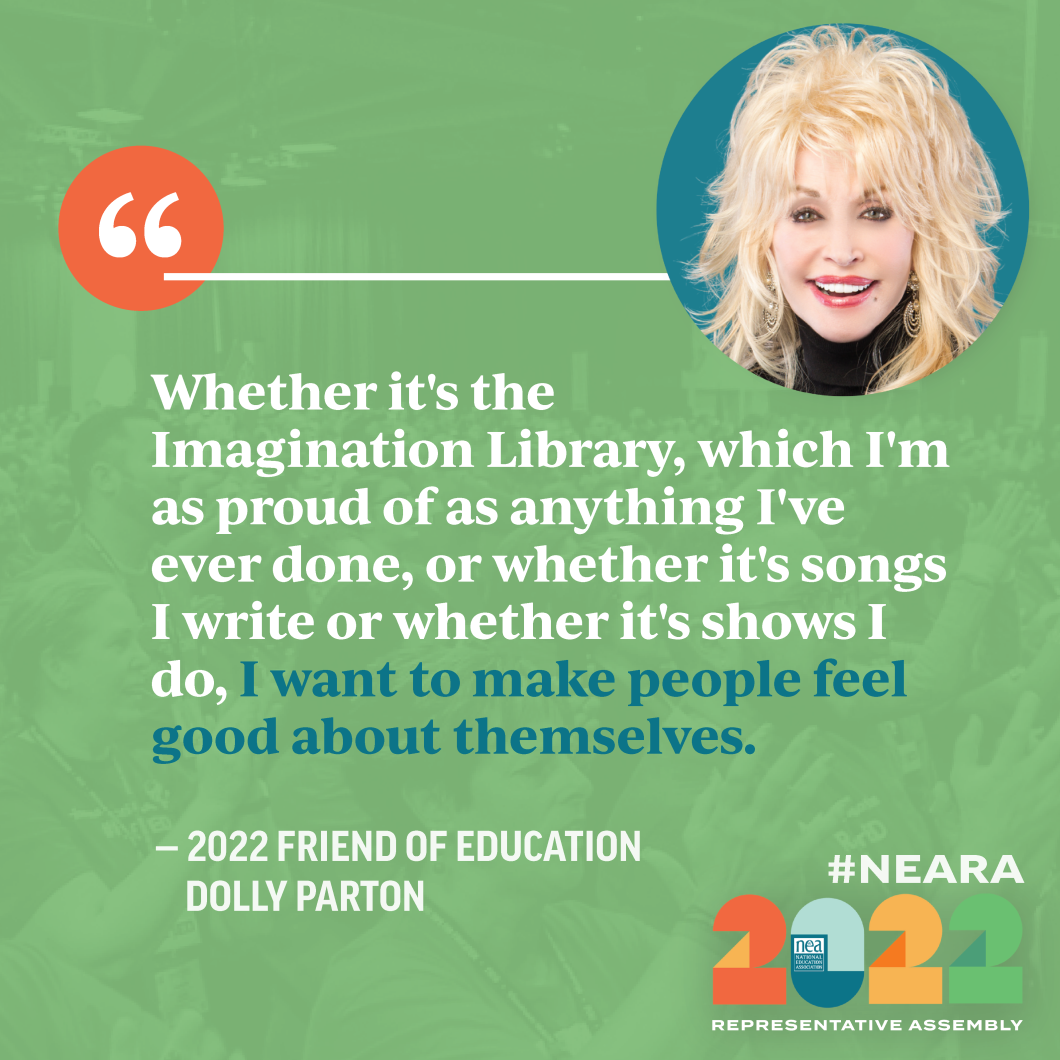 Kindergarten teacher Holly Pace said that because of the gifts of books from Imagination Library, kids from gated communities to those in public housing all have access to the same books.
"They start off in kindergarten on the same level playing field," said Pace. 
John Gibeau is an educator in the small, rural town of Ceylon, Minn. The only library in the community closed in the early 2000s, leaving a void for residents who longed to read.  
"There are no libraries here," Gibeau said. "It's an educational desert....Without Imagination Library, kids aren't going to get books. It's changing lives, and there are not enough thank you's in the world for Dolly Parton." 
Parton says winning NEA's Friend of Education award is "a special honor." 
In a video thank you to the NEA delegates gathered in Chicago, Parton said she knows how hard educators work to help every student succeed. 
"I'm working to do my part as well," Parton said. "My foundation offers college scholarships for local high school students and my theme park Dollywood is covering college tuition and expenses for employees." 
But Parton says she is most excited about her Imagination Library, now gifting over 2 million books each month to inspire a love of reading in children from birth to age five. 
Parton started the library in honor of her father who never had the opportunity to learn to read and write.  "He saw the program really growing and told me he was prouder of that than of just about anything else I'd ever done," said Parton. 
Dolly Parton grew up in a one-bedroom cabin in the mountains of Tennessee, the fourth of twelve children. While she is widely known for her work as a musician, entertainer and songwriter, since the 1980s she has supported many charitable efforts in the area of literacy, primarily through her Dollywood Foundation. Formed in 1988, the Dollywood Foundation, funded from Dolly's profits, originally launched to help decrease high school dropout rates in Parton's home county.
In one of her first efforts, the Buddy Program, Dolly gave $500 to every seventh and eighth-grader who finished high school in her home community of Sevier County, Tennessee. However, there was one additional requirement: each student's Buddy must graduate as well and they had to sign a contract pledging to do everything they could to make sure both graduated. Through the Buddy Program, Sevier County's dropout rate decreased from over 30 percent to just 6 percent. From there, the Dollywood Foundation has expanded into other great works, including the Imagination Library.
On behalf of her team and all of their local partners, Parton said she is happy to accept NEA's Friend of Education award and to thank NEA members for all they do.  
"Together, let's continue to inspire kids to dream more, care more, learn more, and therefore, be more. 
"And remember," she concluded, singing the refrain of one of her most famous songs, "I will always love you!" 
Learn More
Education News Relevant to You
Read the latest on our advocacy, our members, and the education trends we're watching.
Get more from

We're here to help you succeed in your career, advocate for public school students, and stay up to date on the latest education news. Sign up to stay informed.