As a boy, Kody Richards had a collection of matchbox cars numbering close to 100,000—a sure sign of things to come. As he grew up, he started working in his family's snow plowing business, maintaining their temperamental truck to keep it lumbering through the snowy roads. Now, the 18-year-old makes sure his 1988 Jeep is humming like new.
Richards is a student in the automotive technology program at Edison Academy—a career and technical education program adjoining Thomas Edison High School in Alexandria, Va., that offers specialized courses for traditional and emerging careers.
Richards is also one of two recipients of a coveted internship with the Fairfax County's Department of Vehicle Services, where he'll work on the county's school buses, ambulances, police cars, and fire engines.
"I'm especially excited to work on fire department vehicles, because that's my family," he says. "My father has 32 years with Fairfax County Fire Department [FCFD] and my brother and sister are also career FCFD."
High-Tech Training Revs Up
Maintaining emergency vehicles, or any vehicle for that matter, requires more complex technical knowledge and training than ever before.
Automotive technology is no longer about twisting wrenches and cleaning carburetors. To be sure, there's still plenty of oil and grease under the hood, but vehicles have become complex computers. Mechanics also need to be information technology specialists.
"Each make has a different computer system to learn," says Edison Academy automotive technology teacher John Bogan. "Students today don't know the old way of fixing cars. Everything has changed."
Everything certainly has changed. Vocational education, or "voc-ed"—the umbrella program that usually includes auto tech—has been redefined and rebranded as career and technical education (CTE). In addition to traditional programs, such as automotive technology, welding, and cosmetology, CTE now trains students in emerging industries, like wind turbine and solar panel installation and cybersecurity.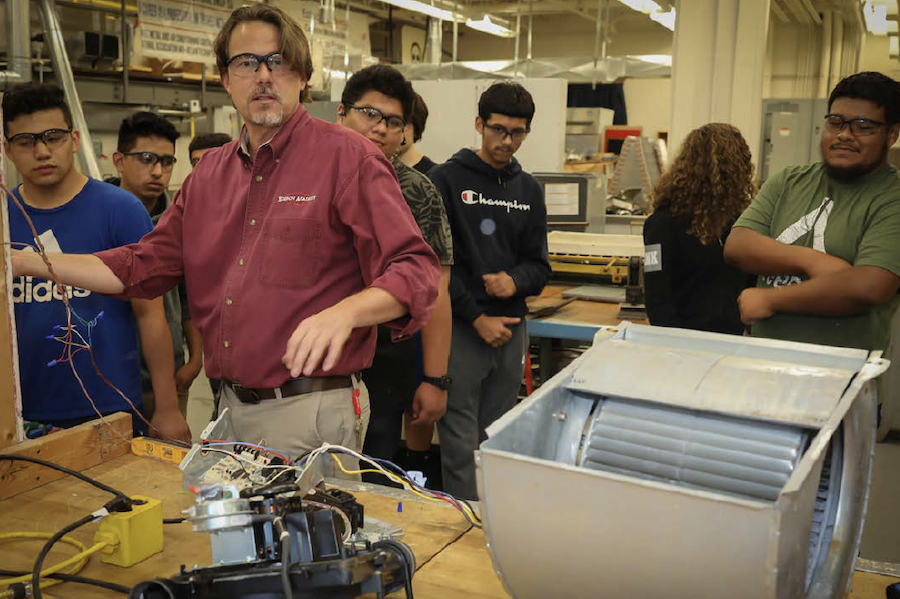 Students in HVAC programs are learning about high efficiency systems and that save energy and money for consumers.
Voc-ed programs were once designed to track students who supposedly weren't "college material" into jobs after high school. But today's CTE provides pathways to community colleges, four-year universities, or 21st-century jobs after high school—including skilled trades, applied sciences, and technology.
So what is Richards planning to do with his automotive expertise? He hopes to work on complex engines at the Fairfax County Department of Vehicles after graduation.
Edison Academy Administrator Whitney Ketchledge says today's CTE programs are challenging old myths and stereotypes. "It's no longer a program just for 'those kids,'" she says. "Everyone takes CTE courses: the varsity athletes, student government officers—everyone."
According to Jarrod Nagurka, head of advocacy and public affairs at the Association of Career and Technical Education, 94 percent of high school students take a CTE course.
"CTE programs are designed to be stackable so that students can pursue further education if they want in a certificate program, a two-year institution, a four-year institution, and beyond," Nagurka says.
For example, some students earn their emergency medical technician (EMT) certification then go on to medical school, he says. And some take automotive technology courses as an introduction to a future engineering degree.
A Boy's Club No More
Working alongside Richards in the Edison Academy auto tech shop is Jenny Flores, 16, who shatters another stereotype about CTE—that it's mostly for boys. Nearly half of the students enrolled in high school CTE courses are female.
Flores also has a passion for cars—she spent her childhood at her family's auto body shop. But her dream is to pursue a career in exteriors, designing cars and motorcycles. Another myth busted? This teenage girl has her own Harley-Davidson that she painted herself.
"It's a Joker theme," she says proudly. "Purple and green."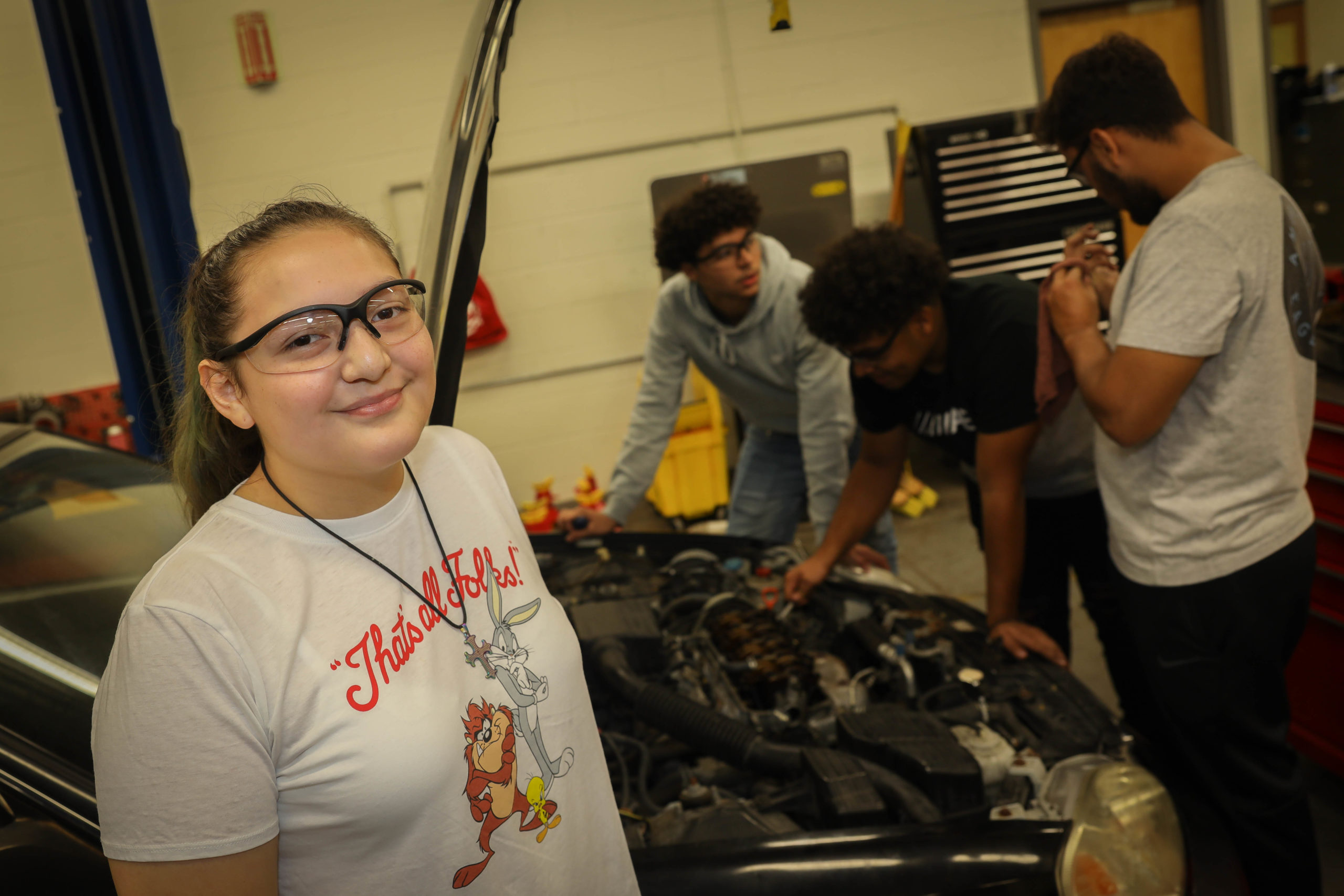 Jenny Flores is breaking the stereotype that auto tech is just for boys.
Exteriors, too, are ever-changing with new technology. Vehicles now use lightweight carbon fibers instead of raw steel. Technicians apply wraps instead of paint. Both technologies reduce pollution and help train students for the budding green economy.
Dreams of working to protect the environment also drive Jey Otero, 17, who grew up fixing cars with his father, who is a mechanic.
"More and more electric cars are coming out, and they're going to need mechanics," he says, mentioning that he'd like to go to a university and perhaps one day work for Tesla. "Electric cars are more dangerous to work on with the high voltage systems, but they create less pollution. We all want to help clean up the environment."
Taking 'Green' to the Bank
CTE programs in sustainability and renewable energy are heating up. According to the U.S. Bureau of Labor Statistics, the fastest growing occupation in most parts of the country is a solar panel installer.
Scott Randall, an instructor of solar and renewable energy at Century College in Minnesota, says his students can earn six figures within five years after completing the program.
And though he has several high school students in his class, he has mostly adult learners—the average age of his students is 26 to 28. Some of them are international students from South America who are interested in bringing the technology expertise back home.
"Many times you'll see folks go back to school in a CTE program to earn a credential, enter a new field, or stay in an existing field where the industry has changed, and new knowledge or certifications are required to meet the demands of the job," Nagurka says. "CTE programs are designed to serve the entire community, including local industry."
Scott Randall says each and every student in his solar panel installation courses have expressed a deep desire to work for a healthier planet.
Eco-Ed Inspires Students
Randall is a prime example. After graduating with an engineering degree from the University of South Dakota, he went to work for General Motors, then moved to California and began working on electric cogeneration (the generation of electricity to create heat) with jet turbine and exhaust systems. When it came time to raise a family, he moved back to Minnesota and began working for a manufacturing company doing automation work.
"I decided I wanted some new information and enrolled in the energy CTE program at St. Cloud Technical and Community College [in Minnesota]," he says. "I liked the solar energy aspect so much I opened my own business."
That was 10 years ago. Within three years, he was recruited to teach at Century College. Now he does both, all while keeping current with technology that changes at the speed of light. "I'm a busy guy," he says.
Upon completion of the program, he encourages students to go out and get a job immediately so their employers can pay for their next level of education. Some students go on to earn degrees in electrical engineering or in business management; others continue in the solar installation field or find a niche in repairs, recycling, or sales.
No matter the career path, Randall says all of his students share the same passion for a cleaner environment. "I always conduct a survey to find out why my students are here, and every single one says for environmental reasons," Randall says. "That's one of the best parts about this job—the satisfaction I get from helping students achieve their dream of an environmental career. Together, we're all changing the world in a positive way."
Get more from

We're here to help you succeed in your career, advocate for public school students, and stay up to date on the latest education news. Sign up to stay informed.