Results from a 2015 survey of more than 1500 NEA members teaching the grades and subjects required to be tested under No Child Left Behind (grades 3-8 and 10-12 in ELA and math) indicate that a vast majority of these educators - 70 percent - do not believe their primary state assessment is developmentally appropriate for their students. Only 13 percent agreed that the NCLB-required state standardized test their students took met that standard.
Teachers learn during their training and through experience that each child's readiness to learn new skills and concepts varies by many factors in addition to age. They also know that each child's ability to learn something new depends on both the individual child's prior experiences and skills and on the particular concept being taught. While one child may be developmentally ready to learn multiplication, another child of the same age may not. However, the child who is not ready for multiplication may be ready to learn to play a musical instrument while the other child may not. New learning requires that a child has the background and prior skills to learn.
Unfortunately, standardized tests based on a narrowly prescribed curriculum and linked to specific grade levels are not a good way to judge student or teacher success.
The survey also found that while a majority of teachers did not think any of the state tests (i.e. PARCC, SBAC, and state-specific tests) were developmentally appropriate, there were statistically significant differences among the tests. Specifically, PARCC was seen as the least developmentally appropriate with Smarter Balanced and other state tests somewhat less so.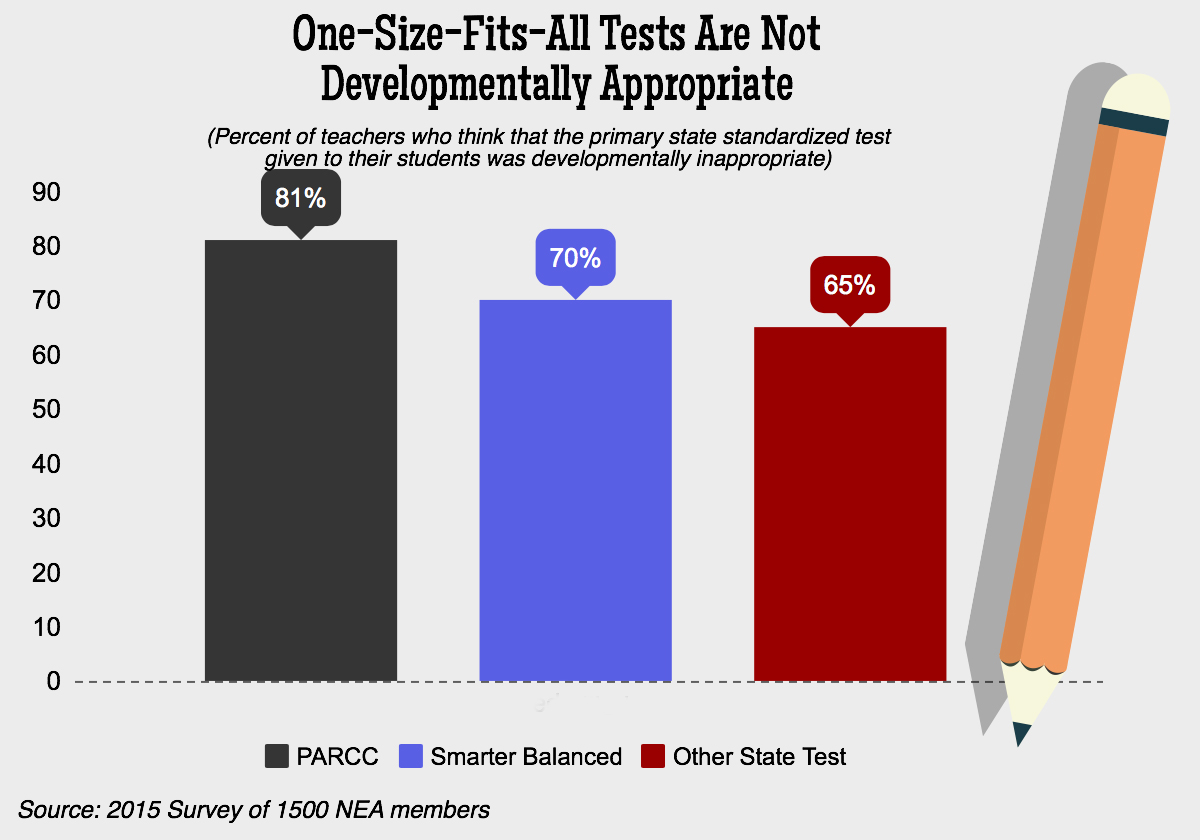 Educators working at different school levels also viewed the appropriateness of state tests differently. Teachers in elementary and middle schools were more likely to say the tests were not appropriate (77 and 75 percent, respectively) while a smaller majority (58 percent) of high school teachers said they were not.
Developmental appropriateness, according to the NEA survey, is just one of many requirements a standardized test must meet to be "most useful." Such assessments should also assess content that students have had the opportunity to learn, provide feedback to students that helps them learn, and assist educators in setting learning goals.
The survey also revealed that school demographics resulted in no significant differences in how teachers viewed the tests. A school's percentage of students eligible for free and reduced price lunch, a school's student-teacher ratio, and the percentage of Black students in the school were not associated with differences in teachers' perceptions of the developmental appropriateness of state tests.
Teachers' expertise about their students' needs and abilities is critical to the successful implementation of the Every Student Succeeds Act (ESSA). Passed by Congress and signed into law by President Obama in December, ESSA abandons the top-down accountability and testing regime of No Child Left Behind, replacing it with by a more inclusive system based on collaborative state and local innovation.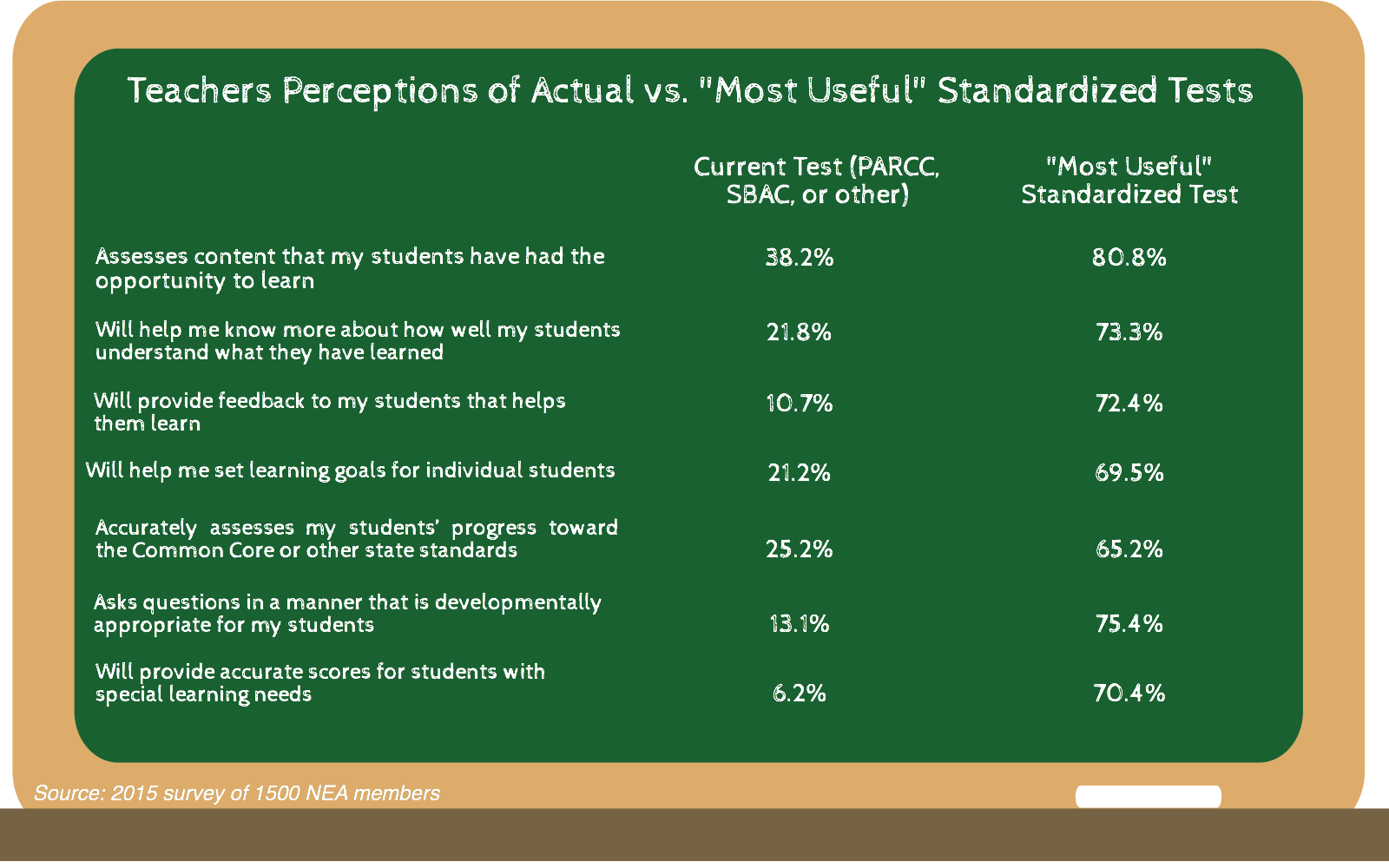 In addition to providing funding for states to audit, streamline and improve assessments, ESSA creates a pilot program for state-designed assessment systems that are driven by teaching and learning, rather than accountability. By calling for decisions to be determined by collaboration between educators, parents and other community members, ESSA guarantees that educator voice will play a role in shaping future state tests.
In her testimony to the Department of Education in January on ESSA implementation, NEA President Lily Eskelsen García said the success of these new assessments depends on this greater engagement.
"We know that there are innovative performance assessment systems out there that were just waiting for the necessary flexibility to flourish. We know that there are educators and principals who have tapped into the best ways to engage students with integrated curriculum and they were just waiting for the necessary flexibility to make it work in their schools," said Eskelsen García.
Get the latest news and updates on ESSA implementation
Rex Costanzo, Ph.D., contributed to this story
Get more from

We're here to help you succeed in your career, advocate for public school students, and stay up to date on the latest education news. Sign up to stay informed.