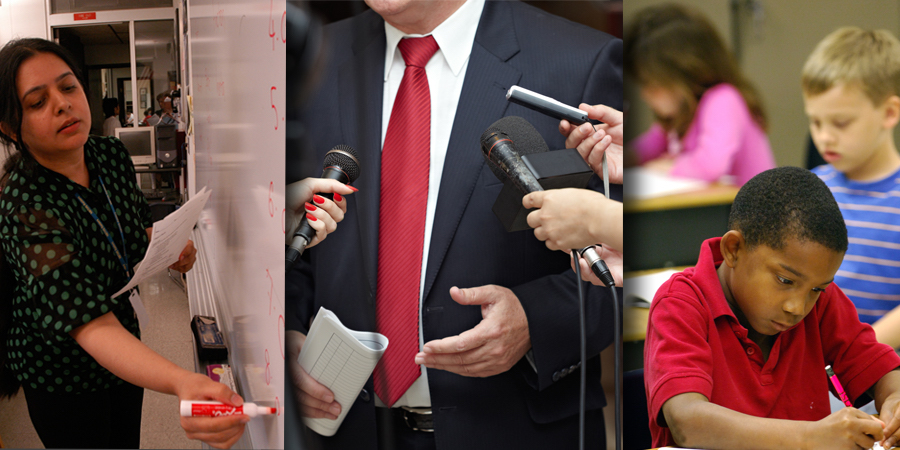 All of a sudden everyone is talking about 'ESEA Reauthorization." Or is it "NCLB Reauthorization." Maybe it's "ESEA/NCLB Reauthorization" It's all legislative-speak, but if you're an educator, you can count on this: lawmakers in Washington, D.C. are currently deciding how much time you will be able to devote to actual teaching and whether equal educational opportunities are delivered to every child.  They will need help making the right choices.
Here's a brief explainer outlining some of the key points about the process and the high stakes for educators.
So is it NCLB or ESEA?
When you hear "ESEA reauthorization," what people are talking about is rewriting or overhauling No Child Left Behind (NCLB). The Elementary and Secondary Education Act (ESEA) is the landmark 1965 law that established the federal government's prominent role in providing equal access to a quality education for all children. ESEA has been reauthorized, or updated, six times, the most recent being NCLB, enacted in 2002. There is widespread consensus in Washington that NCLB is broken. How to go about fixing it is the focus of the reauthorization process currently underway on Capitol Hill.
How will ESEA reauthorization affect classrooms and the teaching profession?
How won't it? While NCLB highlighted some gaps in opportunities for kids, it also ushered in the high-stakes testing era, which has reduced some of our schools to mere test prep factories and imposed a culture of "blame and punish." Schools that need the most help are punished the most. Teachers are spending less time on real instruction. Fine arts, foreign languages, physical education, social studies, and science have been shoved aside. NCLB has perpetuated a system that delivers unequal opportunities and uneven quality to America's children making it impossible for educators to do what is most important: instill a love of learning in their students. What members of Congress are doing right now is determining how far—if at all—the nation will reverse course on these disastrous policies.
Didn't Congress work on NCLB/ESEA last year and the year before that and the year before that? Why all the urgency now?
While it is true that lawmakers have been debating NCLB practically every year, past reauthorization efforts inevitably ground to a halt for a variety of reasons, although major changes concerning the law have been implemented. In 2012, for example, as criticisms of the law mounted, the Obama administration granted waivers to selected states relieving them from some of NCLB's strictest requirements and sanctions. But revisions to the actual law have to be made by Congress and the consensus is that 2015 is the year lawmakers will finally pass a reauthorization bill and that it will have an enormous impact on public education.
Video: Congress is Talking About Testing
Where does NEA stand?
NEA is pleased that the reauthorization process has finally gained traction but, as always, the devil is in the details. A new bill must create more opportunity and learning for all students. NEA is urging Congress to adopt an Opportunity Dashboard to ensure that the new law includes a smarter, "new generation" accountability system that "focuses on the many factors that are indicative of school and student success, and highlight gaps in equity that must be addressed," according to NEA President Lily Eskelsen García. NEA also calls on Congress to reject the one-size-fits-all annual federal testing structure and replace it with grade-span testing that will curb "teaching to the test" and free up valuable time for teaching.
What can educators do?
Overhauling NCLB is one of the few truly bipartisan priorities. Practically no one likes this law. But many lawmakers, believe it or not, may still choose to double-down on overtesting and ineffective and punitive accountability measures. They could walk away from the chance to include an Opportunity Dashboard in the next version of the law and continue to leave students who don't live in the right zip-code in a cycle of testing, labeling, and punishing.
But they can be persuaded. NEA members are sharing the message that meaningful educational opportunity must be front and center by reaching out to Congress, parents and the public through in-person meetings and online actions.
It's urgent that you let Congress know educators are paying attention. Visit getESEAright.com to take action today.
Get more from

We're here to help you succeed in your career, advocate for public school students, and stay up to date on the latest education news. Sign up to stay informed.