Key Takeaways
NEA honored 12 outstanding social justice champions at its Human and Civil Rights Awards ceremony on July 2, in Chicago.
For the past 55 years, the awards program has acknowledged progress in the movement toward justice nationwide, and has uplifted the positive impacts on the education of students of color.
After two years of hosting virtual events due to the pandemic, NEA honored 12 exemplary individuals and organizations—six of which are NEA affiliated—with its highest and most prestigious awards, the NEA Human and Civil Rights (HCR) Awards, in Chicago, on July 2.
Grounded in the theme, "Rising Strong for 55 years of Unity through Joy, Justice, and Excellence," the winners have collectively powered through some of the most difficult years in education.
"This has been a challenging year for students, educators, and our communities across the country. Despite the ongoing global pandemic, an epidemic of gun violence, and attempts to stoke fear and divide us along race and place, these recipients … have persevered and shown their unmatched resilience and dedication to advancing human and civil rights in America," said NEA President Becky Pringle. "We proudly celebrate their accomplishments and thank them profusely for their courage, compassion, and commitment toward the ideals of Joy, Justice, and Excellence."
Click here to learn more about all of this year's winners.
A $100,000-PLUS GROCERY BILL FEEDS NORTH CAROLINA STUDENTS AND FAMILIES
When elementary school teacher Turquoise LeJeune Parker checked out at her local Costco in December 2021, her grocery bill tallied $103,079.70. The staggering figure was not an error. This was the actual amount she spent to buy food for families in her, Durham, N.C., school district so they wouldn't go hungry during winter break.
The story of how she ended up with a hundred grand to help needy families goes back to 2015. That's when a student's family came to her for help because they didn't know how they were going to eat during the time off. She soon learned that thousands of students in her district relied on school meals and faced hunger during school breaks.
She had to find a way to help. So she launched the Bull City Foodraiser. It started as a small project to help students in Parker's class, but today the fundraiser serves more than 5,000 students in her district who receive free or reduced-priced lunches.
For this work and more, Parker was honored in June with the Reg Weaver Human and Civil Rights (HCR) Award. The award is named after a classroom elementary school teacher and former NEA president who was known for paying out of pocket to buy a student a winter coat, a meal, or school supplies.
CELEBRATING DIVERSE CULTURES
Adriana Abundis, a high school, dual-language math teacher in San Antonio, earned the George I. Sanchez Memorial Award for her inclusive approach to bilingualism and biliteracy as well as academic success and social-cultural competence.
Abundis is a founding teacher and organizer for the dual-language program at Lanier High School, where her students are celebrated for mastering two languages and two cultures. She also developed the high school's first Mexican American studies course and a dual-language middle and high school algebra curriculum for the district.
To make math more relevant to her students, Abundis engaged them in a year-long challenge to create a 2,500-square-foot mural in their school's neighborhood. The unit was rooted in civic engagement, art therapy, and real-world math application. At the end of the project, students regarded math as something they could create with their hands and hearts.
PROTECTING ACADEMIC FREEDOM AND FACULTY RIGHTS
In 1968, the United Faculty of Florida (UFF), which represents the state's higher education faculty members, was born out of the fight to protect academic freedom, defend civil liberties, and end racial discrimination at the University of Florida (UF). Since then, it has remained a vigorous and effective agent for academic freedom and faculty rights. And that is why UFF was honored with the Rosena J. Willis Memorial Award.
In fall 2021, UF administrators prohibited three UFF members from testifying in a lawsuit brought against the State of Florida to challenge a new voter suppression law. UFF organized to call out this violation of freedom of speech and academic freedom, demanding that the university reverse its decision. The university backed down—and, after hearing from the professors, a judge struck down the anti-voting law. The activism of UFF members directly influenced the university and enabled this important win for Florida voters. 
REPRESENTATION MATTERS
At the start of her teaching career nearly 30 years ago, Connecticut's Valerie Bolling went beyond teaching lessons in poetry and championed diversity, equity, and inclusion (DEI). As a Black woman, she would comb the libraries for books that reflected her experience and that of her students, the majority of whom were People of Color.
Years later, a former student reached out to her. "I want you to know that YOU had a HUGE influence on us all," the student wrote. "Having a Black woman as a teacher and role model early on in our lives … brought attention to topics that we would have never addressed."
Today, as an instructional coach for the Greenwich School District and an author of children's books, Bolling continues her work in DEI.
In 2021, a far-right community group stirred up public outcry against teaching an honest and accurate education. The group sought to defame Bolling by attacking her character and reputation in the community and in children's literature circles. These actions of intolerance and intimidation did not deter Bolling, and she continues to work steadfastly to celebrate the voice and agency of all students. For dedicating years to DEI, Bolling earned the H. Council Trenholm Memorial Award.
CHAMPIONING GENDER EQUITY
Sarah Milianta-Laffin, who teaches in Ewa Beach, Hawaii, set out to become a science, technology, engineering, and math (STEM) teacher to help increase the number of girls and students of color in these classes. When she started teaching, in 2017, about 75 percent of students in her science classes were boys.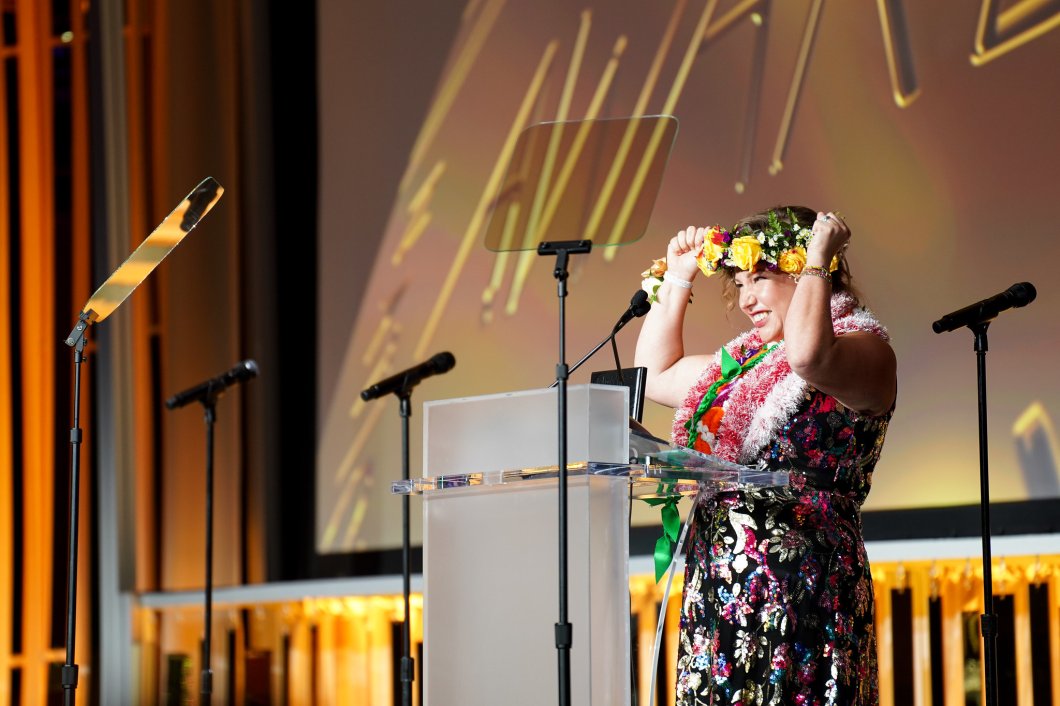 After much networking with local elementary schools, attending career day presentations, and bringing students to speak at school board meetings, almost 50 percent of her students are now girls.
Her work on gender equity in STEM goes beyond the classroom, too. After a student was bullied for bleeding through clothing during a menstrual cycle, Milianta-Laffin worked with her student clubs to start a free "Menstruation Station" on campus. All students can now get free period products if they need them. What's more, now all Hawaii students can access those products, too.
This spring, Milianta-Laffin and some of her students worked with Hawaii state representative and former teacher Amy Perruso to pass a state law that requires public schools to provide free period products in bathrooms.
For her work in gender equity, she earned the Mary Hatwood Futrell HCR Award.
A COMMITMENT TO PUBLIC EDUCATION, CUT SHORT
Jorge González of Kings Mill, Ohio, seemed to do it all. A passionate and committed educator of 34 years, he taught high school Spanish and served as a coach, diversity and inclusion coordinator, husband, father, and advocate for students. He also coordinated blood drives and trips to serve children in Latin America. 
Tragically, González's life and career were cut short on October 18, 2021, when he died after a brief battle with COVID-19. He is being honored posthumously with the NEA President's Award for his activism and dedication to public education.
As a strong unionist, González served for eight years on the Ohio Education Association (OEA) Board of Directors. He advocated for students and educators on several legislative issues, and once led a march to the Statehouse to protest high stakes standardized tests.
He also worked to ensure diversity within his own union and was one of the founding members of the OEA Hispanic Caucus, where he served as treasurer.
The Kings Mills community and the OEA Hispanic Caucus have created a scholarship fund to help continue his legacy.
Learn More
Stay Informed We'll come to you
We're here to help you succeed in your career, advocate for public school students, and stay up to date on the latest education news. Sign up to stay informed