Key Takeaways
Educators need more time for planning and community schools can help.
Services offered at community schools allow teachers to focus on classroom curriculum.
Educator voice and collaboration are central to the functioning of a community school.
Hybrid, virtual, in-person, back to all-virtual, and back again – the 2020-2021 school year has been enough to give us all whiplash. Students and their families are left confused, anxious and struggling while their educators are working in overdrive to help them cope. All of this leads to long, exhausting days and skyrocketing stress.
Workload during the pandemic – especially outside of the classroom – was "insane," says Nicole Douglass,  Community School Coordinator at 74th Street Gifted Magnet Community School in Los Angeles, California.
"There was so much pressure, so much stress," she says. "We are very family oriented. Our parents come to us calling for food, sometimes early on Sunday mornings or late Saturday night. They'd call with woes and troubles, but also with good news like about getting a new job. One of the best parts of working at a community school is that we are all included in our students' families, but their needs accelerated during COVID-19."
The community school model focuses on family and community engagement to meet not only the educational and enrichment needs of students but also the basic needs of their families. It also means listening to the needs of the staff who work at a community school and make it hum.
Partners Provide Enrichment
Douglass regularly checked in with school staff and realized workloads were spiraling and educators were exhausted. She reached out to a community partner – another benefit of the community schools model – to offer enrichment curriculum during the school day and a much-needed hour of planning time for teachers.
For an hour on Wednesdays for K-2 and an hour on Thursdays for grades three to five, students attend a nutrition and snack-making class while their teachers plan and collaborate with their colleagues rather than waiting to do so on evenings or weekends.
"The teachers have been so happy," says Douglass. "It's been a great help."
Kyle Serrette, an NEA community schools policy analyst, says it's common for educators to take on several unofficial roles – mentor, tutor, system navigator -- because they know their students need them to play those roles in their lives.
"When a school becomes a community school, however, the Community School Coordinator works to develop systems and supports so that educators can focus on their main job of providing a strong education," he says. "It takes a lot off of their plates."
"Our teachers are just as stressed as other teachers. But it's how that stress is addressed. We help them have the time and space to handle it by valuing them and respecting their voices," says Michael Essein at Martin Luther King Academic Middle School.
Like so many problems in education, stressful workloads existed long before the pandemic but were exacerbated during the crisis, making them unsustainable.
Everyone with school children during the pandemic has learned just how hard teachers and education support professionals work and how demands on their time eat up evenings and weekends.
"My workload, and that of so many other teachers, continues to spiral upward and place a great deal of stress on my ability to do my best as a teacher and a parent," says Pam Gaddy, a social studies teacher at Patapsco High School and Center for the Arts in Baltimore County, Maryland. "The workload is probably 90 percent more than a typical year, and I'm regularly working from early in the morning to late into the night and throughout the weekend just to keep up."
As the pandemic persists, many teachers are now adjusting their schedules and lessons to accommodate in-person as well as remote instruction as more schools reopen with hybrid models. The stress is leading to burnout and a record number of educators have chosen to retire this academic year.
Listening To Educators Eases Their Stress
Community schools can make a major difference in whether or not an educator burns out.
For example, in San Francisco, Dr. Martin Luther King Jr Academic Middle School (MLK) is a community school where educators have a strong voice and are encouraged to express their concerns, their stress, and their ideas for making things better.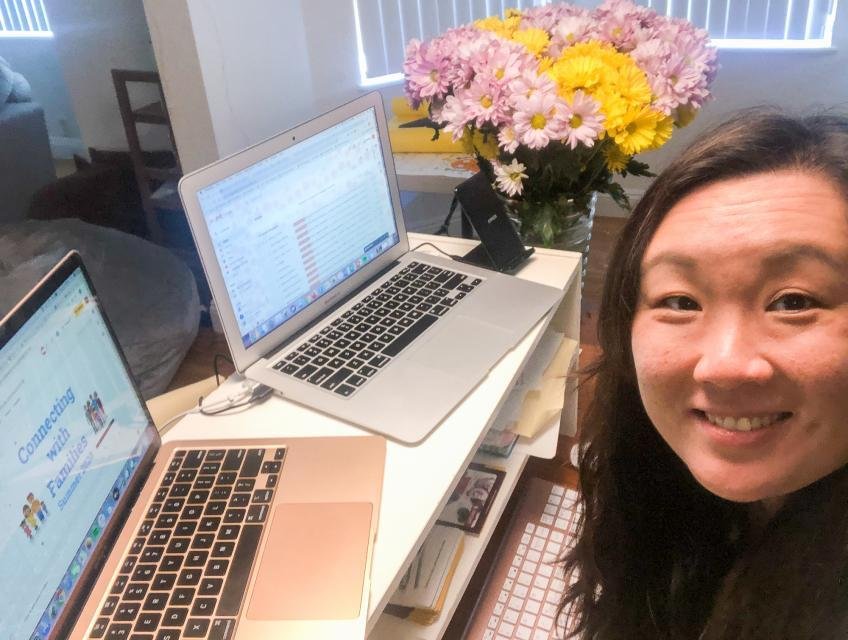 "We engage in empathy interviews with our educators to find out how they're doing and what they need," says Leslie Hu, community schools director at MLK. "We speak to them first, then we reach out to students and parents to find out what they need and how we should adjust instruction and target services."
Educator voice and collaborative practices are tenets of community schools and listening to the needs of educators and finding ways to meet them is a central part of a community school coordinator's job.
It can be simple, like sending a digest of emails each day rather than peppering staff with messages throughout the day as a way to save them time. Or it can be a more targeted and layered solution, like addressing math curriculum.
Before the pandemic, Hu sat in on every single math department meeting wearing her social worker hat.
"I saw that our middle school math curriculum didn't accommodate kids with gaps in knowledge," she says. "If you don't know how to do fractions, the rest of the curriculum becomes mind boggling, and that causes frustration, embarrassment and stress for a student who may decide to give up."
Aligning Partners to Provide Solutions
She listened to the teachers' ideas for ways to attack the problem and kept hearing them talk about an online math program but they didn't have the time to coordinate it with an afterschool or enrichment program. But because they teach at a community school with a coordinator, Hu was able to provide the solution.
"We used the online math program in an after school program led by Fidelity, a community partner," Hu says. "The classroom teachers directed students to the program, the after school staff person spent time in the classroom to support the work, and Fidelity filled in the gaps. This is the power of a community school – the ability to align partners and stakeholders and collaboratively solve a problem in curriculum without adding the stress and workload of the classroom teachers."
MLK principal Michael Essein intentionally weaves educator voice into the day-to-day operations of the school.
"Teachers have always been able to express themselves around the stress, and our response is to validate that stress and try to address it," he says. "Our teachers are just as stressed as other teachers. But it's how that stress is addressed. We help them have the time and space to handle it by valuing them and respecting their voices."
Get more from

We're here to help you succeed in your career, advocate for public school students, and stay up to date on the latest education news. Sign up to stay informed.