What Are Community Schools? 
Community Schools embody how education should function in a healthy democracy – they're public schools that provide services and support which fit each neighborhood's needs, created and run by the people who know our children best – families, educators, community organizations, local governments, and the students themselves – all working together.
Community schools provide not only tremendous opportunities for learning and success for students, but they also offer hope, opportunity, and transformation to entire communities. They are schools built with the understanding that students often come to the classroom with challenges that impact their ability to learn, explore, and develop to their greatest potential. Because learning never happens in isolation, community schools provide free healthy meals, health care, tutoring, mental health counseling, and other tailored services before, during, and after school. The days of attempting to compartmentalize problems that are inextricably linked has failed, and community schools provide an evidence-based pathway to lifting all students and the communities they live within. A better future of education is possible, and the NEA has the blueprint and is ready to get to work.
Why Community Schools?
No matter our race, background, or zip code, we all want our neighborhood public schools to inspire imagination, cultivate curiosity and critical thinking, and ensure our children can live fulfilling lives. Every child deserves the opportunity to achieve their dreams, and every neighborhood deserves a public school that opens the doors to reach them.
At present, more than 25 million students in America's public schools live in under-resourced households, the highest proportion in generations. This means more and more students are coming to school hungry, many face unstable housing situations or move frequently, and many do not have access to regular pediatric well-visits. A child without internet at home cannot keep up with assignments in a virtual world. Mornings without a meal makes it impossible to concentrate during lessons.
Every student in America – Black or white, rich or poor, toddler or teenager – face problems that do not stay at home once in school, and directly affect their ability to learn and thrive. Cookie cutter solutions do not work in education; each community is unique and has strengths to be leveraged and issues to tackle. Our students need support that extends beyond the walls of a school.
Spearheading the Movement: NEA Community School Successes
Ten years ago, NEA was working with only a dozen or so local school districts to standup community schools. Today, NEA is working with hundreds of local union affiliates and districts to pass legislation, secure funding, and hire the staff necessary to create community schools across the nation. To formalize NEA's support and expand its efforts, in 2020 the NEA launched the Community Schools Institute with 39 states and a $10 million investment to lead the way and provide a roadmap to the future of public education.
Cohorts of groups supported by NEA are bringing together non-profit organizations, educators, families, students, unions, philanthropists, and local politicians to implement the Community Schools Model. Though in different stages of development, the more than 1,000 community schools that the cohorts already stood up in collaboration with partners across the country are already seeing incredible success.
The Future of Public Education
Every family deserves a strong public education system that serves the needs of their children. Community schools are the blueprint of a healthy democracy — with the voices of students, parents, educators, administrators, and community members shaping them, supporting them, and improving them. The Community Schools' Model is not some wild fantasy, but a reality in neighborhoods across the country that can and should be replicated in every community, no matter how big or small.
Secretary of Education Miguel Cardona and the Department of Education recognize the transformative ability of community schools. On July 14, 2021 the Department announced that $443 million of President Biden's Build Back Better plan would invest in community schools and gave guidance on how to strategically use American Rescue Plan funds. This guidance was directly created from the NEA's best practices and Community Schools Model. It is a huge step in the right direction, but there is still work to do on the federal and state level to build a better future.
The NEA believes that our nation has a promise to keep – a great public school for every single student that helps them reach their potential and fulfill their dreams. The nation's largest union of educators is already putting in the work with families, non-profits, and local governments across the nation – it's time every child gets the community school they deserve.
Case Studies
POTTER ELEMENTARY - TAMPA BAY, FLORIDA
Potter Elementary is one of six community schools in the Tampa Bay area that launched in the 2019-2020 school year using the NEA-backed Community Schools Model to create a hub of academic excellence, family support, and social services for the community. The timing was perfect, as the school served as a life-saving force for the community when the pandemic hit. Amidst the COVID-19 surge, the school's food pantry broadened into a grab-and-go service of staples, fresh produce, and hygiene products — such as soaps, menstrual products, and diapers —and even provided books for students. They partnered with Tampa's Black-owned restaurants to deliver 1,000 meals. Laptops and internet connectivity were provided to students and their families. Potter Elementary was built up as a community school and succeeded as one when it was needed most.
RAND CORPORATION STUDY ON NEW YORK CITY DEPARTMENT OF EDUCATION
From 2014 to 2017 the RAND Corporation conducted a detailed study of community school implementation in our nation's largest city. The incredible successes over such a short period of time were ground-breaking. Student attendance increased every year along with on-time grade progression and high school graduation rates. Achievement didn't end with academic success; RAND analyses showed a significant reduction in disciplinary incidents for elementary and middle school students that coalesced with an increase of student-reported connectedness to adults and peers. The positive effects of New York's community schools implementation have only begun, and will be a key school system to continue watching as this model is implemented across the nation.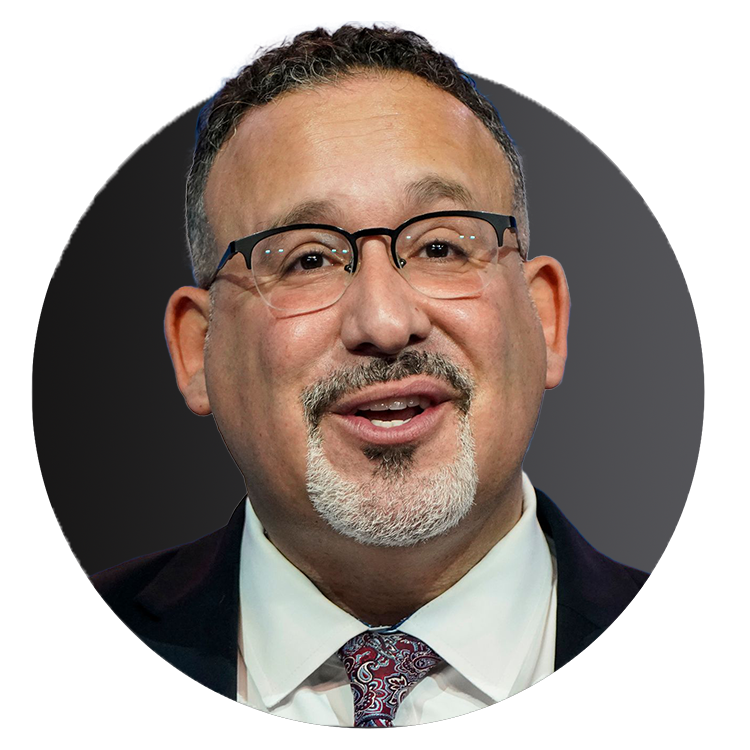 "Community schools serve as hubs for vital resources and connect students and families to services that can help them thrive. Importantly, community schools expand learning and enrichment opportunities for both students and parents alike, and promote family and community engagement in education, which ultimately can bolster students' success."
- Secretary Miguel Cardona
The Six Pillars of Community Schools  
The Community Schools Model advanced by NEA includes six pillars of practice. Unlike most public education models, these pillars are adaptable to the needs of an individual school's students, staff, families, and community and pay particular attention to creating, supporting, and sustaining a culturally relevant and responsive climate. NEA was instrumental in ensuring the inclusion of two pillars—high-quality teaching and learning and inclusive leadership.  
Strong and proven culturally relevant curriculum
Educators provide a rich and varied academic program allowing students to acquire both foundational and advanced knowledge and skills in many content areas. Students learn with challenging, culturally relevant materials that address their learning needs and expand their experience. They also learn how to analyze and understand the unique experiences and perspectives of others. The curriculum embraces all content areas including the arts, second languages, and physical education. Teachers and education support professionals (ESP) are engaged in developing effective programs for language instruction for English learners and immigrant students. These schools offer rigorous courses such as Advanced Placement or International Baccalaureate. They provide learning and enrichment activities before and after the regular school day, including sports, the arts, and homework assistance. Schools address the needs of parents and families through programs such as English-as-a-Second-Language classes, GED preparation, and job training programs.  
High-quality Teaching and Learning
Teachers are fully licensed, knowledgeable about their content, and skillful in their practice. Instructional time focuses on learning rather than testing. Individual student needs are identified and learning opportunities are designed to address them. Higher-order thinking skills are at the core of instruction so that all students acquire problem solving, critical thinking, and reasoning skills. Educators work collaboratively to plan lessons, analyze student work, and adjust curriculum as required. Experienced educators work closely with novices as mentors, coaches, and "guides on the side," sharing their knowledge and expertise. ESP members take part in professional learning experiences and are consulted and collaborate when developing plans to improve instruction. Together, educators identify the methods and approaches that work and change those that do not meet student needs.  
Inclusive Leadership 
Leadership teams with educators, the community school coordinator, and other school staff share the responsibility of school operations with the principal. This leadership team ensures that the community school strategy remains central in the decision-making process.  
Positive Behavior Practices (including restorative justice) 
Community school educators emphasize positive relationships and interactions and model these through their own behavior. Negative behaviors and truancy are acknowledged and addressed in ways that hold students accountable while showing them they are still valued members of the school community. All members of the faculty and staff are responsible for ensuring a climate where all students can learn. Restorative behavior practices such as peer mediation, community service, and post-conflict resolution help students learn from their mistakes and foster positive, healthy school climates where respect and compassion are core principles. Zero-tolerance practices leading to suspension and expulsion are avoided.  
Family and Community Partnerships
Families, parents, caregivers, and community members are partners in creating dynamic, flexible community schools. Their engagement is not related to a specific project or program, but is on-going and extends beyond volunteerism to roles in decision making, governance, and advocacy. Both ESP and teachers are part of developing family engagement strategies, and they are supported through professional learning opportunities. Their voices are critical to articulating and achieving the school's overall mission and goals. When families and educators work together, students are more engaged learners who earn higher grades and enroll in more challenging classes; student attendance and grade and school completion rates improve.  
Coordinated and Integrated Wraparound Supports (community support services) 
Community school educators recognize that students often come to school with challenges that impact their ability to learn, explore, and develop in the classroom. Because learning does not happen in isolation, community schools provide meals, health care, mental health counseling, and other services before, during, and after school. Staff members support the identification of services that children need. These wraparound services are integrated into the fabric of the school that follows the Whole Child tenets.  Connections to the community are critically important, so support services and referrals are available for families and other community members.  
Beyond a definition of community schools and the six pillar model, there are four mechanisms that are important to the implementation of the model.  
Community School Coordinator: Every community school should have a community school coordinator (CSC) that plays a leadership role at the school, is a member of the school leadership team, and is a full-time staff member. The CSC has training and specialized skills that support building and managing partnerships in diverse communities, creating and coordinating an integrated network of services for students and their families, and optimizing both internal and external resources. The leadership team should consist of administrators, ESP, teachers, and other school staff, along with the CSC. All share the responsibility of school operations with the principal. This leadership team ensures that the community school strategy remains central in the decision-making process. The CSC's primary role is to facilitate a deep needs and asset assessment in collaboration with students, teachers, ESP, families, and community stakeholders to determine the root causes of problems and to determine school and community assets that can fill needs. The CSC also facilitates teams of stakeholders dedicated to solving root cause problems.  

Needs and Assets Assessment: The foundation for the community school model is a school-based needs and asset assessment that assesses needed academic, social, and emotional supports (including staff expertise and community supports of the school and surrounding community). The needs and asset assessment, facilitated by the CSC, is an inclusive process in which families, students, community members, partners, teachers, ESP, administrators, and other school staff define their needs and assets. Problem solving teams are established based on the needs determined in the needs and asset assessment.  

School Stakeholder Problem Solving Teams: Every community school should have teams of school and community stakeholders dedicated to solving problems that are identified in the needs and asset assessment, as well as problems identified by stakeholders subsequent to the assessment. The solutions identified by the stakeholder problem-solving teams change the way things are done in and outside of school hours and, at times, involve partnerships with outside organizations and individuals. 

Community School Stakeholder/Partner Committee: The community school stakeholder committee (CSSC) coordinates between school staff, partners (organizations, businesses, town and city service providers), and stakeholders to ensure goals are achieved and obstacles are surmounted . The CSSC, which is inclusive of families, community partners, school staff, students, the Association, and other stakeholders from the school's various constituencies, works in collaboration with the school leadership team and supports coordination across and among community schools within a school district.  
Learn More About Community Schools
Learn More
Stay Informed We'll come to you
From education news to action alerts to member benefits-we're here to help you succeed in your career, advocate for your students, and support public education. Sign up to stay informed.