Key Takeaways
Last year, through their union, Delaware educators convinced state lawmakers to invest millions of dollars in hiring more school counselors, social workers, and psychologists.
Their example is a model for states everywhere. In fact, Connecticut educators took a page from Delaware's playbook to get their own legislative package passed this year.
Their success illustrates how educators can get stuff done when they raise their voices together. It also points to the importance of electing lawmakers who listen to educators, and want to support public schools and students.
Last year, following a routine visit from state representatives to her elementary school, a Delaware school counselor wrote a statement about what those lawmakers couldn't see: That one of the students sitting quietly at her desk had just reported that her mother left drugs on the bathroom sink.
Nor could they see that one had recently been sexually assaulted. Or that another had been woken up by the police raiding their home. They couldn't see that one of those children who appeared to be learning was thinking about hanging themselves with a jump rope after school. Some were worried about not having food for dinner that night. And then there were the kids who weren't there to be seen—the one meeting with immigration officials, or the one being assessed by a psychologist for suicide risk.
How does one elementary school counselor—or a social worker splitting her time between four schools—meet the unseen, sometimes life-or-death needs of all of these children?
They don't. They can't.
While the American School Counselor Association recommends a student-to-counselor ratio of 250-to-1, "some Delaware elementary schools still don't have one licensed counselor," Brandon Townsend, then-president of the Delaware School Counselors Association, told Delaware lawmakers last February. "Some elementary counselors have caseloads of 600, 700, even 800 students. This is unacceptable."
Lawmakers agreed. Led by House Majority Leader Valerie Longhurst and pressed by Delaware State Education Association (DSEA) members, state legislators passed House Bill 100 (HB 100) in 2021, a law that greatly increases the mental-health supports available to students through sharp increases in the number of counselors, social workers and psychologists in the state's elementary schools. Earlier this year, they additionally passed House Bill 300, another bill co-sponsored by Longhurst and state Sen. Marie Pinkney, that successfully extends state funds for mental-health professionals into middle schools.
"For far too long, the mental health of our students has been treated as a secondary need—if even that much. Too many students have slipped between the gaps," Longhurst said, at the signing of HB 100 in 2021. "HB 100 is a game-changer for our kids... I'm so grateful to Delaware State Education Association for their advocacy and determination to get this bill passed."
Solving for an Epidemic
The problem facing educators and families across the nation is this: More students, of all ages, are not all right.  
In April, nearly three-quarters of U.S. parents said their children would benefit from mental-health counseling. About a third said their child had shown symptoms of mental health illness, including anxiety (19 percent) and depression (13 percent).
Making it worse, families can't access the care that they need. While nearly one in seven teens suffered at least one major depressive episode last year, nearly two-thirds of teens with major depression say they haven't gotten any help, according to 2022 data from Mental Health America.
Educators know what would help their students—and it's more trained professionals in their schools, including counselors, social workers and psychologists, who can identify students at risk and work with all students to develop social and emotional skills. Indeed, when schools have the recommended number of counselors, studies show that students are more likely to go to school, to graduate on time, and to do well academically. They're less likely to be suspended.
Through their unions, educators are working to get more of those people that students need. Sometimes, collective bargaining is the lever to pull: In Seattle and St. Paul, Minnesota, for example, educators went on strike this year, ultimately winning contracts that require their districts to hire more school counselors and social workers.
"We don't have much experience with striking. It's not what we want to be doing," said Seattle teacher Ellen Santarelli, during this month's strike. "However, to get what our students need—mental-health supports, adequate staffing for students…we're willing to go outside of our comfort zones!"   
Collective bargaining works. But, in Delaware, union leaders pursued a line of attack that also proved effective: They figured out what students needed, and then they made it law.
This Didn't Happen Overnight 
In Delaware, the process began in 2018, when Longhurst reached out to DSEA leaders, recalls Kristin Dwyer, DSEA's director of legislative and political strategy. "She recognized that kids are going through something," says Dwyer. "They're anxious, depressed… and when you peel back where they're coming from, we're talking families in poverty. Homelessness, abuse, addiction. All the bad things that you can imagine an adult might go through, our little guys are going through, too."
So, DSEA convened a meeting of school-based employees, including counselors, school psychologists, and social workers, and included district administrators and state-based agencies like the state's attorney general and Delaware Health and Human Services. What they quickly put together is that nothing is put together. In other words, when it comes to supporting students' mental-health needs, everything was piecemeal—some money was here, and some employees were there.
 "The most vocal people in these conversations were the school-based people, and they quickly pointed out the ratios—the school psychologist responsible for 2,000 kids, the school counselor responsible for 500 or 600, or more," says Dwyer. What's more, they explained what those numbers meant: Despite their licenses and certifications, their master's degrees and PhDs, and their deep knowledge of national standards and practices, "they couldn't fulfill their duties to their students."
The following year, Longhurst sponsored a bill to tackle these issues. Specifically, the legislation would provide direct funding for "units," so that for every 250 students, schools would earn a counselor or social worker. And these people would be hired by districts as actual employees—not contractors provided through external agencies. For every 700 students, schools earned a psychologist.
The bill also required the work of these specialists to be aligned to national standards. These "work rules" are a way of making sure that, as much as possible, counselors and social workers aren't asked to pitch in with lunch duty while kids are in crisis. And it included fractional funding. "Say you earn 1.5 units, the .5 could be used for districtwide funding," Dwyer explained.
Perseverance Pays Off
Delaware has 62 state legislators. In 2019, 54 of them sponsored HB 100. It passed through committee, and then lawmakers struck a compromise deal that provided an additional $5 million in the state budget for mental health supports. It felt like a partial win, but the bill would have done much more for students.
In 2020, HB 100 was filed again—and then COVID happened. State lawmakers were consumed by the crisis.
In 2021, Delaware educators were overwhelmed, but determined. The pandemic had worsened the mental-health needs of their students—and cemented their support for HB 100. That year, recalls Delaware school counselor Jessica Clendaniel, "I was the only counselor at my elementary school—with 800 students."
Through their unions, educators are working to get more of those people that students need. Sometimes, collective bargaining is the lever to pull: In Seattle and St. Paul, Minnesota, for example, educators went on strike this year, ultimately winning contracts that require their districts to hire more school counselors and social workers.
With that kind of caseload, "you feel like there's always students slipping through the cracks," says Clendaniel, who now works at a high school with a lower student-to-counselor ratio. "You end up servicing the same 15 percent of kids with the greatest needs, but you don't know what you're missing with the quiet kids. The silent strugglers, I call them. They're the ones who end up not getting their needs met."
Clendaniel was one of many DSEA members and supporters who participated in short videos, urging state lawmakers to support HB 100. Others were Emily Klein, a school psychologist responsible for 1,000 students, and Jackee Ward, a school social worker, who had a caseload of 3,000. How is that humanly possible? "Somebody is going to fall through the cracks," warned school social worker Dawn Hall.
Sure, the cost of the legislation was high ($8 million in its first year), but the cost of not passing the legislation would be higher, warned Townsend in his testimony. "It's worth far more than the cost," he said.
The bill, which eventually was amended to provide for a three-year, phase-in period, passed unanimously in spring 2021, recalls Dwyer.
Unanimously.
Then, on Aug. 19, 2021, Delaware Gov. John Carney signed it into law.
A Model for Other States        
Last year, Delaware's student-to-counselor ratio was 381-to-1. Slightly better, but still far above the recommended ratio, was Connecticut's at 349-to-1. Their students desperately needed more support, too.
With DSEA's success as inspiration, Connecticut Education Association members pushed state lawmakers to act. They found legislative sponsors, and nearly 300 showed up at a committee hearing to testify.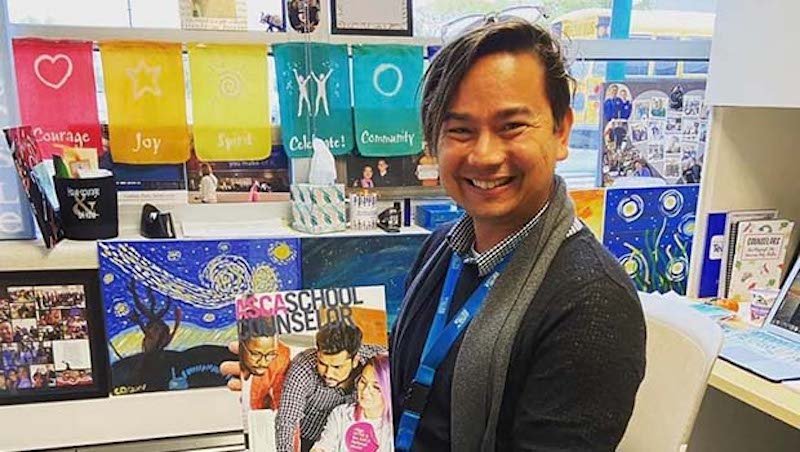 They also made videos—heartfelt statements showing their dedication to students and their daily frustrations caused by impossible workloads. "Every day I have eight to 10 students who I can't get to, and I have to tell them that I'll see them tomorrow," said Connecticut counselor Curtis Darragh, who had 375 students on his caseload. "Legislators need to know that… I go home and I wonder, 'why did I miss? Did I miss a kid who wanted to tell me that they wanted to kill themselves?'"
In May, those Connecticut educators also won a huge legislative victory—a state budget package that includes $28 million for additional mental-health supports in schools, including counselors, social workers, and psychologists.
Today, it's heartening to see how Delaware's success can serve as a model for other states, says Dwyer. Union members in every state should know how they can make things happen for their students by working with friendly lawmakers, and by raising their voices together.
But the best part? "For me," says Dwyer, "the best part is going to new employee orientations and meeting the new counselors and social workers and psychologists who have been hired because of it."
Learn More
Resources to Support Student & Educator Mental Health
Find resources, information, and advocacy opportunities to provide both the mental health supports our students and educators need and the staffing and programs schools need to effectively address the challenges they face.
Get more from

We're here to help you succeed in your career, advocate for public school students, and stay up to date on the latest education news. Sign up to stay informed.