Departments
Resources

Nominate someone you admire for the 2024 NEA Human and Civil Rights Awards; plus grants and online extras.
Quote byTameka Mays , paraprofessional
"Find a mentor who can help you avoid pitfalls, encourage you when you are struggling, and tell you when you need to do better."
—Tameka Mays , paraprofessional
Editor's Note: Tools to supercharge your school year
Welcome back, educators! A new school year is off and running, with all of the excitement, optimism, and uncertainty that comes with it. Hopefully, this summer provided some time for relaxation and reflection, and you are feeling excited about new classes and new ideas for the upcoming school year.
In this issue, we give back-to-school a boost in "7 Ways to Make This a Great School Year!," where fellow educators offer creative tips for organizing your classroom, building relationships, staying energized throughout the year, and more.
If you're reading this, you know that NEA Today has also launched an exciting new digital experience to help you save time this school year. Now NEA Today is at your fingertips whenever you need it. In a quiet moment in the break room or as your work day winds down, you can pull out your mobile device and get NEA Today magazine and news online, enriched with exclusive digital content. You'll continue to receive your quarterly print magazine, but you'll also get online extras. For example, in this issue:
Take a video classroom tour with Delaware teacher Alison Tingle, who has superpowered organizational skills! She has more ideas for setting up a classroom than we could even fit into the print magazine. In the future, you'll see more video, hear educator voices, and engage with interactive features.
Share far and wide. If an article inspires you or can help a colleague with a problem, you can share it right now with a click. When you want to send an article to administrators or the school board, you can share it with colleagues to rally support or send it straight to the source.
Know you are not alone. Being an educator can be incredibly fulfilling and also frustrating. NEA Today can deliver help straight to your inbox. Sign up at nea.org/signup and check out the new digital NEA Today.
Anitrá Speight, Associate Publisher and Director
Explore more NEA Today magazines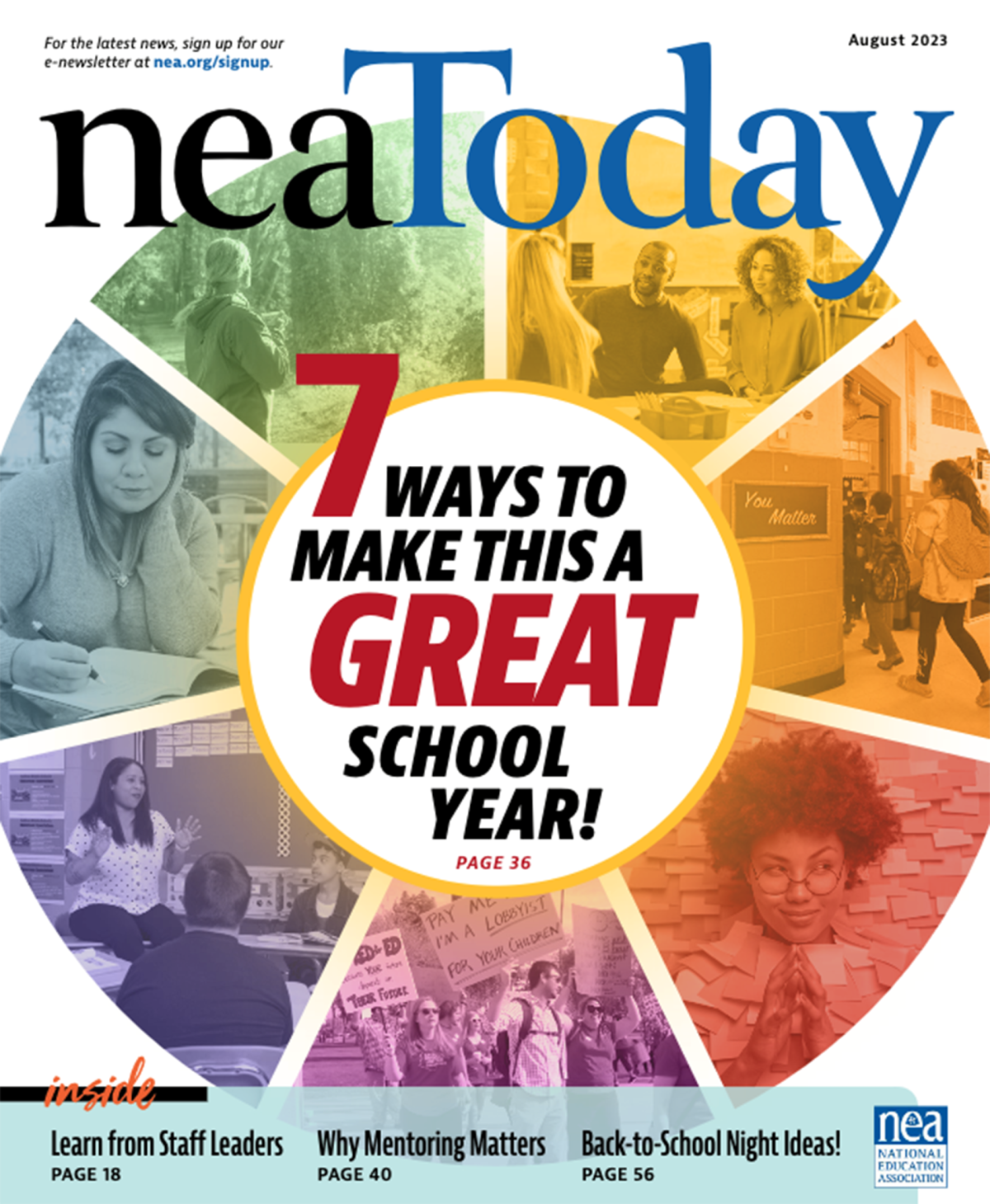 NEA Today, August 2023
Welcome to NEA Today's new digital experience! In this back-to-school issue, you'll find helpful tips for starting the school year right—and a video classroom tour with Delaware teacher Alison Tingle. Spoiler alert: She has superpowered organizational skills! Plus, learn how to accelerate student learning, mentor a colleague, and meet support staff leaders who are creating meaningful change. Bonus feature: If you see an article you like, you can now share it on social media with just a click!
Download the Issue (pdf)
Get more from

We're here to help you succeed in your career, advocate for public school students, and stay up to date on the latest education news. Sign up to stay informed.