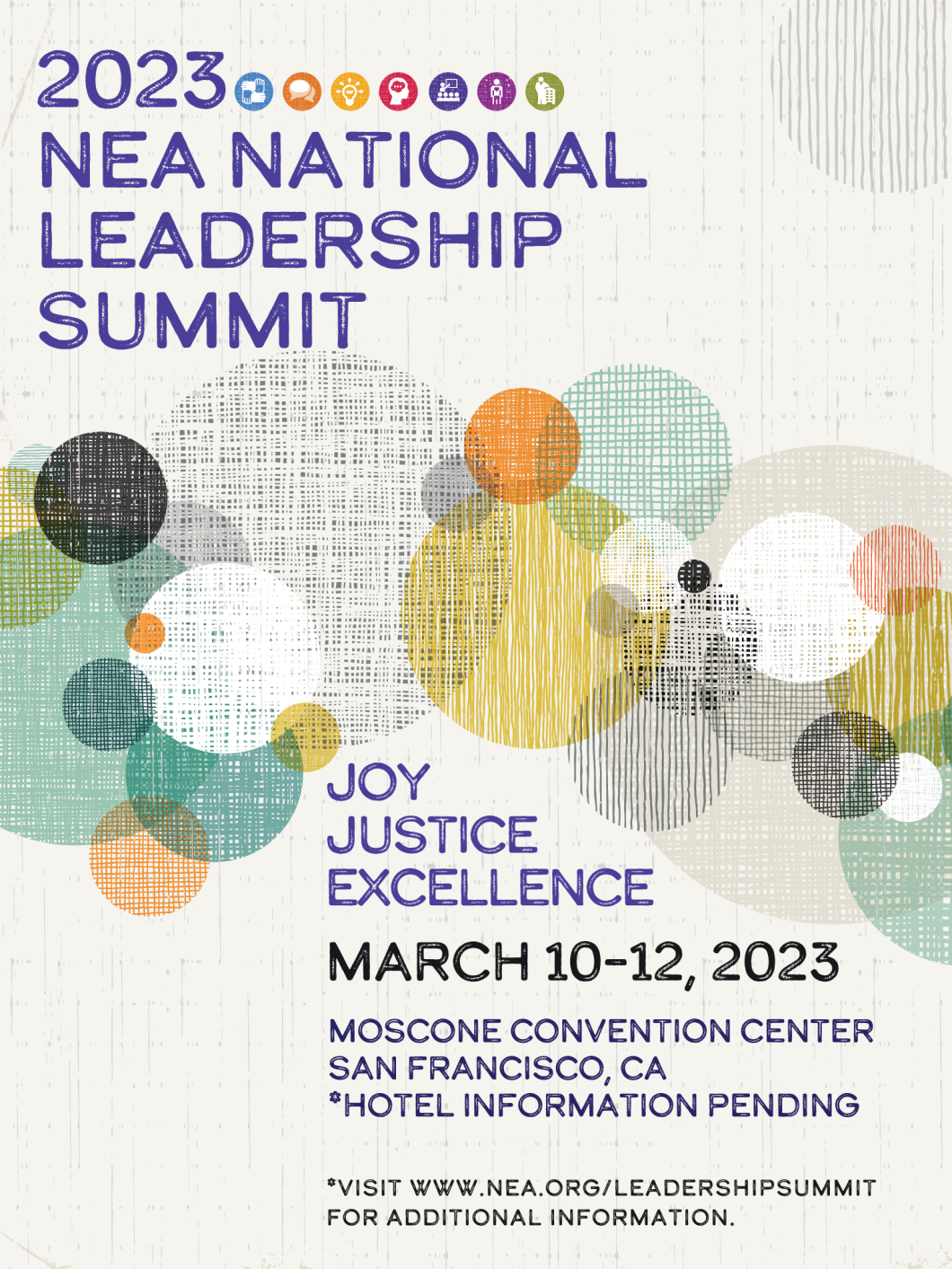 2023 NEA National Leadership Summit Request for Proposals
The National Education Association is looking for dynamic presenters, trainers and presentations for the annual National Leadership Summit, March 10 – March 12, 2023. We are planning an in-person summit and will announce a location as soon as possible. The theme for the 2023 Summit is Joy, Justice, Excellence: The Strength of Educators. The Brilliance of Students. The Power of Community.
The purpose of the Summit is to develop activist leaders and prepare them with the knowledge, skills, and abilities (KSAs) necessary to lead relevant, thriving associations and to lead in their professions. The National Leadership Summit is designed to support experiential learning that provides opportunities for NEA members and leaders to develop the knowledge and skills articulated in the NEA Leadership Competency Framework.
The Summit is for NEA members and leaders, regardless of experience level, membership type, or profession/career. With that in mind, NEA views a Request for Proposal (RFP) as a solicitation for a training design that directly supports the purpose of the Summit. The proposal must incorporate content from the competency domains and clearly explain how the use of the content will help develop the KSAs outlined in the framework. Find out more about the criteria and application process and click the link below to watch our instructional video to assist you in submitting an RFP.
Passcode: 4*C?J9.5X3
To submit an RFP visit https://bit.ly/3fqjgY8. The deadline to submit a proposal is 11:59PM ET on December 12, 2022. Presenters will be notified of selection by January 20, 2023.
Pictures from the 2022 National Leadership Summit
Watch the 2022 National Leadership Summit Highlights
Every one of our members is inherently a leader. Our job is to help them live out their passion.
Quote by:
Karen White
, NEA Deputy Executive Director
Join our NEA Summit Leaders Facebook Group
Connect with fellow Leadership Summit alumni and post, comment, and share information, ideas, and best practices about how you are developing yourself and others as leaders.
Stay Informed We'll come to you
We're here to help you succeed in your career, advocate for public school students, and stay up to date on the latest education news. Sign up to stay informed