Key Takeaways
NEA leaders centered their message to educators on how their love for students, the profession, and their union has the power to solve problems.
President Joe Biden and First Lady Jill Biden reaffirmed their commitment to listening to educators and supporting public schools nationwide.
Teenage author, speaker, artist, and activist Helena Donato-Sapp shared her powerful story about her multiple intersectional identities, including her learning disabilities. She encouraged the audience to value and accept individuals for who they and are—not what they can or cannot do.
A steady chorus of applause was heard throughout the second day of the RA in Orlando, as a dynamic lineup of speakers addressed nearly 6,000 educators on why they work to end disability discrimination, fight for justice for all people, and speak up for their students, colleagues, and the education profession.
From NEA Executive Director Kim Anderson and this year's Education Support Professional (ESP) of the Year, Pamella Johnson, to disability activist Helena Donato-Sapp, their messages were rooted in love—one that actively listens, speaks out, shows up, understands, and solves problems. Also in the lineup was President Joe Biden and First Lady Jill Biden who reaffirmed their commitment to listening to educators and supporting public schools nationwide.
While there's been much frustration and anger toward politicians, and most recently the U.S. Supreme Court, who rollback the freedoms of the nation's most marginalized communities, "anger isn't the 'why' to our fight," said Anderson. "Love is the reason we fight."
She explained that it's a type of love that listens to students and understands their needs for acceptance and safety. And it's a love that acts to solves problems.
Through this love and collective action with unions, educators have increased education funding in several states, passed gun-safety legislation, beat back vouchers, and gone to the ballot box to elect lawmakers who value and understand the needs of educators and their students.
And it's this "unconditional love for our students [that] gives us the strength to keep working tirelessly even when the pay and benefits don't reflect what we need and deserve as knowledgeable and skilled educators," said Johnson in her remarks. Johnson was named NEA ESP of the Year in March.
She added, "I want to make sure everyone has a seat at the table because representation matters—for ESPs, for all educators, and for my Black and brown, Indigenous, Latinx, Asian American and Pacific Islander, and marginalized students."
Joe Biden: 'Educators have a champion in the White House'
In her remarks to educators, First Lady Jill Biden clearly laid it out: "I knew that Joe would always be the education president because he knows that our nation … starts with you: The educators who shape our students lives," she said before introducing Joe Biden to the crowd.
As the most pro–public education and pro-union president in modern history, Biden has the receipts to support this point. He and Vice President Harris have headed up efforts to invest in school counselors and nurses, address the educator shortage by increasing educator pay, support free, healthy school meals to end childhood hunger, pass historic, bi-partisan gun safety legislation, and make the single largest investment in public education in U.S. history through pandemic relief funds—the list goes on.
Plus, the Biden-Harris administration has opened its doors to educators to share their stories, struggles, and solutions to help make a better future everyone.
"Educators have champions in the White House," said Joe Biden, who added that his job is to "make sure you have what you need to do what you do best."
And he will continue to listen to educators across the country, and act in their best interest.
"We're committed to supporting all of you just like you support the nation's future and our children. …Together, there's nothing beyond our capacity."
Supporting students with disabilities
Disability justice also took center stage, when 14-year-old disability rights activist Helena Donato-Sapp addressed educators at RA on why we must all work to end disability discrimination.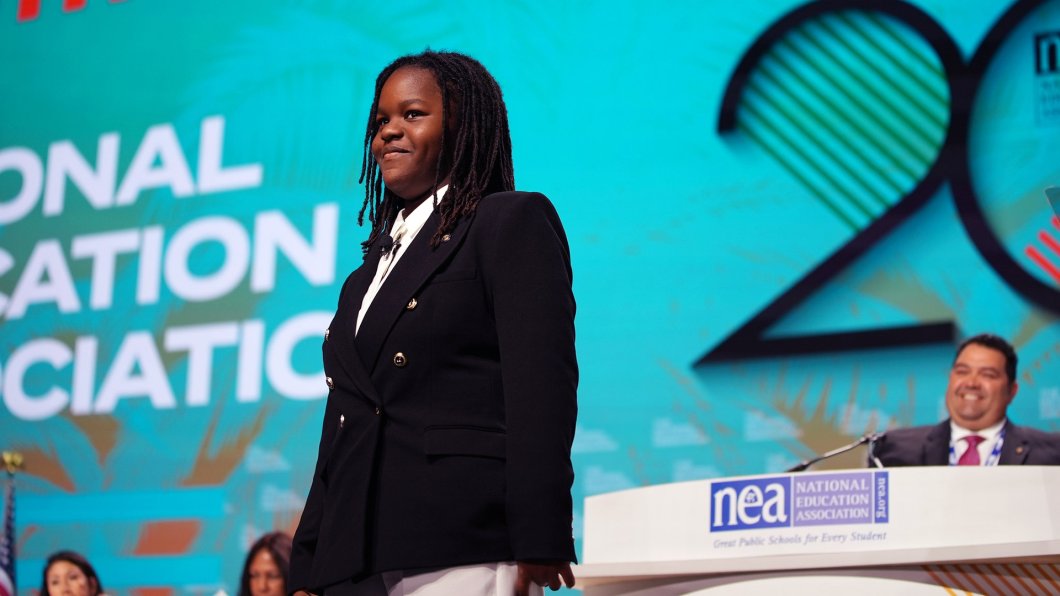 NEA has long been committed to ensuring equitable opportunities for all students and has diligently worked to end the deficit view of persons with disabilities, ableism, stigma, and addressing the many intersecting forms of structural discrimination that impact individuals with disabilities.
Donato-Sapp represents this work (and more!) as an author, speaker, artist, and activist—believing that her generation can and must tackle topics such as racism, ableism, homophobia, misogyny, poverty, and climate change.
Building on her powerful speech at the 2023 NEA Leadership Summit, the activist shared her love for her two gay dads, her work to end disability discrimination, how assessments could not be used to measure her brilliance, and why it is critical to value and accept individuals for who they are including all their intersectional identities, not what they can or cannot do.
Americans has a disability, yet people with disabilities are the most invisible group in the U.S., and disability is often missing from many diversity efforts.
Words that spoke truth to power
Donato-Sapp shared her story, one based on love and resilience. She was born at 27 weeks and with several serious medical issues (brain bleeds, heart surgery, lung issues, and early medical trauma) that caused her to have learning disabilities.
But her family was created through the "wonder of adoption, and I … say loud and proud that I am the daughter of two gay men. … And these two gay men have been the best parents in the world to me, caring for me, loving me, lifting me up with all the pride that two dads can muster," Donato-Sapp said.
"Let me be very clear here," she added, "these disabilities are only one part of my many identities. I am Black. I am dark-skinned Black. I am a Black girl. I am adopted. I have gay fathers. We are a multiracial family. One of my gay dads is an immigrant. The other gay dad was raised in poverty. I am not just one thing. I am many things, and these multiple intersectional identities shape my world. They give me power in some ways, and they rain down bias and discrimination on me in other ways."
She has felt how her school has held her disabilities against her, as well as how assessments have misidentified her needs and abilities. She has felt isolated from her school community, a feeling made worse by bullying from some of her classmates.
None of this, however, has stopped Donato-Sapp from realizing her goals.
Educators need resources to help make a difference
With her family always on her side, she is now calling on educators to "look for the lonely child sitting by themselves at school, the child that no one picks for play or group work, the child that never chatters excitedly about a sleepover that weekend. Look for me in your school and in your classroom and be my champion," she told the crowd to thunderous applause.
And she is urging school officials to fund schools and give educators the resources, collaboration time, and training they need to support students with disabilities.
"I am a prime example of a child that can soar and succeed if you champion me … [by] confronting your own deficit ideology and seeing my assets. It means to lift up the underdogs … [care] for the downtrodden … [and champion] my work and my character."
"It means learning more about how to support the students with disabilities in your classroom. Because you and I also know this important thing as well and that is that it just takes one caring adult in a child's life to transform them, to save them. Be that adult, be that champion."
NEA OFFICIALS RE-ELECTED TO TOP OFFICE
During the RA, delegates also re-elected Becky Pringle, a science teacher from Philadelphia with more than 33 years of classroom experience, to continue to lead educators as president of the 3 million-member NEA. Pringle is known as a fierce social justice warrior, staunch defender of educators' rights, and an unrelenting advocate for all students and communities of color.
"When I came into this role, I said we cannot and will not put off for one more second creating an education system that serve the needs of all our students, and that now is the time to address the systemic inequities that beset the most vulnerable students," Pringle said.
She praised the educators participating in the RA, noting that delegates "embrace the magnitude of what you've been called to do. Deliberate and unafraid, you continue to demand that every student is seen and supported; that every educator is respected as the professional they are. Unbowed and unbroken, and with a resolve that is unwavering, NEA, you are leading the work to promote, to protect, and to strengthen public education!"
Delegates also re-elected Princess Moss, an elementary music teacher from Louisa County, Va., as NEA vice president. A champion of children and public education at the local, state, and national levels, Moss distinguished herself for six years as NEA secretary-treasurer before assuming the vice presidency in 2020.
Additionally, Texas educator Noel Candelaria was re-elected NEA secretary-treasurer. Prior to his role as secretary-treasurer, Candelaria served as president and vice president of the NEA-affiliated Texas State Teachers Association.
In addition to re-electing the three leaders, the delegates also voted to elect two members to the NEA Executive Committee, which is comprised of three executive officers and six members elected at large by RA delegates. Delegates voted to re-elect to a second three-year term Mark Jewell, an elementary school teacher from Guilford County, North Carolina, and the former president of the North Carolina Association of Educators.
Shannon McCann, a middle school special education teacher and current president of the Federal Way Education Association in Washington State, was also elected to a first term on the executive committee. Previously, McCann served as chair of NEA's Legislative Committee and was twice elected to our NEA Strategic Plan and Budget Committee.
Learn More
Education News Relevant to You
Read the latest on our advocacy, our members, and the education trends we're watching.
Stay Informed We'll come to you
We're here to help you succeed in your career, advocate for public school students, and stay up to date on the latest education news. Sign up to stay informed